Travel Africa was delighted to be invited to attend Africa's Eden inaugural Travel Show in Victoria Falls in February, 2022 and to be to be one of the first Australian travel agents to return to Southern Africa after 2 years enforced absence. How incredible to be able to see what COVID-Safe travel now looks like, to understand first hand the sort of support travel agents need to give our clients, and to connect face to face with tour operators on the ground to see the amazing work they've been doing throughout the last two years and how keen and ready southern Africa is to welcome back Australian tourists. This experience made us realise that there has never been a better time to visit Southern Africa!
In this blog, Sandie shares some of the highlights and insights fresh from the ground in Botswana and Zimbabwe.
Highlights from my 16-days in Botswana and Zimbabwe
I didn't stop for a minute during my 16 day trip nor did I want to. I literally saw every sunrise and every sunset and jammed everything possible in between. Here are some highlights from the trip – if you are interested to see the combination of activities and accommodation I enjoyed on my trip click here and I will send you a copy of the itinerary to help you get ideas for your trip!
Flying into the Okavango Delta
A small charter plane enables you to get right into the heart of the Okavango Delta and experience the very best of this iconic water-wonderland. I was lucky enough to fly into the northern Delta and spend a night at Shinde which sits right on a perennial waterway and has year round water-based activities including boat trips and mokoro (dug-out canoe) rides. It is hard to capture in words how mind-blowing the experience of being on the water-ways of the Okavango is – from gliding at water level amongst more waterlillies than the mind can take in to coming across a pocket of jewels in the form of a malachite kingfisher sitting on a papyrus stalk.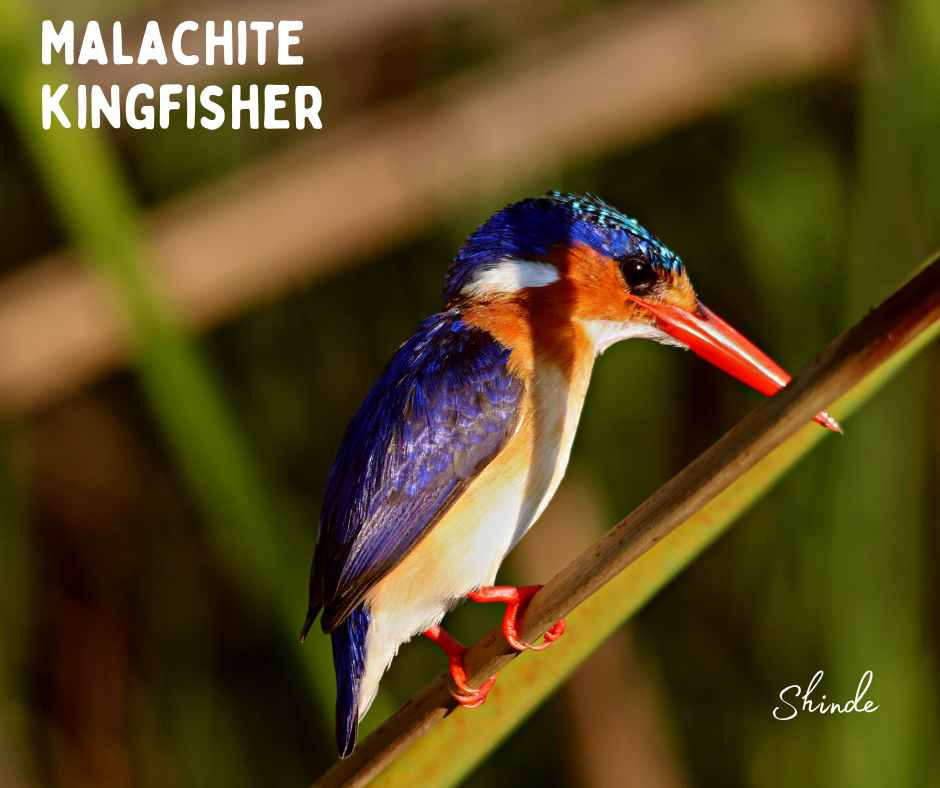 I also spent a night at Gomoti Plains, in the eastern side of the Delta. Although the waterways in this part of the Delta are low at this time of year (the rains are currently falling in Angola and the water slowly makes its way down from there, filling the Delta up later in the year) we still had the most wonderful time with the land-based activities. Not only did I arrive at my gorgeous safari tent as a parade of over 60 elephants walked past but we had the most intense encounter with a leopard mum and her two cubs just before the most amazing sunset.
I was lucky enough to experience a third part of the massive and diverse Delta too – the south west corner. Here we were the only people in the part of the Abu Concession looked after by Kweene Trails who run the most amazing exclusive mobile safari. I absolutely loved my two nights here – glamping on the most comfortable of beds with an ensuite attached, delicious food and fabulous service were all superb but the real highlight was the incredible passion and depth of knowledge of Simon who owns and runs the tours and being able to experience how he is working with the landscape and wildlife of this wild part of the world.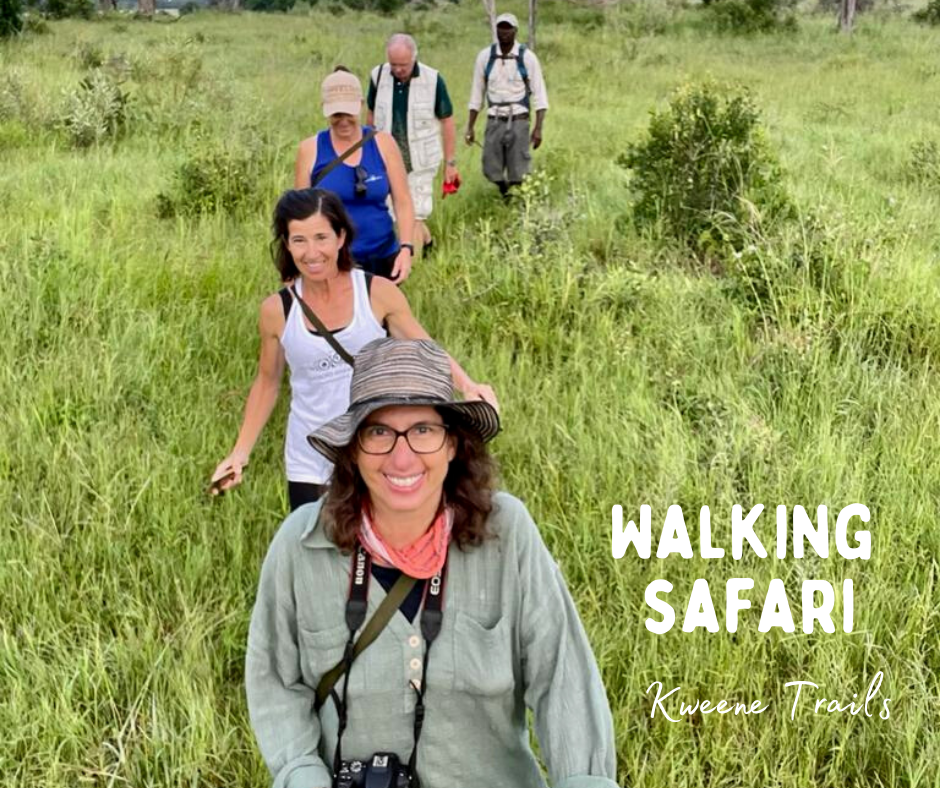 I have to admit being a little bit nervous of little (and big) planes, but always prepared to fly in them to get to amazing places and see incredible things. On this trip, I was lucky enough to experience 6 different helicopter flights in and around the Delta including 3 scenic "flip" flights (2 with the doors off!) and 3 transfers. Wow, wow, wow – I so recommend everyone trying to work at least one helicopter flight into their Botswana itinerary. Not only did all my fears of flying disappear (my mind seemed to completely ignore the fact I was in the air) but you get the most intimate and intense views and perspectives on the landscape, wildlife and birdlife below you.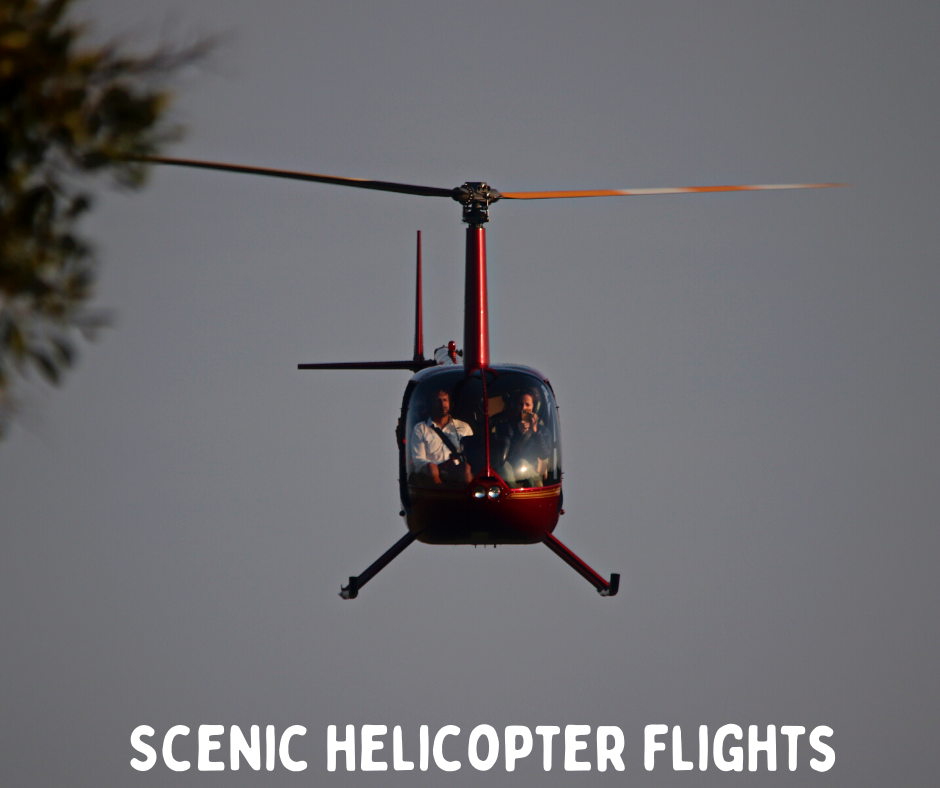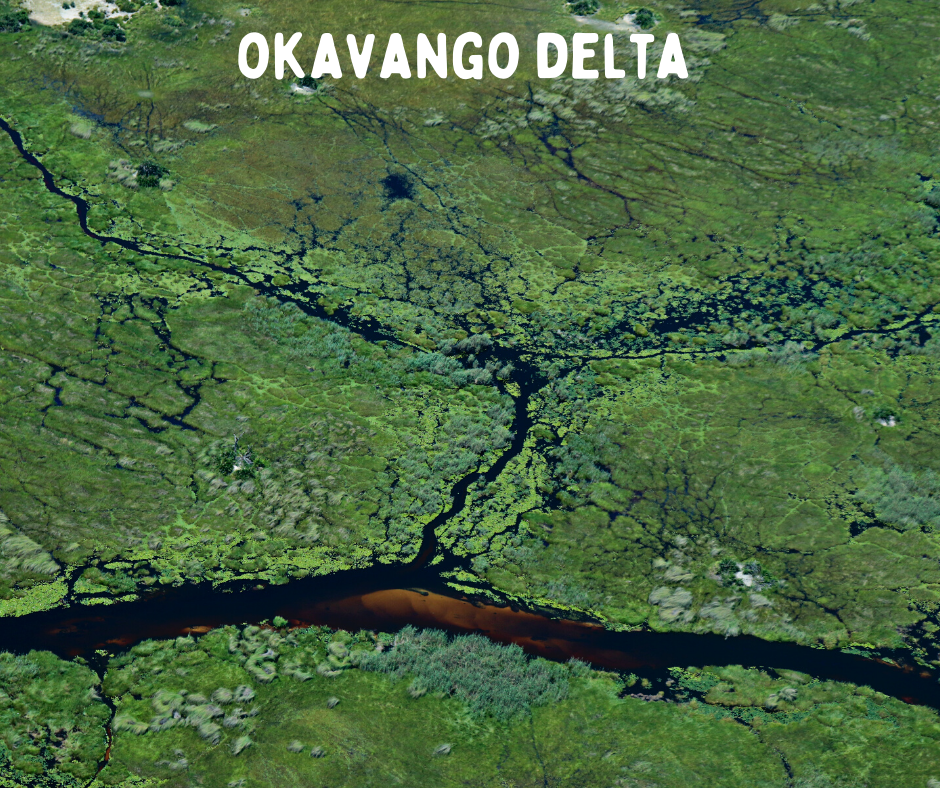 The Khwai River is a crystal clear channel leading out from the Okavango Delta in its north eastern corner, forming the northern border of the wonderful Moremi Game Reserve. I totally love this area, especially as the Khwai villagers take such pride as custodians of this precious region. There are no fences between protected areas in Botswana, and so you can stay at one of the lodges or campsites in the Khwai Community Concession and interact with so much amazing wildlife and birdlife as well as enjoy a mokoro ride on a hippo free smaller channel of the river.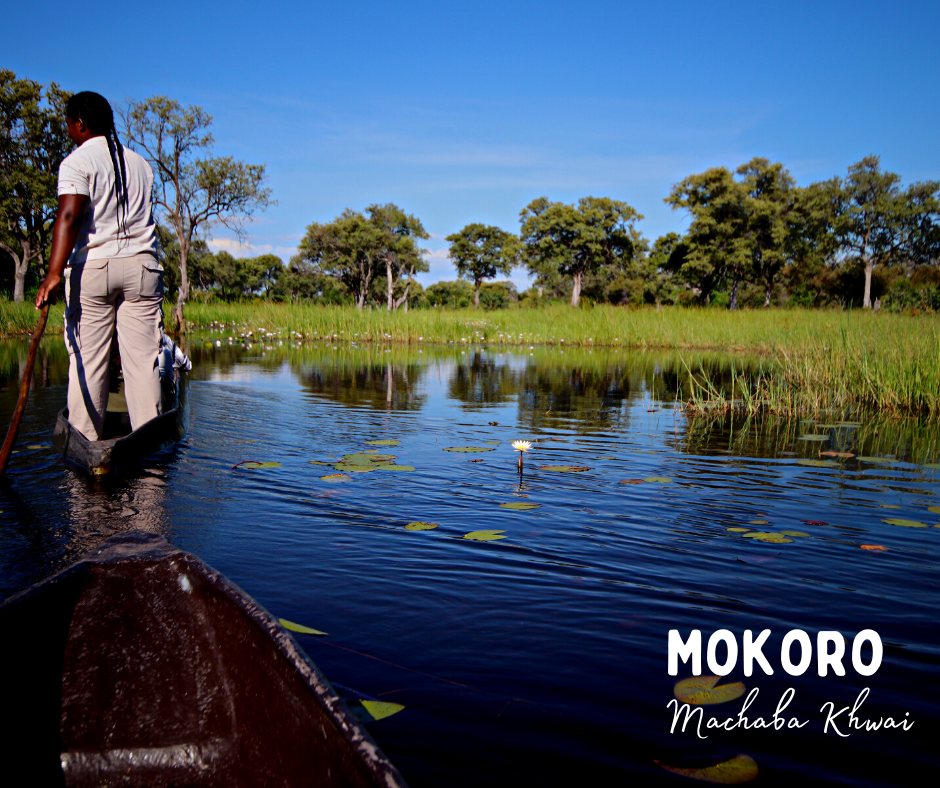 Savuti, the area of Chobe National Park between Moremi/Khwai and the Chobe River, was another highlight for me. It's an iconic wildlife destination, famous for its lions, and it's never let us down. Being there this time of year meant the famous Savuti Channel, Mababe Sandridge and Marsh, and distinctive the dolomite hills were all cloaked in green and magnificent storms would sweep in and thunder around us with little warning – making for superb backdrops for encounters with hunting wild dog and sleepy lions.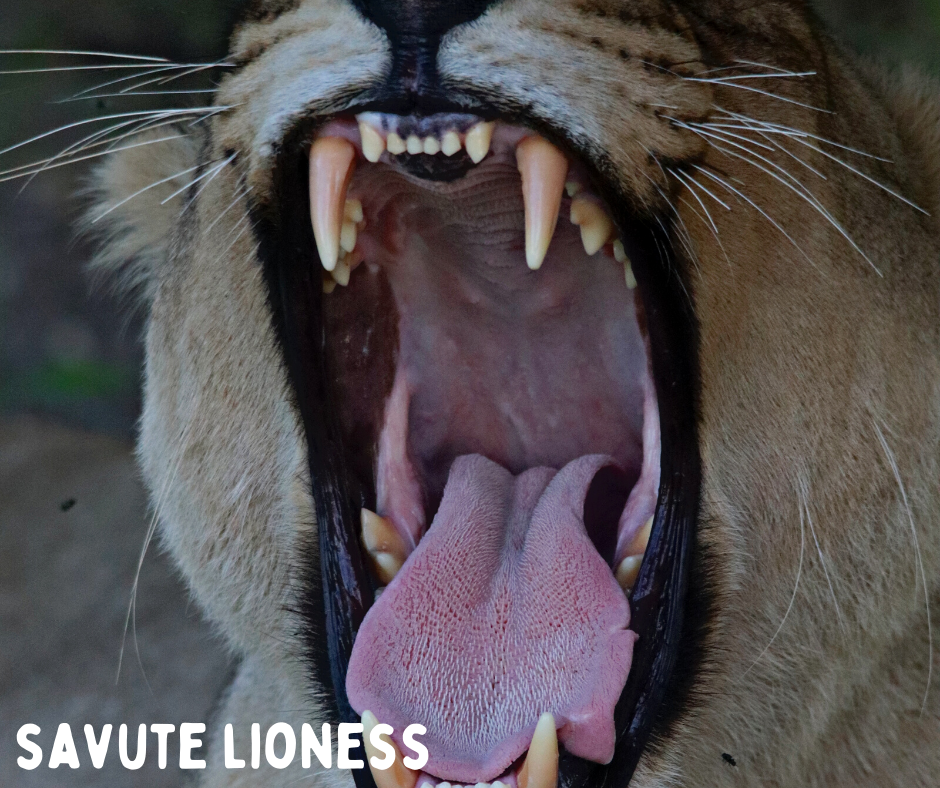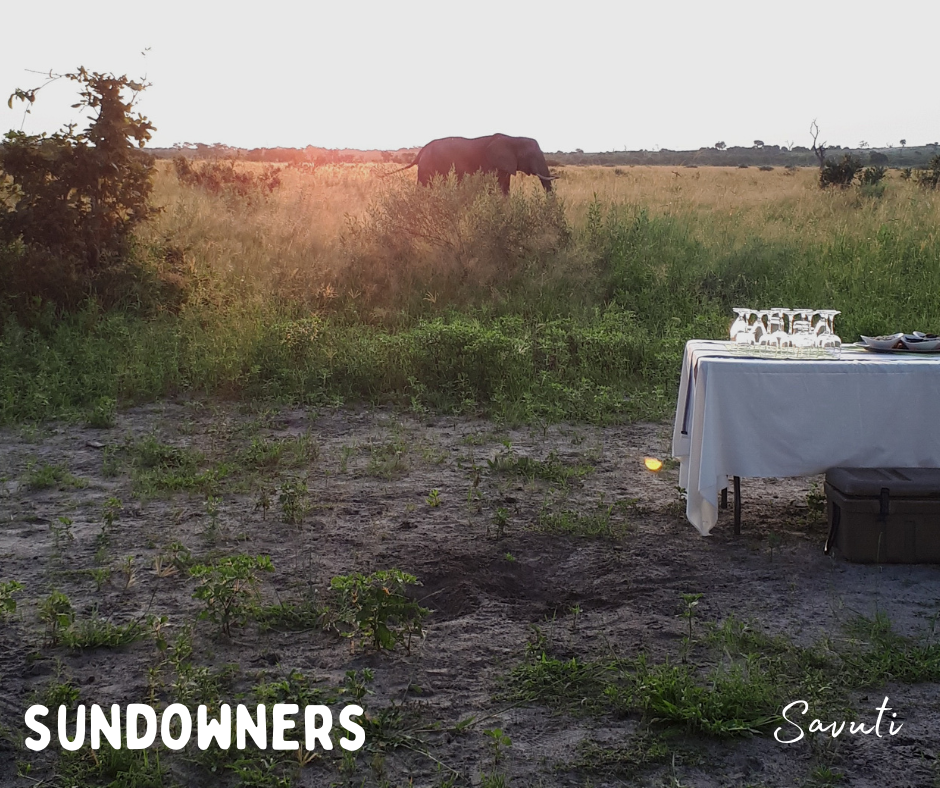 The final highlight I'll share here (more to follow in future blogs) were the plains filled with animals in western Chobe. Chobe Riverfront is a key destination for so many travellers to southern Africa due to its stunning landscape and incredible elephant herds. We were lucky enough to have a couple of game drives in the western side of the Riverfront where we saw more animals than we could count as elephant, zebra, waterbuck, impala, baboon and giraffe all flocked towards the fresh green grasses of the Chobe floodplains.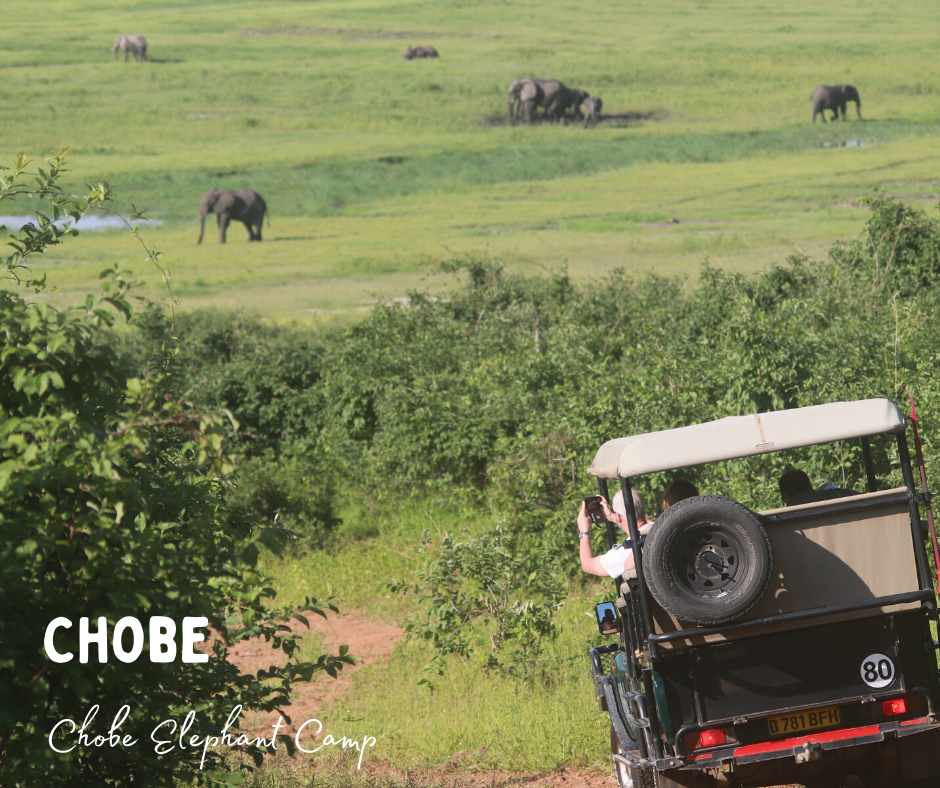 Insights from Africa's Eden Travel Show
Africa's Eden is a fabulous new tourism association formed around the 520,000 sq. km KAZA region (Kavango-Zambezi Transfrontier Conservation Area). This magical region has at its heart the Zambezi and Kavango River basin, where Angola, Botswana, Namibia, Zambia and Zimbabwe meet – a region incorporating protected areas, national parks, wildlife and conservation areas. An absolute dream travel destination.
Sandie was over the moon to be able get on board a Singapore Airline's plane and head over to Botswana and Zimbabwe to attend the travel show and participate in two amazing familiarisation trips.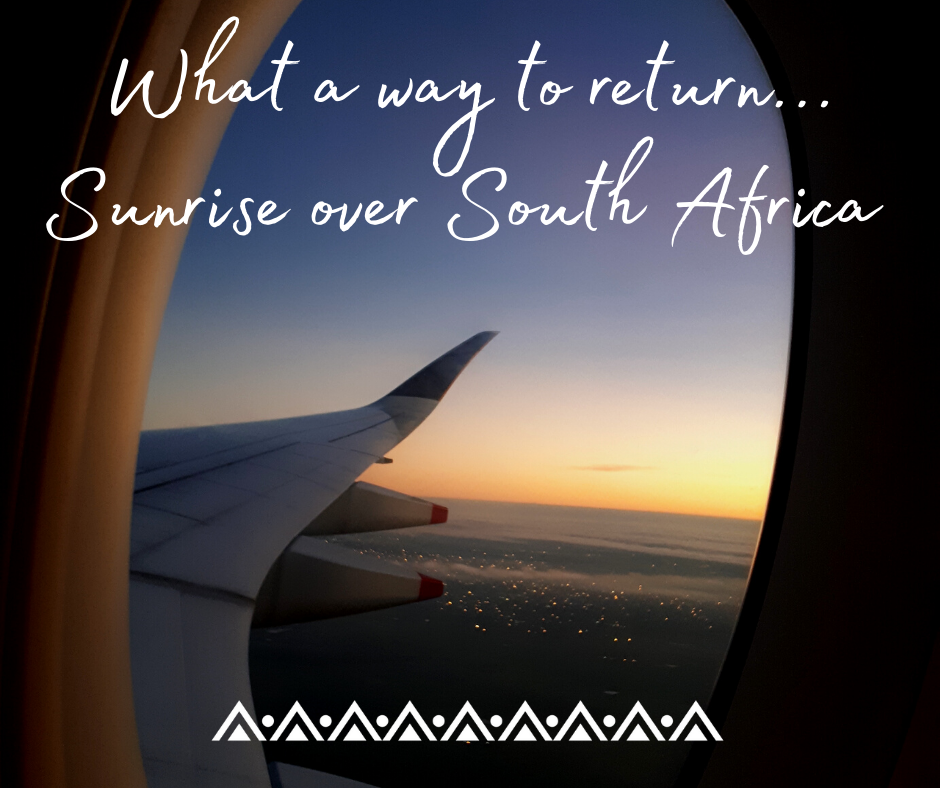 From Sandie's time back in Africa we have the following messages for those who have southern Africa on their bucket-lists:
Southern Africa is waiting with open arms for Australian tourists to return. Countries throughout the region have continued to host tourists from elsewhere throughout the last two years and are really missing Australian travellers.
Tour operators in southern Africa have done their very best to look after their staff and each other throughout the challenges of COVID. They have dug into savings, made additional loans, engaged with donors and come up with creative employment options to ensure they stay connected with their staff and to ensure staff and their dependents as well as communities they are connected with are provided for throughout lockdowns and challenging periods.
Tour operators have used the last two years to refresh and renovate their properties and to develop a range of fantastic new experiences.
At Travel Africa we've always been committed to safety. Your trip of a lifetime should be exactly that – something you can enjoy while you're there and remember with equal excitement for the rest of your life. We understand the uncertainties and hesitancies that can come with the return of international travel. That's why we have put a range of CovidSafe Travel and Covid Contingency Supports in place. We are here to support you every step of the way – in planning your trip, booking your trip and while you are on the ground in southern Africa!
This trip, however, also gave me the opportunity to see and experience first-hand how much consideration and work has been done by the tourism operators we partner with to ensure traveller safety and provide local support during your trip. We feel very confident in saying that Covid-safety is prioritised in all the businesses we work with in southern Africa.
Africa will always be there, sure. But if you are keen to travel to Africa in the near future, you need to start planning now. Remember, there is a two year back-log of visitors from around the world, eager to get back into travelling. Europe and America opened their borders before Australia did so bookings are already filling up for many tour, activity and accommodation choices. We recommend beginning to plan your trip now if you are wanting to travel in the next 12 – 24 months. Send us a message to get your itinerary started today!
Highlights from Africa's Eden Travel Show
Imagine sitting under the biggest Christmas tree and being surrounded by the most amazing gifts ever. That's what Africa's Eden Travel Show has been for me. After 48 meetings in 2 days I am now more convinced than ever that southern Africa has to be your next international travel destination. Tourism in southern Africa has not been in mothballs over the last 2 years, rather tour operators have been working so very hard to look after their staff, to develop new products and to refresh and renovate their properties. As such an array of absolutely fabulous accommodations, campsites, tours and activities await your next safari in Botswana, Namibia, Zimbabwe and/or Zambia and we are here to design and book it for you. Here is just a taster of what's on offer:
jet boat to the very bottom of the mighty Victoria Fallsa scenic helicopter flight into the Okavango Delta with a gourmet island picnic
a luxury sunset 4 course dinner cruise on a solar-powered boat down the Zambezi River
a horseback safari along the banks of the Zambezi River
a mobile boat safari into the Okavango Delta camping on delta islands
an active safari in Hwange where you can jog with the anti-poaching unit
sleep in a luxury island treehouse surrounded by the rushing waters of the Zambezi River
eat dinner on a floating restaurant on the Chobe River
go hot air ballooning over the Chobe floodplain in the dry season
get a socially responsible guiding qualification
follow the second largest wildebeest migration on the Liuwa Plains of Zambia
help conduct research on leopard and hyena conservation in the Tuli Block
go on a My Beautiful Homes bike tour in the Matopos
hire a fully solar powered fully crewed (including a chef!) houseboat on Lake Kariba and take advantage of the amazing fishing, go on a walking safari in Matusadona National Park and enjoy a beach bon fire
enjoy a guided sleepout on Botswana's salt pans
have a 5 course meal on a steamtrain safari across the Victoria Falls bridge
go on an anti-poaching walk in Hwange or the Zambezi National Parks
See our social media feeds for more photos, stories and videos – Instagram and Facebook.