Self-drive safari vehicle options
When planning and booking with Travel Africa we help you choose the right vehicle for the type and style of your trip. We:
partner with well established, reputable vehicle hire companies

offer 

latest model vehicles, less than 3 years old with full servicing every 10,000 kilometres

provide roadside assistance throughout southern Africa

include Wi-fi router with 1GB data per day with sedan and SUV vehicles in South Africa

include GPS units with all non-camping and camping 4x4 vehicles in  Namibia, Botswana, Zimbabwe, Zambia, Mozambique & Malawi

provide full trip dossiers with routes, directions, distances, information on places to stop along the way and information on driving in the countries you are travelling in.
This means you can rest assured that your vehicle will be suitable for your trip and full back up support is only a phone call away.
Types of vehicles that we offer include:
Small Sedans (Toyota Corolla, Hyundai Accents, VW Polo etc)
Small SUVs (Ford Eco-sport, Toyota Rav 4, Nissan X-Trail etc)
Unequipped 4 wheel drives (Toyota Hilux, Ford Ranger, Nissan Patrol etc)
Fully equipped camping 4 wheel drives (Toyota Hilux or Toyota Landcruiser)
Fully equipped camping Bushcamper 4 wheel drives (Toyota Hilux or Toyota Landcruiser).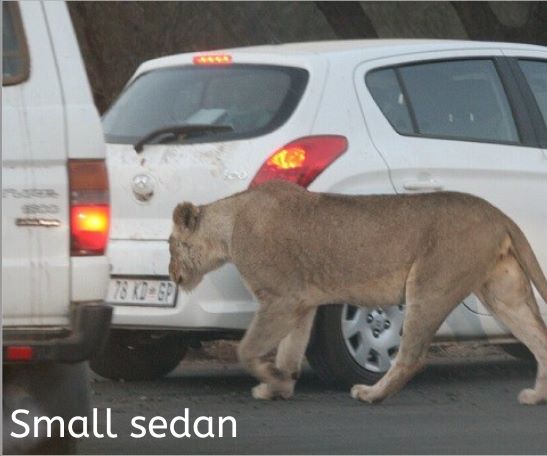 If you are 2 people looking for a suitable vehicle for a Garden Route trip, or to be used to zip around Cape Town, down to Cape Point or to the Winelands then look no further than a Toyota Corolla, Hyundai Accent, VW Polo type of vehicle.
These compact vehicles are perfect for a couple, have ample luggage space (2 medium, 2 small pieces), great fuel economy and are easy to park in the Garden Route's quaint towns or Cape Town's busy streets. In addition, this vehicle type offers great value for money, meaning there's more of your budget left over to treat yourself with an upgrade on accommodation or additional day tours / activities etc.
If you are on a budget and looking to visit Kruger National Park, then this type of vehicle may also fit the bill and allow you to see a wide range of wildlife (see our blog: Self-Drive vehicle options for Kruger National Park). The only down side is that you won't have the vehicle height (see Small SUVs) to help you see over other vehicles or further in the bush.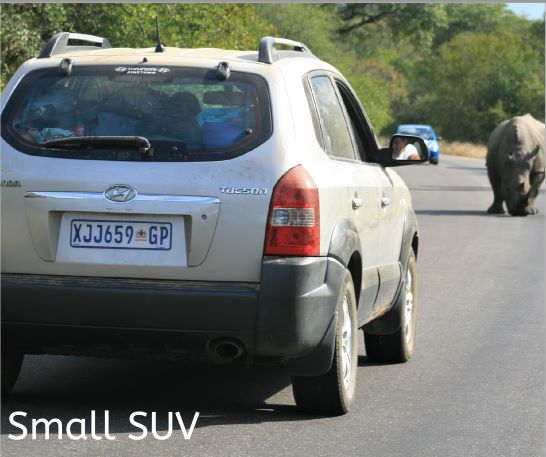 For longer trips in South Africa (for example our 22 day Classic South Africa self-drive) or if you are a family with children or a group of 4 adults then you want to look at a larger vehicle such as a Ford Eco-sport / Toyota Rav 4 / Toyota Fortuner.
These vehicles will give you that extra bit of legroom for everyone to stretch out, lots of luggage space in the boot (2 large, 2 medium pieces) and a larger engine capacity for those longer trips, but still with great fuel economy.
This type of vehicle will provide a more comfortable driving experience and are the perfect vehicles for South Africa's game reserves - the extra height allows you to see further into the bush or over other vehicles at some of the 'special' sightings. They also offer extra ground clearance if you find yourselves on some of the parks gravel / dirt roads or are heading to one of private game lodges in a private game reserve - less likelihood of 'bottoming out' with this vehicle.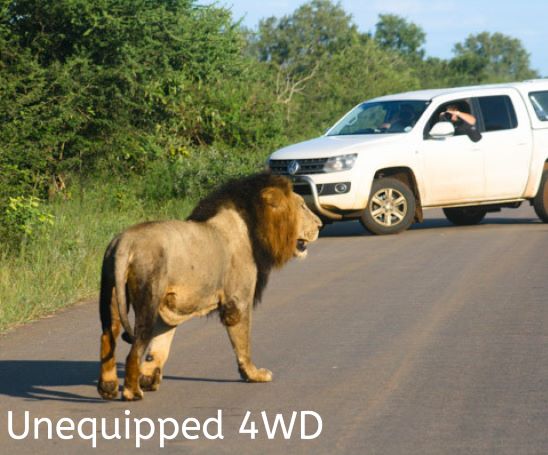 Heading further afield in southern Africa, such as to Namibia or Botswana, but staying in lodges / hotels rather than camping, then your best bet is a 4x4 vehicle such as a Toyota Hilux / Ford Ranger / Nissan Patrol.
The majority of roads in Namibia are well maintained gravel, whilst in Botswana's game reserves roads are either gravel or soft sand, so a 4x4 vehicle is the perfect choice. This type of vehicle gives you a comfortable ride with good on and off road performance, a good ride height, excellent for negotiating this rocky sections of road and for game viewing in the national parks, excellent fuel consumption and range as these vehicles often have dual fuel tanks of up to 140 litres - ideal for the places like Namibia where towns / filling stations can be far apart.
This vehicle will easily accommodate 4 or 5 adults in comfort and has lots of luggage space in the rear, lockable, canopy. With this type of vehicle you can also look at hiring a 40 / 60 litre car fridge to keep your drinks and food cool as you travel and also a satellite phone if you are traveling more remotely.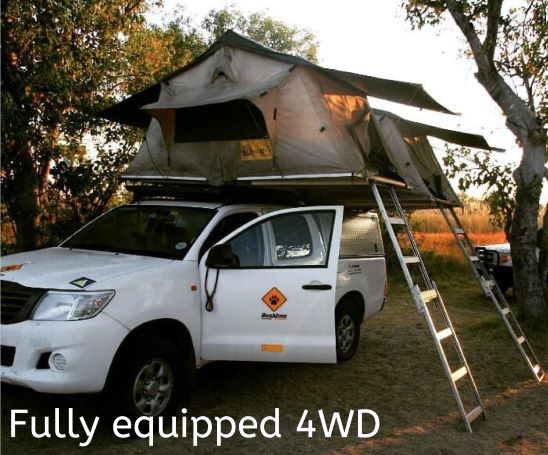 When heading into adventure territory - experiencing the wonders of Namibia, Botswana, Zimbabwe, Zambia or Malawi - then a fully-equipped 4x4 camping vehicle is perfect.
Including up to two roof-top tents and all camping equipment, including fridge, water tank, solar shower etc, required to be self-sufficient, there are two types of 4x4 vehicles we recommend - Toyota Hilux or Landcruiser. These vehicles give a comfortable ride with great on / off road performance, good ground clearance for negotiating rocky or soft sand roads / tracks and for game viewing, excellent fuel consumption and range (130 / 140 litre dual fuel tanks as standard), spacious cabs for up to 5 people and durable, lockable rear canopies for all your luggage.
An extensive range of camping equipment is provided - 1 or 2 easy set up roof top tents (see video below), 40 litre vehicle fridge / freezer, drinking water tank, gas cookers with 2 full gas bottles, camping chairs and table, all cooking equipment, crockery and cutlery, all bedding, pillows and towels, draw storage system, solar shower, gas lanterns and electric lights and more (full list supplied on request).
All vehicles come with the following safety equipment: a 2nd spare tyre, high-lift and standard vehicle jacks, air compressor and tyre pressure gauge, fire extinguisher, grass seed nets, puncture repair kit, jumper cables, sand mats, tow straps, jumper cables, first aid kit and basic tool kit.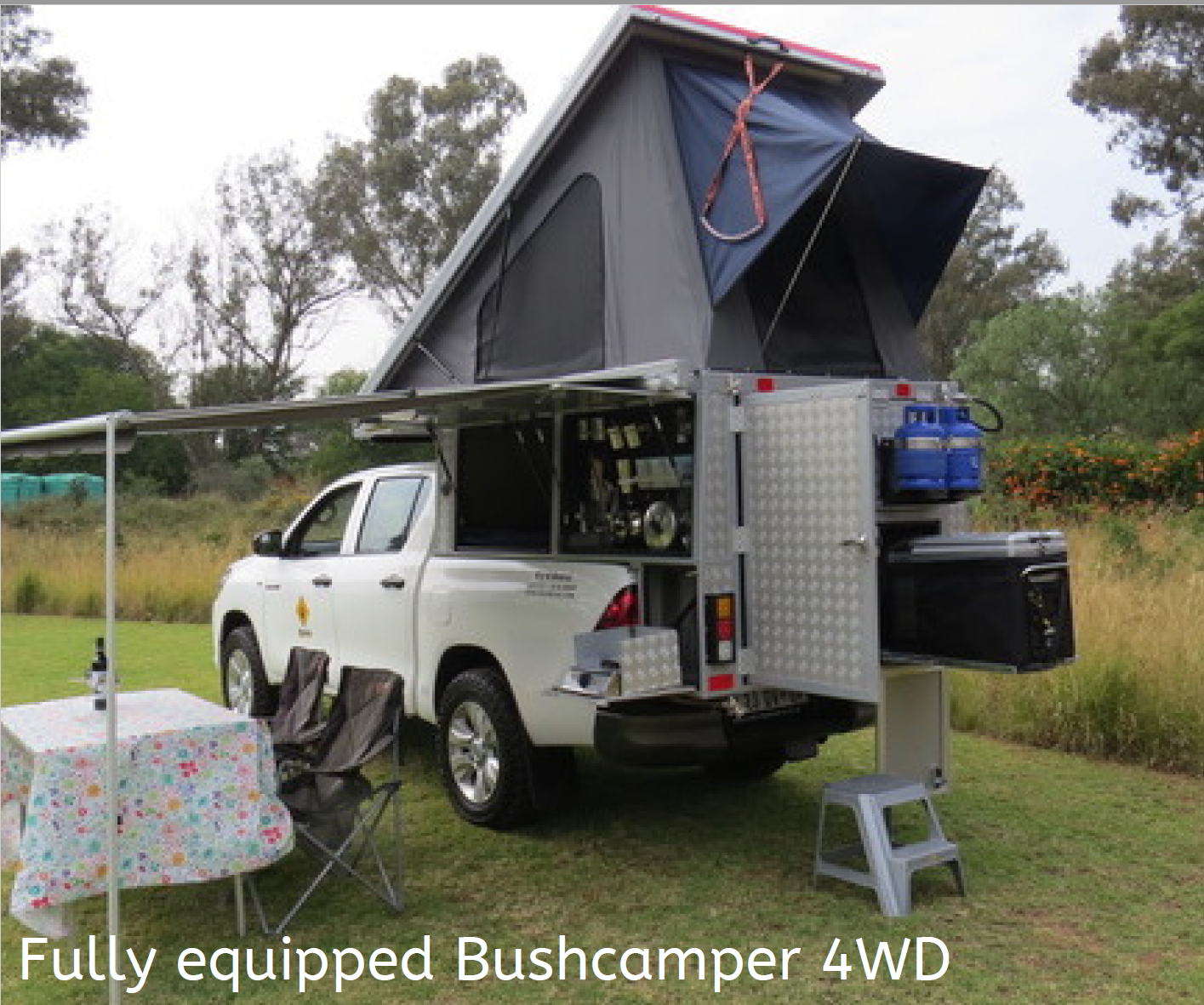 The ultimate compact camping vehicle that literally takes minutes to set up! Everything required for an amazing southern African experience is built into the custom designed rear canopy.
Suitable for a couple or a family (2 Adults and 2 Children) this vehicle comes in two models - Hilux and Landcruiser and features all the same vehicle benefits of a standard camping 4x4 vehicle, comfortable ride, excellent 4x4 capabilities, high ground clearance, great fuel economy / range and spacious cab.
What makes this vehicle is the custom designed canopy. Built in is a roof top tent that sets up in seconds, the canopy tray converts to a bed to comfortably sleep two children, a wrap around shade sail provides protection from the African sun, a slide out fridge and fold down gas cooker are at a height to suit everyone, a solar shower is available for when you are camping in remote areas and there is plenty of storage.
As with the standard camping vehicle, there is full compliment of vehicle equipment to help you in case you get into a spot of bother - tyre punctures, flat battery, stuck in mud or sand etc
Hilux or Landcruiser?
Choosing between a Hilux or Landcruiser will depend on where you are travelling, your budget, and the age and  size of the group.
We will discuss all these details with you to select the perfect vehicle.
---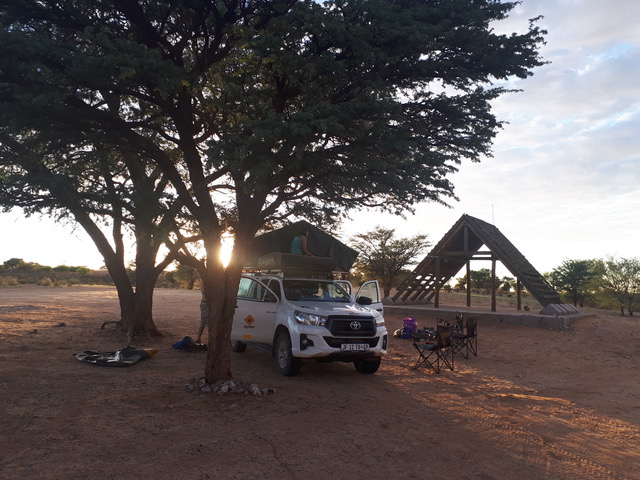 ---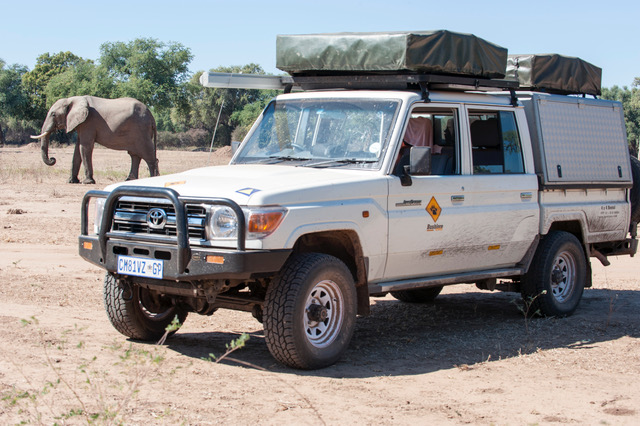 Self-Drive Safari Vehicles Gallery