Self-Drive Botswana and Zimbabwe: Safari Circuit - 22 days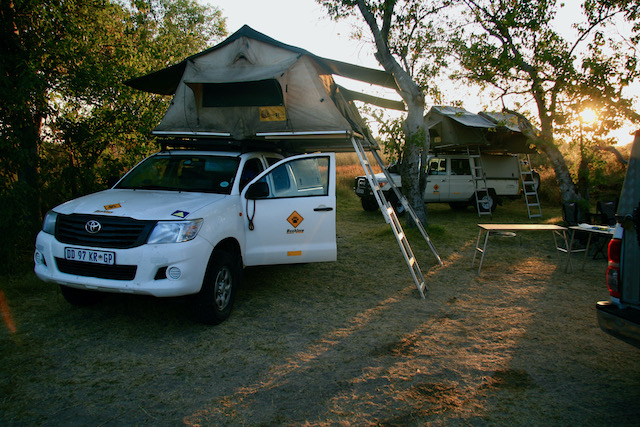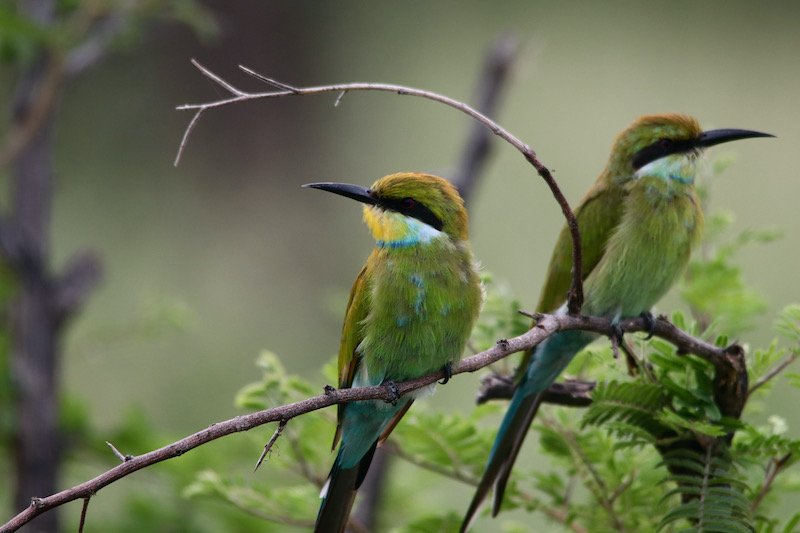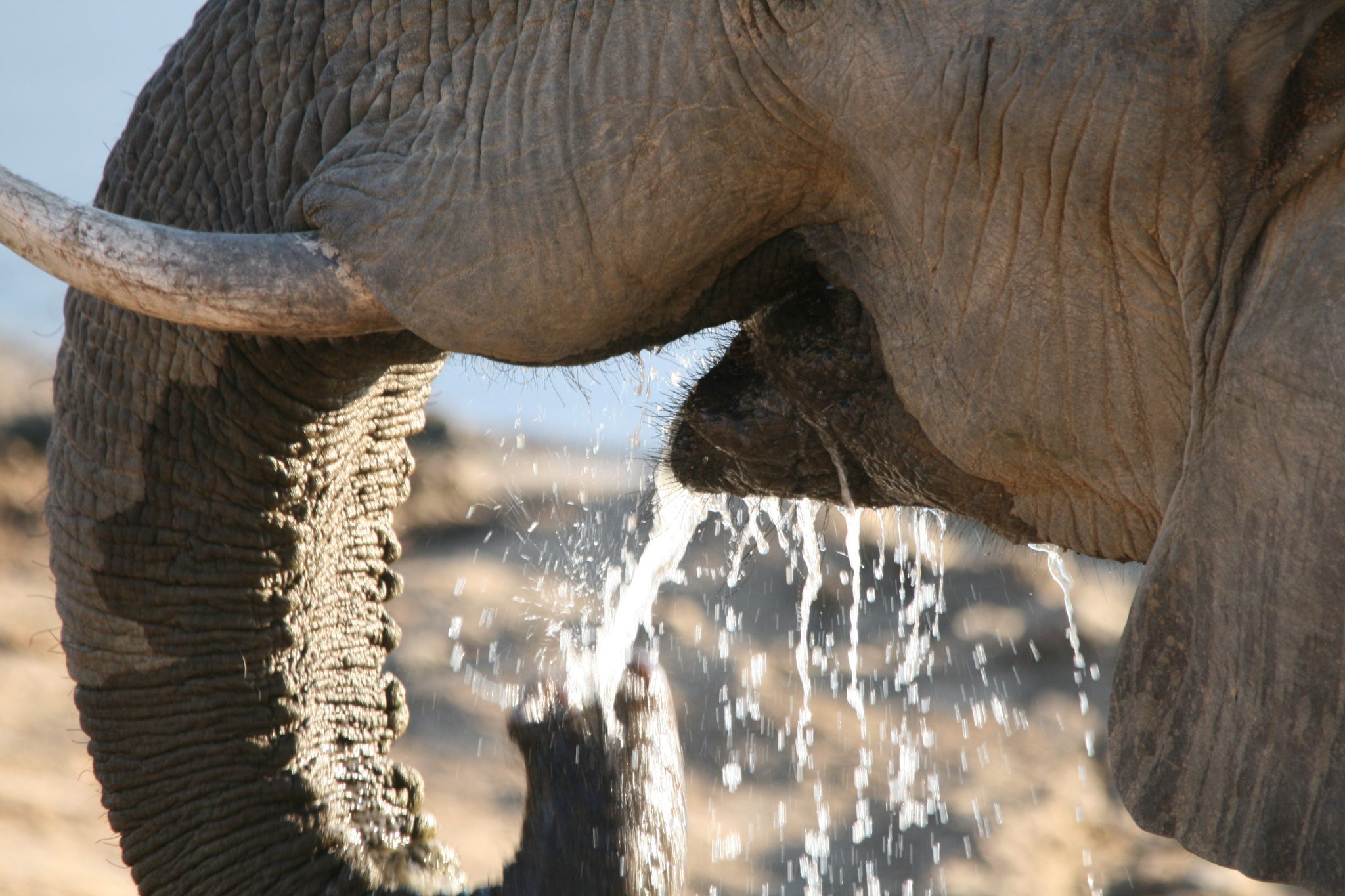 "We are still pinching ourselves - this was the THE most incredible trip! Self-driving through Botswana and Zimbabwe was such an adventure - we still can't believe everything we saw and experienced - from the salt pans and river systems of Botswana to the wildlife of Hwange and the mind-blowing Victoria Falls"
This self-drive camping trip takes you through Botswana and Zimbabwe, getting you right off the beaten track and enjoying the very best of these incredible countries! This safari circuit sees you starting and finishing in the same place - either Maun, Kasane or Victoria Falls.
Read our blog A day in the life of a self-drive safari to get a sense of what a self-drive safari can involve. A trip not to be missed!
Makgadikgadi Pans - Matopos - Hwange National Park - Victoria Falls - Chobe Waterfront - Savuti - Khwai - Moremi Game Reserve
Maun - Khumaga (Mkagadikgadi Pans) - Nata - Matopos - Hwange - Victoria Falls - Kasane - Chobe Waterfront - Savuti - Khwai - Moremi - Maun
Start: Maun
End: Maun
(Itinerary can also start and finish in Victoria Falls or Kasane)
From AUD$4,300 per person (two people sharing)
Camping, except for guesthouses in Maun and Victoria Falls.
All campsites have ablution facilities.
4x4 hire – 4x4 dual cab with 1 rooftop tent including all camping equipment (Toyota Hilux or similar). Pick up and drop off Maun Airport. For details of the vehicle types available please see - Self Drive Safaris.

4x4 hire vehicle cover - unlimited kilometres, collision damage waiver (NAD$30,000 excess), second driver, taxes and tourism levies, introduction to vehicle, travel pack and GPS unit.

Accommodation as indicated below.
Meals as indicated below.
Tour of Victoria Falls.
Zambezi Sunset Cruise.
Chobe Sunset Cruise.
Relevant Travel Africa Information sheets.
Airfares.

4x4 hire insurance upgrade (excess reduction or removal).

Fuel.
All cross border fees / taxes imposed by each individual country (i.e third party insurances, road taxes, carbon taxes etc) - all paid locally (full details to be advised with booking).
Entry fees to national parks and places of interest.
All activities unless indicated below.
All meals unless indicated below.
Gratuities.
Visa fees.
Personal insurance.
With Travel Africa you are safe in the knowledge that you are working with people who are experts in self-drive travel. We have driven the types of vehicles you are looking to hire and driven them in the places, and on the road conditions, that you will experience. We have enjoyed all kinds of self-drive trips in southern Africa for over 25 years – from quick flits along the Garden Route to 8 month adventure trips with fully equipped 4x4s and roof top tents throughout southern Africa.
We give you peace of mind by working closely with you to custom-make and book your itinerary – ensuring you have the most appropriate type of vehicle and accommodation for your trip. We also provide you with detailed trip dossiers, which include routes, directions, tips and hints on driving in southern Africa, ensuring you have all the information you need to enjoy every minute of your trip and feel comfortable and secure with your holiday plan!
Our in-depth knowledge of destinations, conditions, vehicles and equipment, based on extensive personal experience, gives you the peace of mind you need for your self-drive safari.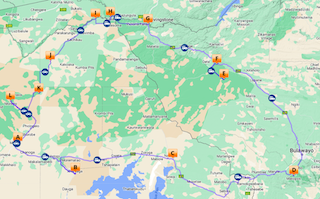 Pick up your vehicle from Maun International Airport. After settling in to your overnight accommodation, stock up with food, water and fuel as you prepare for the first stage of your self-drive adventure through Botswana and into Zimbabwe. In addition, take some time to become familiar with your vehicle and equipment.
Stay at:
Maun Studio or similar
Travel distance: Approximately 155kms, main roads
Start your self-drive adventure staying  on the eastern boundary of the Makgadikgadi National Park. The Makgadikgadi Pans are a photographer's dream as the immense, ancient lake beds transform into a haven for animal and bird-life with the arrival of seasonal rains. Khumaga is well  known for the great migrations of zebras and wildebeest and is bordered by the seasonally flooded Boteti River which is also on the flamingo migration route. There are 10 campsites with small two ablution blocks.
Stay at:
Khumaga Camp Site or similar
Travel distance: Approximately 370kms, main roads.
Leave Khumaga and drive through to pans where you will overnight at Nata Lodge - enjoy the facilities and perhaps see a Lesser Bushbaby spring through the trees at dusk. Depending on the season consider a visit to the Nata Bird Sanctuary - an area set aside by the local community as a refuge for pelicans and flamingoes who congregate on the Sowa Pan after rains have fed the Nata River.
Stay at:
Nata Lodge or similar
Travel distance: Approximately 325kms, good dirt roads.
You now cross the border into Zimbabwe and your first destination is the Matopos National Park. Located just 35 kilometres south of Bulawayo, the Matopos consists of spectacular granite kopjes (hills) and wooded valleys. The region, a paradise for hikers, is famous for its distinctive rock formations such as the balancing rocks and has a rich heritage of Bushman rock art. The Matobo balancing rocks are the burial place of Cecil Rhodes and his grave, 'World's View,' commands a spectacular vista to the horizon. Part of the national park is set aside as a wildlife conservation area where visitors have a good chance of sighting a whole host of general game including leopard and hyena as well as the endangered white and black rhino.
Stay at:
Big Cave Campsite or similar
 Travel distance: Approximately 370kms, combination good dirt roads and main roads.
Journey on to the amazing Hwange National Park. Hwange is a dedicated nature nirvana consisting of 14,651 unfenced square kilometres in the northwest of Zimbabwe extending westward to link with the Kasane Forest and Chobe region of  Botswana. The park has a fascinating variety of landscapes, from semi-desert to teak forests to open grassland, and rightfully boasts the highest concentration of wildlife species of any safari region in Africa. With immense herds of buffalo and elephant, the major predators of lion, leopard, cheetah and wild dog and some of the rarer antelope species, such as sable, kudu and eland, Hwange National Park time and again lures safari lovers back! Split your stay in different parts of the vast Park and enjoy these unique campsites located in private concessions.
Stay at:
Camp Silwane (2 nights) and Tuskers (2 nights) or similar
*Consider an upgrade here to Camp Silwane's self-catering tented camp or a unique sleep out on the Somadada Platform.
Travel distance: Approximately 180kms, combination good dirt roads and main roads.
From Hwange journey on to the magnificent Victoria Falls. The Victoria Falls is a sight not to be missed - the clouds of spray generated by this thunderous descent have resulted in a lush rain forest full of stunning wild flowers. This is truly one of Africa's most spectacular sights and the Victoria Falls village in Zimbabwe is the perfect base from which to appreciate it.
A host of activities are centred on four separate delights: the Falls, the magnificent Zambezi River, the surrounding Zambezi National Park and the Victoria Falls village.
A tour of the Falls is a must, the 'Flight of Angels' helicopter flight gives you the most amazing aerial views of the Falls, and when water levels are low the Devil's Pool will get the most hardened thrill seeker's heart pumping.
The Zambezi River has two characters - the wide gentle river above the Falls is a magic spot for sunset boat cruises or gentle canoeing, whilst below the Falls, the more adventurous can enjoy serious whitewater rafting, jet boating or bungee jumping.
Game drives, horse riding and conservation safaris are offered in the Zambezi National Park to view elephant and buffalo.
Children are not forgotten and canopy tours cater to all ages. A high tea amidst the colonial splendour of the Victoria Falls Hotel is a daily event and a carnivorous feast at the Boma Restaurant awaits the hungry.
Included during your stay are a guided tour of the Victoria Falls and a sunset cruise on the Zambezi River.
Stay at:
Phezulu Guest Lodge or similar
Travel distance: Approximately 80kms, main roads
This morning leave Zimbabwe and drive across the border back into Botswana to the town of Kasane, which is adjacent to the Chobe National Park. Use this base to enjoy the national park and stock up for the next part of your adventure. Included in your safari is a wonderful sunset cruise on the Chobe River so that you can experience Chobe from a different perspective. Cruise amongst the grunting hippo or watch the elephants wade through the reed beds as you enjoy an incredible African sunset.
Stay at:
Chobe Safari Lodge Campsite or similar
Travel distance: Approximately 50kms, dirt roads.
From Kasane head into the Chobe Riverfront, a world renowned wildlife viewing area where a drive along the Chobe River floodplain may bring you face to face with large herds of elephant and buffalo or reward you with sightings of puku and lechwe antelope. The elephant population of Chobe is immense, with estimates of over 100,000 of these gentle pachyderms congregating during the dry season – an amazing experience! Your campsite for the next night is unfenced and located overlooking the Chobe River right in the heart of the national park itself.
Stay at:
Ihaha Campsite or similar
Travel distance: Approximately 130kms, dirt roads - possible soft sand.
From the Riverfront you will drive deep into Chobe National Park - to the remote and magnificent Savuti. At the heart of Savuti is a relic marsh that is watched over by seven low lying hills and the ancient  Savuti channel only flows in periods of extreme rainfall. This is an exclusive, remote wildlife destination which was made famous by the Joubert's documentary 'Eternal Enemies' highlighting the dramatic struggle between lion and hyena in the area. Spend your self-drive game drives meandering along the Savuti Channel or try your luck in the stunning Savuti Marsh looking for predators and enjoying the large concentrations of wildlife attracted by the semi-permanent Savuti water sources.
Stay at:
Savuti Campsite or similar
Travel distance: Approximately 100kms, dirt roads - possible sand sections and water crossings.
From Savuti travel south on either the sand or marsh roads to the Khwai Community Trust Concession which lies along the Khwai River between Moremi and Chobe National Park. This is a magical area which is a magnet for animal and bird life, especially along the fabulous Khwai River floodplains. All major animal species including elephant, lion, leopard and endangered wild dog occur in the region as well as more unusual water-loving animals such as red lechwe antelope and more than 500 types of birds.  Self-drive travellers can support the local Khwai Community by staying at the fantastic private camp sites within this stunning location and being contiguous with Moremi, self-drive game drives can be done in within both the Khwai Community Concession or the Moremi Game Reserve.
During your stay at Khwai a recommended activity is a morning guided mokoro trip along one of the tributaries of the Khwai River. This is a relaxing way to enjoy your surroundings and view wildlife from a different perspective. A mokoro trip can be pre-booked, recommended during peak season (July - October) or arranged on arrival at the camp.
Stay at:
Magotho Campsite or similar
Travel distance: Approximately 60kms, dirt roads - possible sand sections and water crossings.
From Khwai head into Moremi Game Reserve, renowned as being one of the most beautiful game reserves in Africa. Moremi offers an abundance of wildlife and birdlife as well as unique delta scenery combined with mopane forests and open flood plains. Spend two days searching for animals and birds on the eastern edge of the Okavango Delta. Game viewing here can only be described as superb, with a very good chance of seeing a variety of predators. 
Stay at:
Third Bridge Campsite or similar
Travel distance: Approximately 140kms, dirt roads - possible sand sections and water crossings.
After your morning drive return to Maun for a night before returning your vehicle.
Stay at:
Maun Studios or similar
Okavango Delta Add-On options:
The perfect add-on to your Botswana trip is a visit to the water and wildlife wonderland that is the Okavango Delta. This truly magnificent landscape and unique ecosystem attracts animals from kilometres around and creates one of Africa's greatest wildlife concentrations. Travel Africa can assist you with a number of fantastic options to enjoy this special place:
A fly-in package to stay at one of the lodges / camps in the Delta's heart.
An Eastern Delta mobile camping trip providing a walking and mokoro experience for the more budget conscious traveller.
A full day mokoro or boat trip into the Delta - Contact us for details.
A scenic flight over the Delta - Contact us for details.
What else can Travel Africa help you with?
Travel Africa specialises in all types of travel in Southern Africa.
Please enjoy looking through our website. Here are some other itineraries you might be interested in.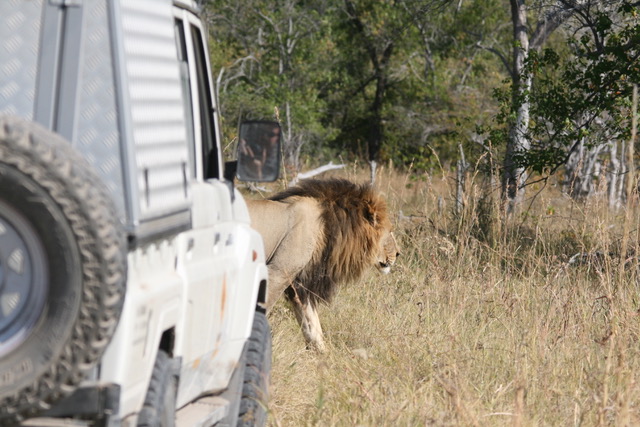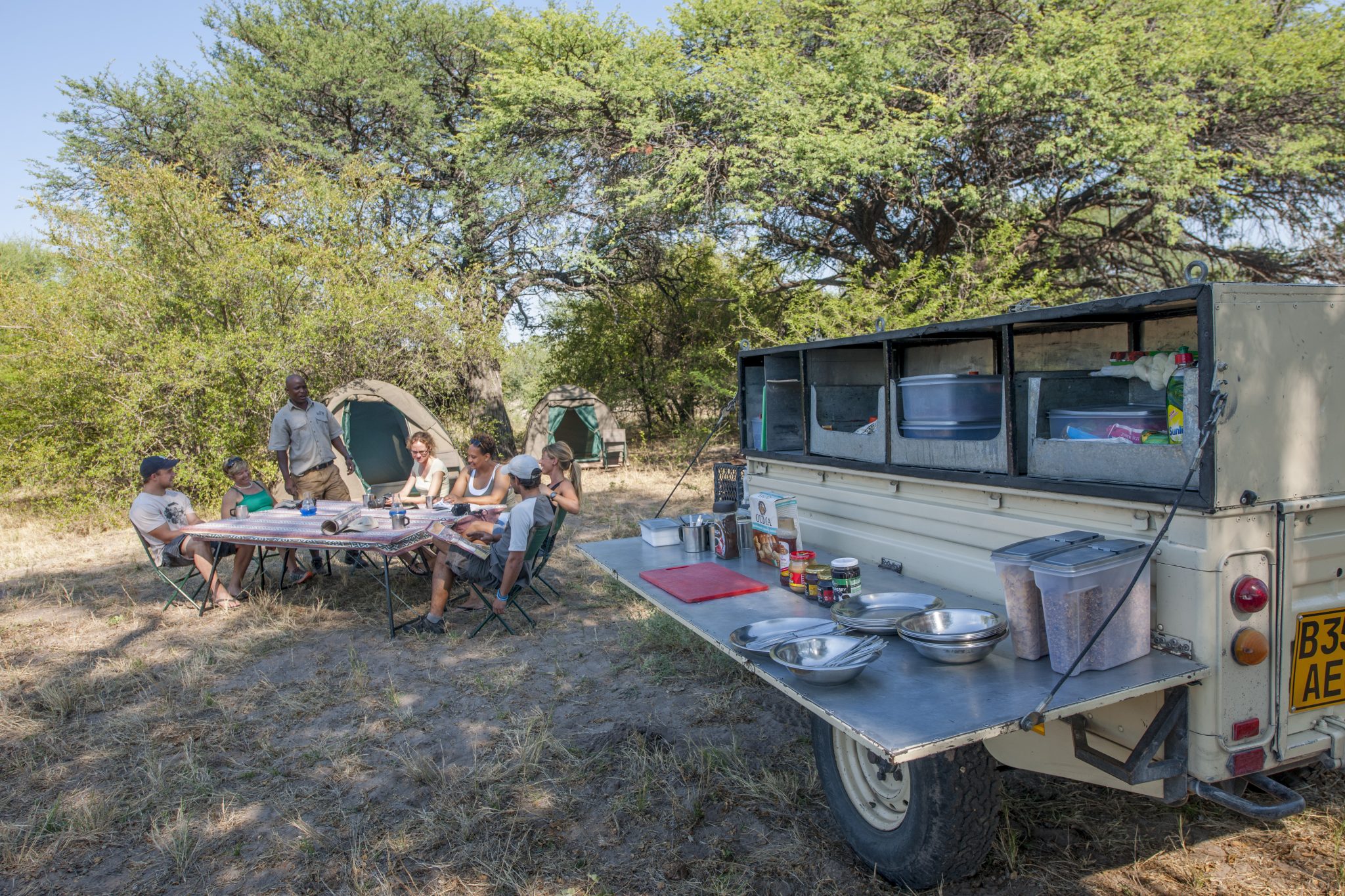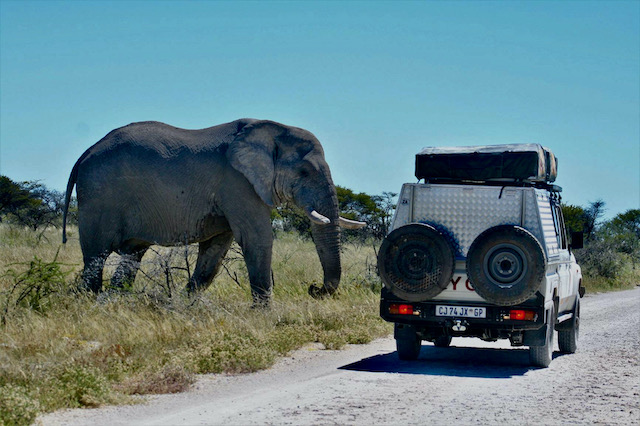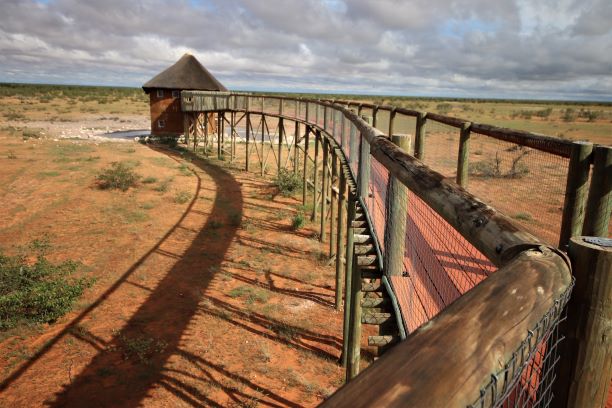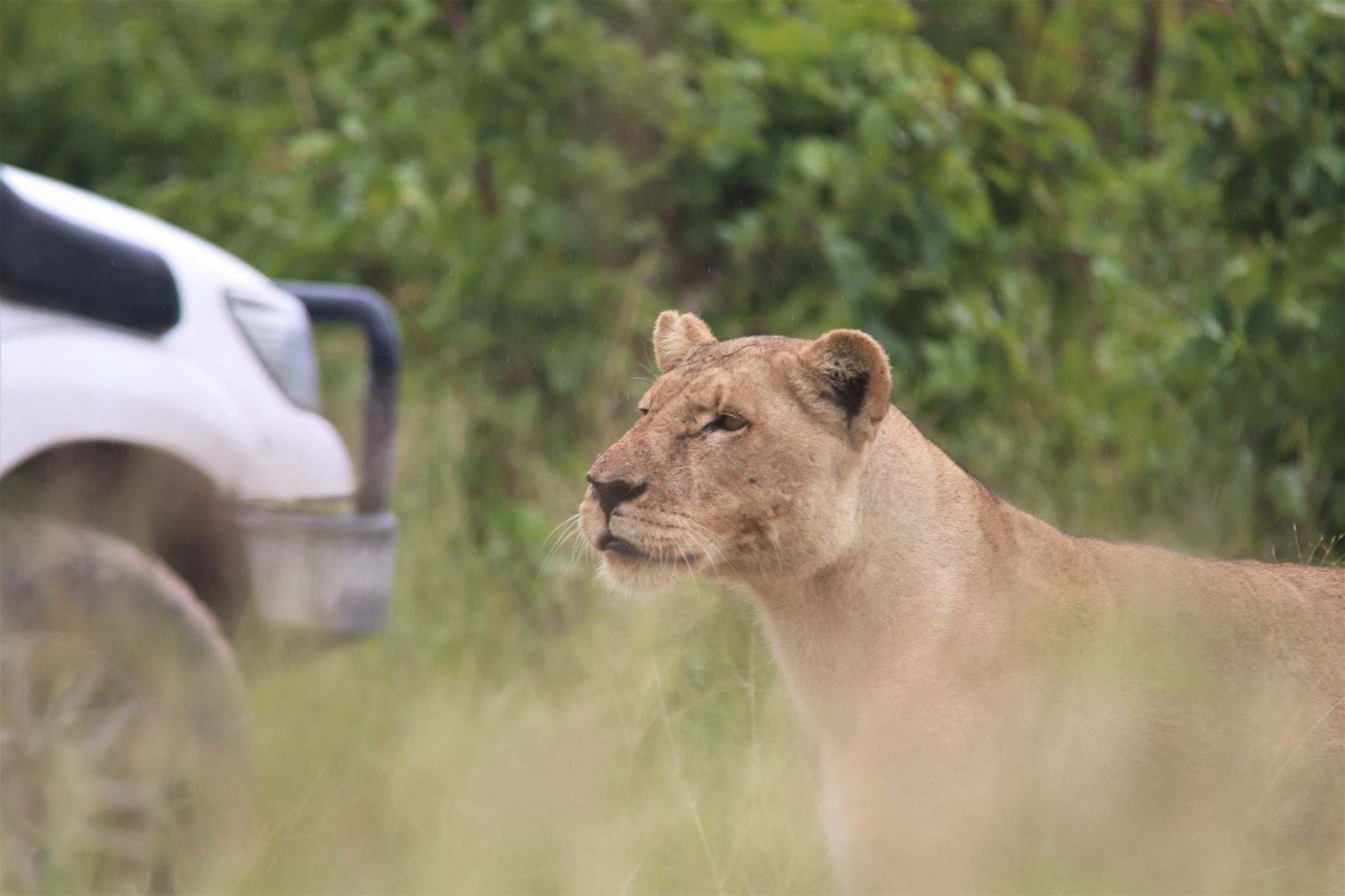 Self-drive Botswana and Zimbabwe: Safari Circuit Gallery