A safari in Botswana - what a brilliant idea! Botswana is a premier tourist destination and we love organising and booking holidays here so people can experience this incredibly wildlife rich country. Botswana is dominated by the stunning Kalahari Desert, however with its desert sands fed by the mighty Okavango, Chobe and Linyanti rivers, Botswana is home to some of the very best wildlife sanctuaries in the world. These include the truly remarkable Okavango Delta, the amazing Chobe National Park (including Chobe Riverfront and Savuti) and one of our favourites - Moremi Game Reserve. Although Botswana can be more expensive than surrounding countries, it is well worth it and self-drive travel options enable Botswana to become an exciting and affordable destination. Below we describe some of the wonderful destinations Botswana has to offer.
Please note that self-drive camping sites in Botswana can be very basic. If they have ablutions (and some may only have long drops or no ablutions at all), neither hot water nor toilet paper can be guaranteed. Also all public camp sites in national parks are unfenced and animals including elephants, baboons, vervet monkeys, hyenas, lions and leopards can be regular visitors. Whilst to some this may sound daunting with pre-planning and the advice provided in our detailed travel information sheets - explaining the dangers that may be present and the dos and don't of keeping yourself, and the animals, safe - this does make for a safe and exhilarating safari experience!
Travel Africa will work with you to plan a range of fabulous touring options around Botswana – from flexible self-drive holidays to incredible luxury lodge stays. We will then book your holiday for you – providing you with detailed itineraries and information sheets. Don't forget we provide superb value for money due to our in-depth knowledge of the region and our direct contacts which cut out layers of commission. Look at our fabulous range of  itineraries to give you loads of ideas and places to start from.
Interactive country map and photographs at the bottom of this page.
When to visit Botswana - Seasons
The wet, or 'green,' season in Botswana is generally between December and March and during this time thunderstorms and grey skies can dominate the hot and humid days. April and May see temperatures starting to drop amongst the still vibrant and green landscapes. Nights can get cold, and once winter arrives some places, especially in the Kalahari Desert, can fall to near freezing, although from June to August the temperature warms up rapidly as the sun takes hold during the day. In September the temperatures starts to climb and by October it can be getting very hot (with temperatures sometimes hitting 40 degrees), as can November, although sometimes early rain can cool this month down. June through to October is the peak season for wildlife viewing in the Delta, Moremi, Chobe and the Tuli Block, as the animals start to congregate around remaining water. For the game reserves located in the Kalahari region - Makgadikgadi, Nxai and Central Kalahari - things are a little different as the best times for wildlife viewing are governed by seasonal animal migrations especially zebra through Makgadikgadi and Nxai.
North Tuli GR

(Tuli Block)

North Tuli GR (Tuli Block)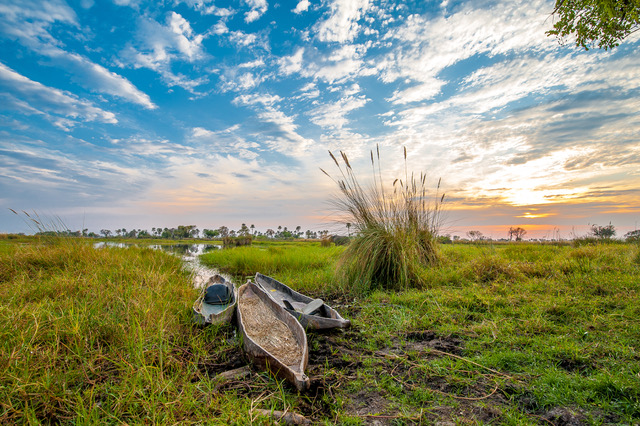 The Okavango Delta, one of Africa's seven natural wonders, is a very large inland delta formed by the Okavango River dispersing its waters into the sands of the Kalahari basin. This truly magnificent landscape and unique ecosystem attracts animals from kilometres around and creates one of Africa's greatest wildlife concentrations. As the flood waters peak (June-August) the Delta swells to three times its permanent size so dry land becomes scarce and the animals congregate on the Delta's islands. Lodges / camps in the Delta's heart are accessed by light aircraft and daily game activities include lazy mokoro trips through the reed lined waterways and guided safari walks. The Eastern Delta provides a Delta walking and mokoro experience for the more budget conscious traveller.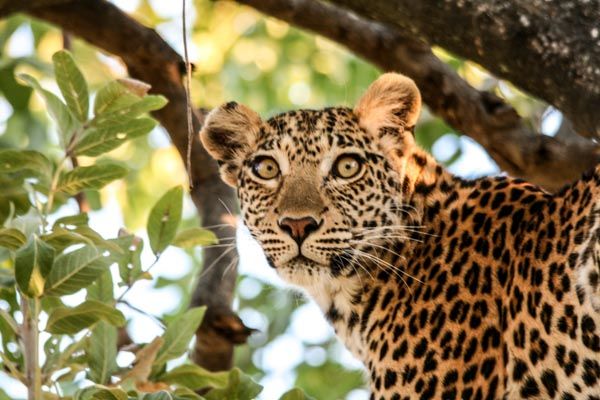 On the eastern edge of the Delta, the Moremi Game Reserve, one of our favourites, contains all the magnificence of the Delta's animal and birdlife whilst being a little easier to access. Moremi's diverse landscapes range from drier inland areas to the permanent water sources of the Delta as well as Chief's Island. All major animal species including elephant, lion, leopard and endangered wild dog occur in Moremi as well as more unusual water-loving animals such as red lechwe antelope and more than 500 types of birds. Lying to the east, nestled between Moremi and Chobe, is the Khwai River floodplain, a magical area which is a magnet for animal and bird lovers. Self-drive travellers can support the local Khwai Community by staying at the fantastic private camp sites within this stunning location. 
Chobe National Park - Waterfront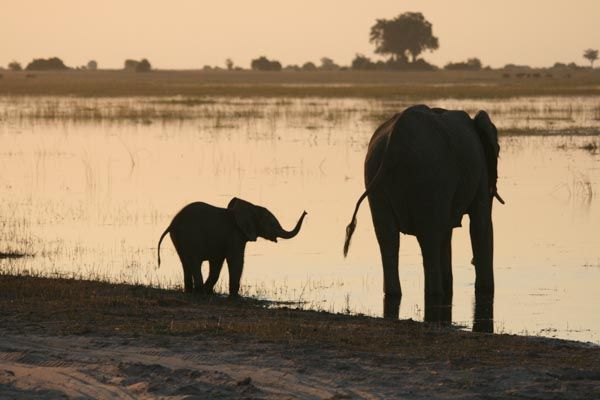 This is a world renowned wildlife viewing area where a drive along the Chobe River floodplain may bring you face to face with large herds of elephant and buffalo or reward you with sightings of puku and lechwe antelope. An afternoon river cruise will delight you as Chobe's elephants wade through the river reeds and drink in the setting sun, hippo pods 'honk' and crocodiles bask and Africa puts on a spectacular sunset! The elephant population of Chobe is immense, with estimates of over 100,000 of these gentle pachyderms congregating during the dry season – an amazing experience! All accommodation budgets are catered for in the adjacent town of Kasane or at Chobe's western end - Ngoma Bridge - or choose to stay at an unfenced campsite in the heart of the park itself.
Chobe National Park - Savuti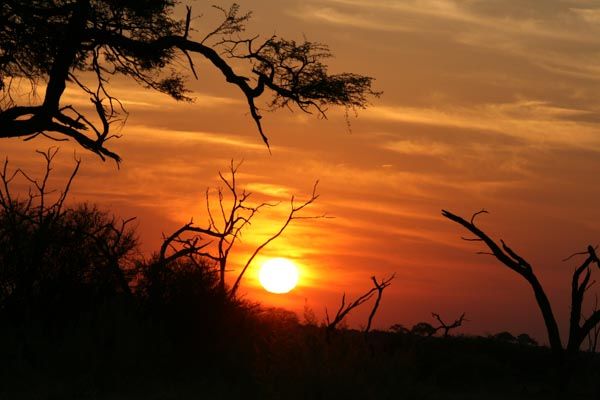 This exclusive, remote wildlife destination, 100 kilometres south of the Chobe River, was made famous by the documentary 'Eternal Enemies' highlighting the dramatic struggle between lion and hyena in the area. Meander by the Savuti Channel or try your luck in the stunning Savuti Marsh looking for the predators and enjoying the large concentrations of wildlife attracted by the semi-permanent Savuti water sources. Being remote, and with limited accommodation, prices more than reflect the exclusivity of this area. Savuti's lodges are high-end both in terms of quality and price so camping at Savuti, in semi private unfenced sites, often visited by the local elephants, is your best budget option. Rest assured Savuti is definitely up there with some of Africa's best wildlife destinations.  
Makgadigadi Pans National Park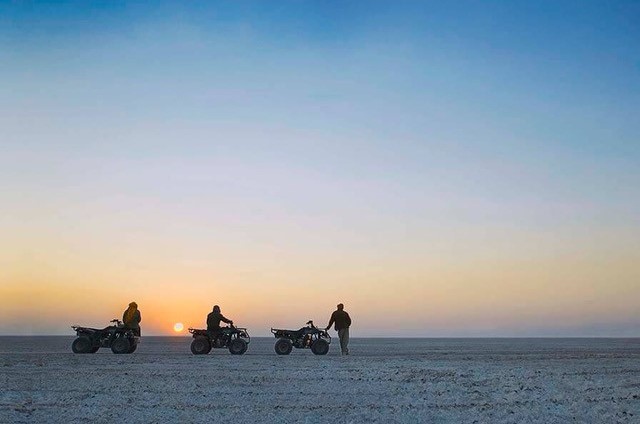 These enormous salt pans located in the middle of the dry savannah of north east Botswana are some of the largest salt flats in the world. These vivid landscapes consist of a dry salty clay crust for most of the year, however, when the annual rains fall they become covered with grass and water and are transformed into a refuge for birds and animals including wildebeest, one of Africa's largest zebra populations and of course the large predators that prey on them. The wet season also brings migratory birds including Great White Pelicans and one of only two breeding populations of Greater Flamingoes in Southern Africa. During the dry season a recommended activity is to explore Makgadikgadi by quad bike and spend the night camping under a million stars in the middle of the pan!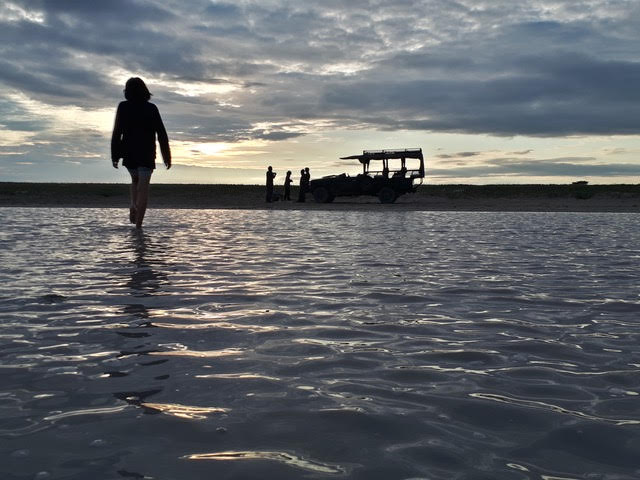 Situated north of Makgadikgadi, Nxai Pan National Park is one of Botswana's lesser known highlights. The park is dominated by two large salt pans, Nxai and Kudiakam Pans, which attract large herds of animals especially during and after the wet season - the pans are situated on the migration route of zebra, gemsbok and elephant herds moving between the Okavango Delta and Zimbabwe's Hwange National Park. Lion, giraffe, kudu, jackal, springbok and more can always be found in the park with ostrich and numerous bird species add to the game viewing experience. Another attraction are a group of seven large baobabs - Baines Baobabs - estimated to be over 1,000 year old and 20 metres in diameter, on the edge of the Kudiakam Pan. The explorer Thomas Baines painted the trees in 1862 and made them famous.
Central Kalahari Game Reserve (CKGR)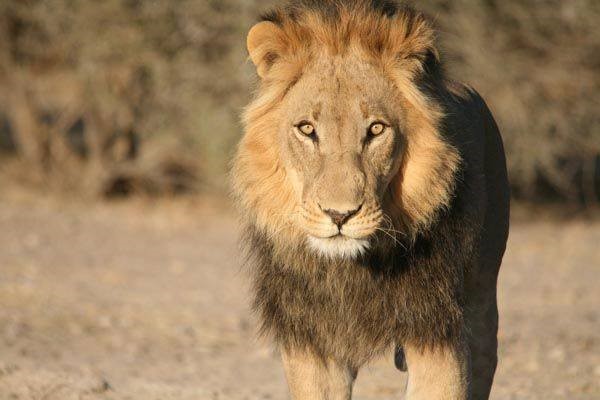 The world's second largest game reserve covers a massive area of 52,800 km². Whilst this arid environment may appear devoid of life, desert wildlife thrives in the Kalahari sands and fossilised river landscape and sightings here are very special. Deception Valley is the highlight due to its' dense concentrations of wildebeest, gemsbok and springbok during the wet season with black-maned lion and cheetah in close attendance. Within the reserve self-drive campers are catered for at the many basic campsites whilst luxury safari lodges are available for non-campers in the concessions on the parks' edge. Nothing prepares you for the immensity of this reserve especially at night when an amazing starscape dominates the view.
Northern Tuli Game Reserve (Tuli Block)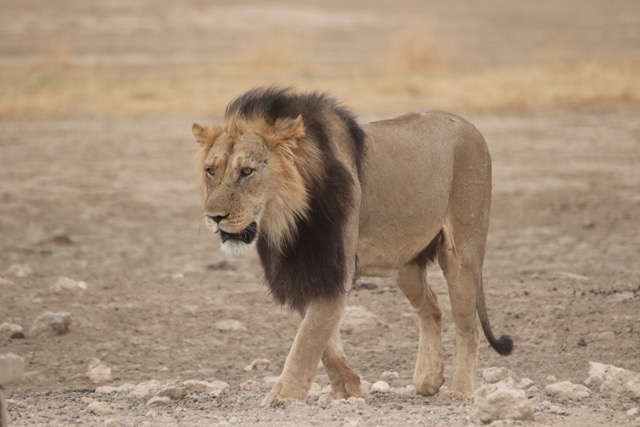 A lesser known, but spectacular, reserve nestled on Botswana's eastern border with South Africa and Zimbabwe and bounded by the Limpopo and Shashe Rivers. Varied landscapes, including riverine forest, huge rock formations including Solomon's Wall, a 30 metre high basalt dyke, and mopane woodland host a rich variety of wildlife as well as historical and cultural attractions. Elephant lovers are in for a treat, leopards thrive and lion, cheetah and wild dog are regularly spotted. Safari lodges, community based tourism projects plus bush camping facilities cater to all budgets and activities include game drives, night drives, walking safaris, horse riding, mountain biking and ballooning. The reserve forma the perfect link between the Botswana's game reserves and South Africa's Kruger National Park.
Nata Bird Sanctuary (Sowa Pan)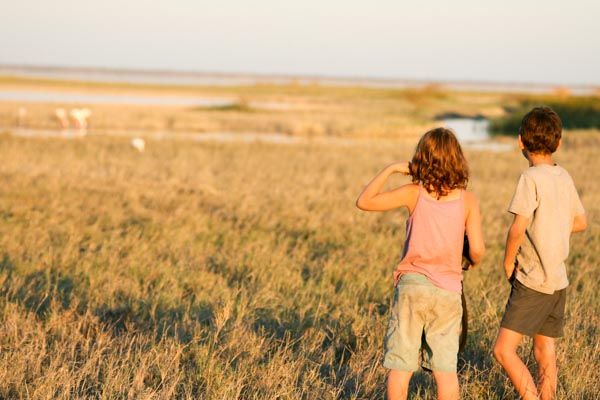 At certain times of year, once the rains have flowed down the Nata River, the Sowa Pan fills to form a vast inland sea. A sight in itself, this attracts numerous bird species including flocks of stunning flamingoes and pelicans. This protected sanctuary is of significant international importance as one of the largest nesting areas for lesser and greater flamingos in Africa.
On the south-eastern edge of Sowa Pan, Kubu Island is an adventure travellers dream. This dry, granite rock island, known locally as Lekhubu, is a unique, untouched and wild tourist attraction providing silence, solitude and breath-taking views over the vast salt pan.
Kgalagadi Transfrontier Park - Mabuasehube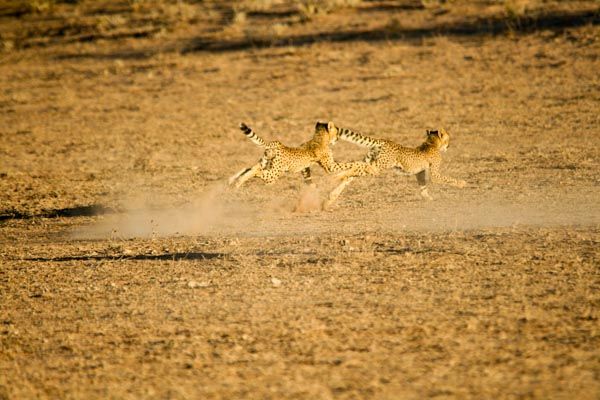 Let your soul feed on the magic of the Kalahari Desert. The Kgalagadi Transfrontier Park is a park for the 21st century managed across the South African and Botswana borders. Go in search of its black maned lions, amazing cheetah, spectacular leopard and startling gemsbok. With three quarters of its area in Botswana the park's Mabuasehube sector is a self-drive, adventure travellers dream. Remote, wilderness campsites are located overlooking many of the park's natural pans and surrounded by the red dunes of the Kalahari. The pans, with pumped waterholes, are a magnet for wildlife so often you can just sit at your campsite and watch the action unfold. Despite it being far from the rest of Botswana's safari areas, a self drive adventure to this area is more than worthwhile. 
Slideshow - click an image to zoom and navigate