We have visited the Kgalagadi Transfrontier Park 6 times over the last 20 years and in all that time we have only ever had 2 leopard sightings – a superb leopard at Polentswa Waterhole in 2008 and a glimpse of leopard about 200 metres away at the beginning of this, our 2020 trip.
Well, on the 12 January 2020 we had no idea what was in store for us as we left Mata Mata Rest Camp as the gates opened at 5.30am in search of cheetah – which had eluded us completely during our 12 day stay in the national park. Our friends had mentioned seeing a cheetah far down in the Auob River bed the day before so we thought we would do a big drive down to Achterlonie and see if we could have some luck.
All was quiet as we made our way down the river bed, some beautiful herds of springbok around Urikaruus, some lovely giraffe and the odd gemsbok but no cheetah in site. As we made our way past Bataluma Waterhole we had our eyes peeled and we all saw 3-4 vehicles stopped further down the road. We got excited as we were sure they had seen something of interest. As we neared the last car we could see people were looking upwards towards the calcrete cliffs which lined that side of the river bed. But as hard as we looked we couldn't see anything. So we drew parallel to the last car and asked what had been seen – 'leopard' came back the answer and all of our hearts thudded with excitement – 'but you can't see her now'.
So we pulled up, switched the engine off and sat with eyes glued to the cliffs. About 10 minutes later Rhian yelled out 'leopard' and we all focused on the sleek feline shape of a stunning spotted cat leaping from one rock to another as she made her way to the very top of the cliff. What a gift she gave us as she walked along the top of the cliff to a small bush – the silhouette of a leopard at the top of the Auob cliffs is something we'd always dreamed of seeing. As we watched her sleep at the base of the bush for about 20 minutes we kept pinching ourselves as we couldn't believe how lucky we were to see a Kalahari leopard so well. She then slowly woke up and we could see her looking quite intently up and down the river bed.
Suddenly she got up and made her way back down the cliffs, moving so easily from one massive boulder to the next. I was focusing on her through my 500mm lens as I snapped photo after photo and I noticed a furry grey shape moving behind her – my mind said 'what is a vervet monkey doing in the Kalahari walking behind a leopard?' when Cadan yelled out 'leopard cub'! Woah, a teeny tiny ball of fluff had emerged from behind the boulders to follow Mum along the rocks, and we all ooohed and aaahed in unison as we took in this incredible sight.
But the wonders weren't to stop there. As the leopard cub wandered further from its den mum leopard picked it up in her mouth and took it back up the rocks to the den. However, as she moved back down the rocks the cheeky cub emerged back out …. not only one cub, but another ball of fur joined it and we were confronted by two insanely gorgeous leopard cubs following mum leopard through the rocks. Mum was not impressed and about 6 times deposited her cubs back in the den, only to despair as they promptly came back out to explore the big wide world around them.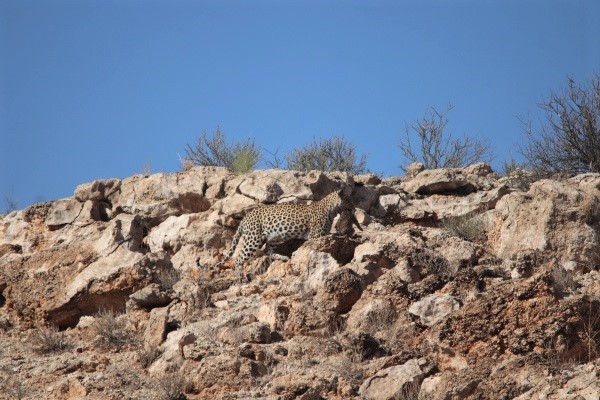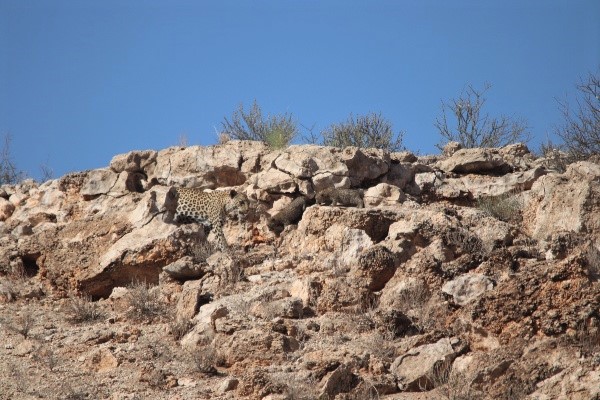 Eventually mum leopard made her way to the top of the cliff again and had a good look around. After depositing the cubs back in their den for the umpteenth time she started making her way down beyond the rocky layer in the cliff … but no peace for hard working mums and one of her cubs suddenly appeared right behind her. In what seemed like leopard exasperation she picked it up in her mouth and kept on walking right down the cliff. Now not only was she walking down the cliff, with a tiny cub in her mouth, but she was walking right down the cliff towards us, waiting breathlessly in our car at its base. As Chris reversed the car, all cameras and phones were snapping and whirring away, trying to capture this intensely precious experience. When she had crossed the road, she popped the cub down by some bushes to reposition it in her mouth, then off she went again, across the dry river bed, repositioning the cub once again before walking a good 100 metres down the river bed and then veering up into the cliffs – this time the red rock layers of the northern side of the valley.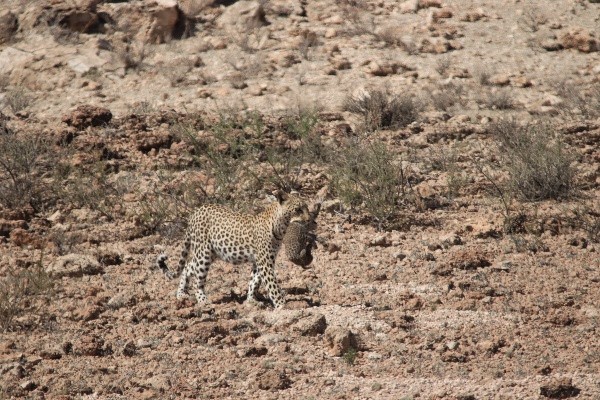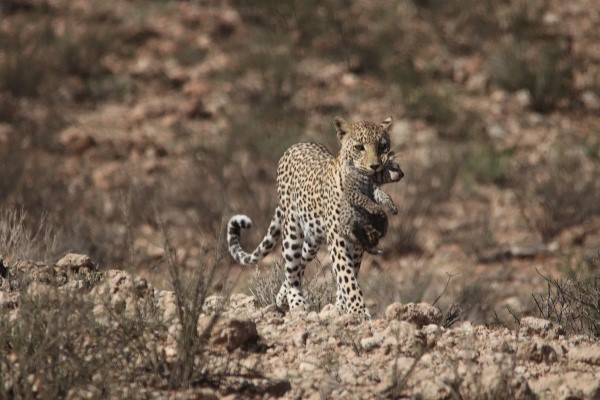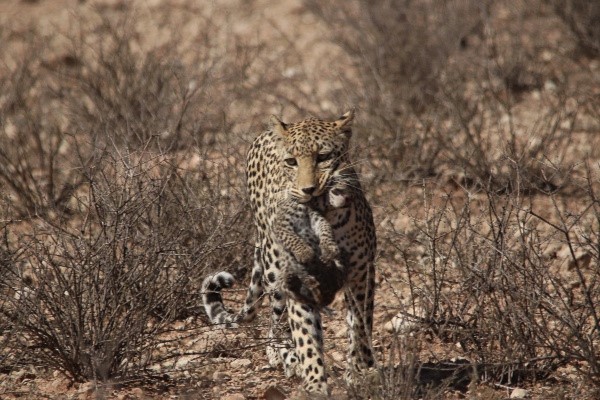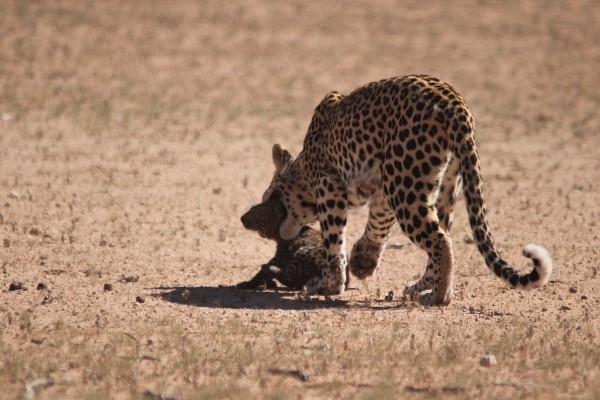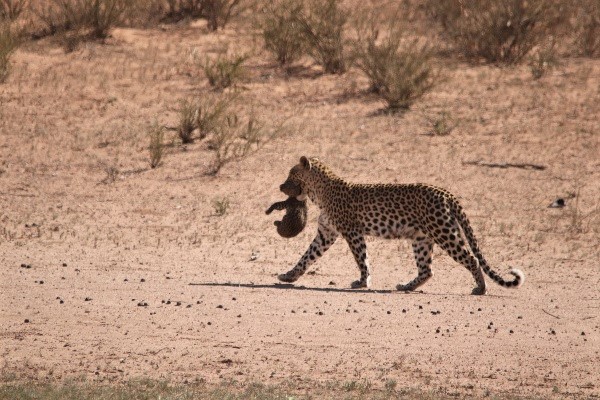 She headed straight to a very narrow horizontal crack in the cliff face and popped her precious cargo into its new den. After settling the cub in she spent a bit of time scouting around the cliff to make sure all was well before heading into the river bed for a rest under the trees. Once she had rested we were sure she would head back up to the original den to the other cub but it was not to be. After about 20 minutes she headed back to the crack, checked on the cub, then made her way along the red cliff face until she was opposite the original den. She then found a lovely deep, dark and cool cave for herself and went to sleep. We stayed with her for a good half hour but she was out for the count and sadly we had to leave to head back to Mata Mata – gobsmacked, shaking, breathless and so, so, so thankful to have been given the privilege of sharing this once in a life time encounter!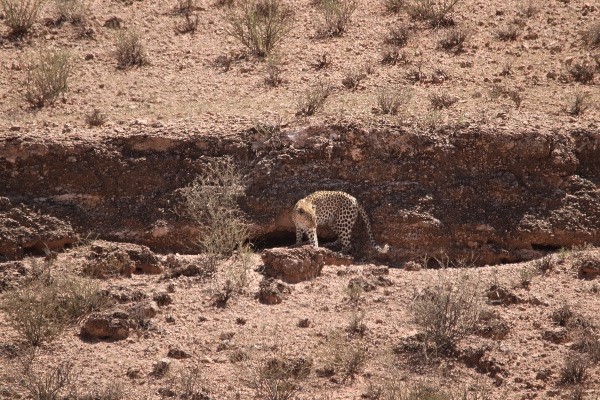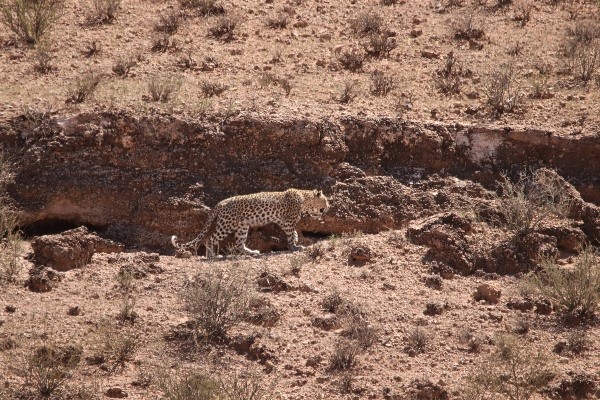 The Kgalagadi Leopard Project identified this fabulous leopard as Meira and we so wish her and her two cubs well.
The Kgalagadi Transfrontier Park is one of our favourite places and so well worth the effort to visit. Read more about this magical place in these blogs:
Feeling inspired? See the following Travel Africa itineraries for ideas on how we can integrate the Kgalagadi into a fantastic customised safari just for you, based on your preferred travel style and budget