We were in heaven waking up in Mata Mata Rest Camp in the Kgalagadi Transfrontier Park on Christmas Day, 2017. What an insanely remote, stunning and hot place to be for Christmas … little did we know as we headed out at 5.45am for our morning drive what an insanely special day it was to be too!
We made our way down the dry river valley, stopping to see the giraffe grazing on the dunes and the ever present pale chanting goshawks out for their morning hunts. We stopped at Craig Lockhart Waterhole for some breakfast to sate our rumbling tummies and for the kids to swap stories of what presents Santa had managed to deliver in the middle of the Kalahari. You are not allowed out of your car here so we'd pre-packed our locally baked bread and bread rolls (thank you Mata Mata staff for your delicious bread and roosterkoek), jam, cereals, bowls and long life milk into our cars. After we'd eaten and watched the jackals at the water hole we continued our way down the valley when bam …. a beautiful herd of springbok raced across the road in front of us out into the river bed.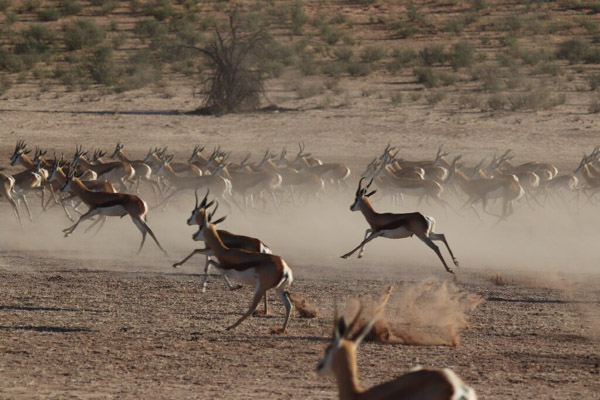 I grabbed my camera thinking what a great shot running springbok, dust and dawn light would make when from behind me our youngest son Cadan cried out " Lion, leopard, no cheetah!!!" and there, standing in the settling dust was a cheetah, panting hard from her missed chase.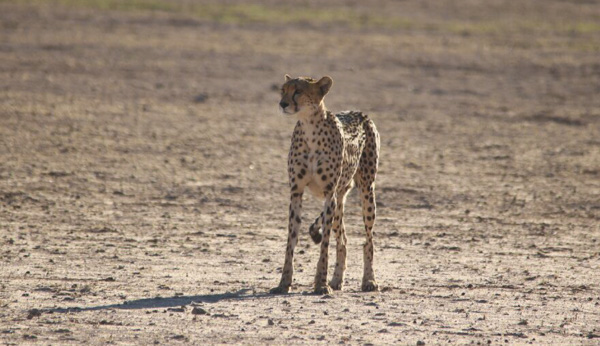 Such excitement at seeing a stunning cheetah looking wistfully at her departing breakfast. But she didn't stand around for long and promptly turned around and started walking down the river bed, making her bird-like chirping call very loudly, with great purpose.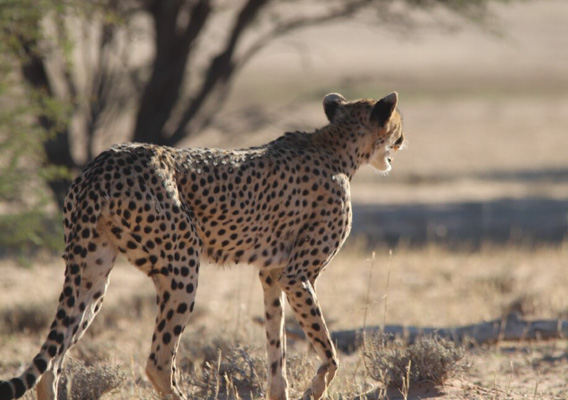 She must be a he wanting to meet up with his coalition mates or, perhaps she's a she and she's calling to her cubs we all wondered aloud as we quietly and respectfully followed her, giving her space to cross the road in front of us and walk parallel to the road for another 300 or so metres.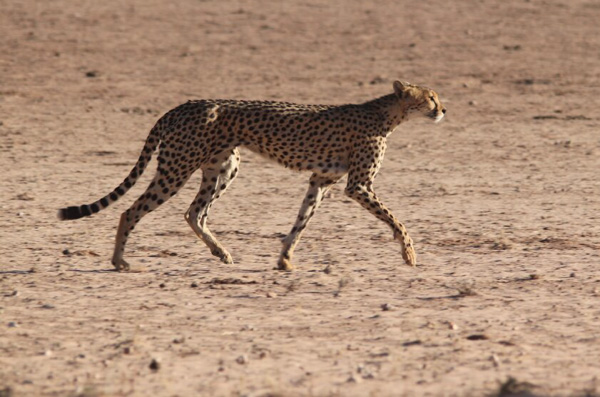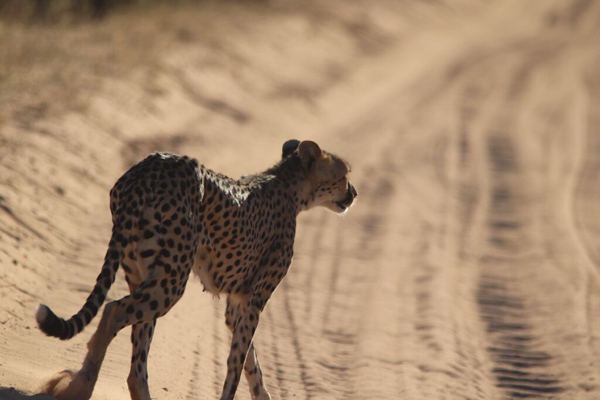 And then, she headed to the base of a big tree about 50 metres from the road and out to meet her came running 1, 2, 3 no 4 little furry shapes … honey badgers? No the teeniest, tiniest little cheetahs cubs we had ever ever seen – dark, furry shapes with silvery manes down their spindly backs. On my word, thank you Santa this has to be the very best Christmas present we have ever received!!!
We could just make out Mum cheetah suckling her cubs. They were a long way away with bushes and grasses in the way, but this was a treat regardless. Then someone pulled up and told us there were some lions just 500 metres down the road. We decided to stay with the cheetah but then Mum stood up and started leading her cubs down a little gully and out of sight. So we headed down the valley and felt very privileged to see a pride of 3 females and 1 male lion spark out under a tree on the far side of the dry river bed.

We then headed back up the valley and with great joy realised we could see the cheetah and her cubs again, sitting under an even clearer tree. We spent well over and hour with them until Mum cheetah got up and starting making her way back up the valley, calling and making very sure her little cubs were following her, working her way from tree to bush and ensuring they stopped often to rest in the shade. At one point they got quite close to a big group of giraffe who all turned their long necks in the cheetahs' direction and fixed their eyes on them, making sure they kept track of their every move (making our keeping track of the cheetah's whereabouts so much easier!). After a while the giraffe relaxed in the cheetahs' presence and we were then treated to quite a side show as two giraffe started their slow motion neck whacking and thumping dance – flexing their muscles to work out who is boss.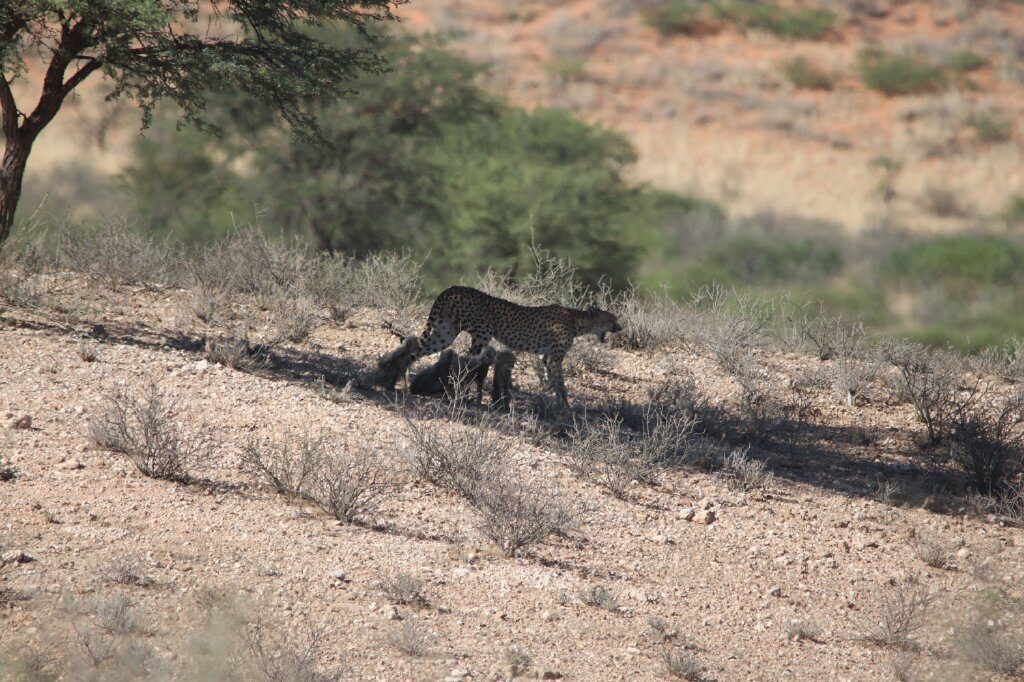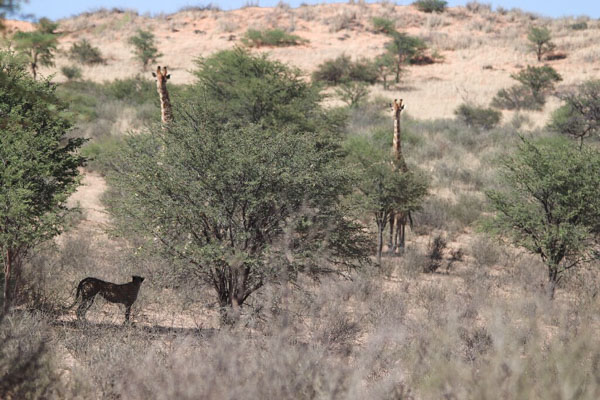 Suddenly, mum Cheetah sat up and made a different call to her cubs, who then stayed put as she made her careful yet remarkably swift way up the river bed. This time she took even more care to work her way from bush to bush and to keep out of sight of the original herd of springbok which had slowly relaxed and were now spread across the road and up the dune about 300 metres down the road.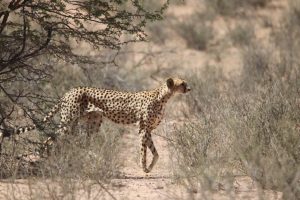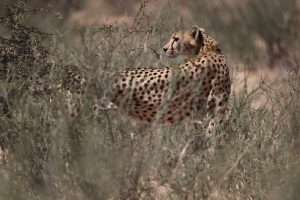 What an experience – watching an expert hunter in her prime, stalking springbok not 20 metres from us. Closer and closer she got, moving each leg with such precision, her head never wavering from its concealing crouch, focussed on the moment and the next bush she'd hide behind. Slowly she came closer and closer to the road and to the cars that were shadowing her. Oh no I thought, we'd get in her way, we'd spoil her hunt and she's suckling and caring for four little cubs, she needs her meat. But I hadn't given Mum cheetah nearly enough credit. She crossed the road between the cars, then after a good look at her quarry she came back on to the road and proceeded forward, using the cars to conceal her! Yes, this brilliant, amazing, wonderful cheetah Mum was strategically using the cars in her hunt. She covered the last 100 metres moving behind the cars in front of her and then broke into a trot for 10 metres before taking off, up the side of the road, onto the dune, her eyes fixated on her chosen prey.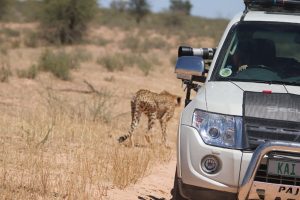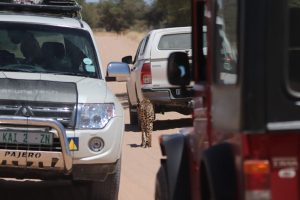 Back across the road they dashed and into the river bed in a cloud of dust. As the dust settled there she was, her jaw clamped tightly on a big male springbok's jugular, strangling the life out of the unfortunate springbok who was helpless in her super-strong grasp. After maybe a minute of this hold, the springbok feebly kicking as its life left it, and she repositioned herself for the final 2 minutes of strangulation. She then dragged the springbok for about a metre before retreating to a big shade tree right next to the road to catch her breath – chest heaving with her effort in the mid-day 40 degree heat.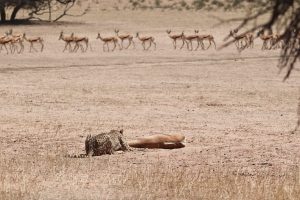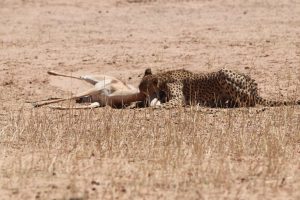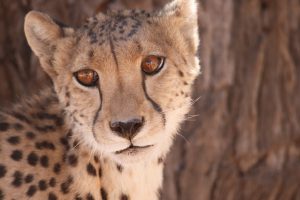 And then this amazing Mum won our hearts over even more – not much rest and off she went, chirping loudly to collect her cubs. We waited there, beside the shade tree and dead springbok, for about half an hour before 4 amazed, and if possible, grinning cubs ran up to the tree to see their Christmas surprise. Nothing there for them as they searched around until Mum went out and with her remarkable, incredibly impressive strength dragged the springbok carcass under the shade. We think this might be the very first kill Mum cheetah had brought her cubs to as the 4 of them all freaked out when she hefted the springbok forward and dashed back in alarm before finally following mum into the shade of the tree.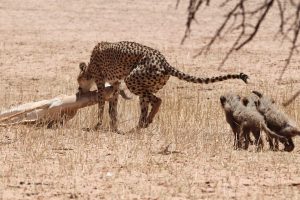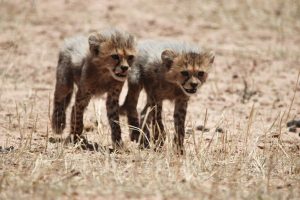 The best ever Christmas treat then ensued as Mum cheetah and her 4 cubs spent the rest of the day under the tree slowly devouring the springbok.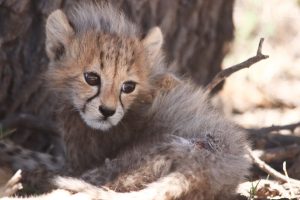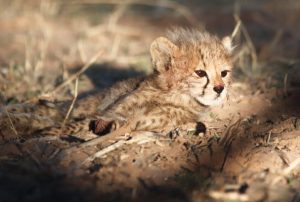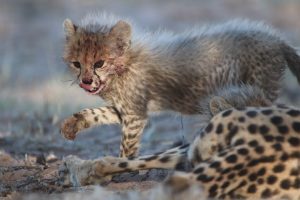 This may well have been the first meat the little cubs had eaten but they certainly enjoyed it – a precious moment for everyone was seeing one of the little cubs fall asleep while eating, resting its chin on the side of the dead springbok while dreaming its baby cheetah dreams.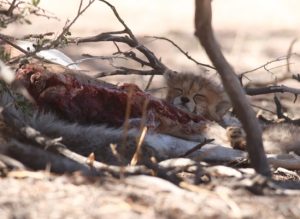 We later found out by the cheetah's marking that Mum cheetah is named Corinne – thank you Corinne for sharing your babies and your hunt with us. And good, good, good luck bringing your little ones up – dodging the jackals and honey badgers and lions and catching tasty springbok to eat!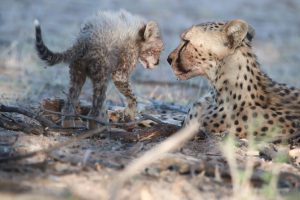 The Kgalagadi Transfrontier Park is one of our favourite places and so well worth the effort to visit. Read more about this magical place in these blogs:
Feeling inspired? See the following Travel Africa itineraries for ideas on how we can integrate the Kgalagadi into a fantastic tailor-made safari for you in southern Africa: