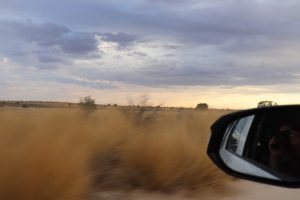 They're off the beaten track, you need to plan well over a year in advance to get the accommodation you want, they can be exceedingly hot in summer and below-freezing cold in winter, they involve long hours of driving … and yet the Kgalagadi's Wilderness Camps absolutely rank as one of the very best of all our amazing southern African experiences.
We love all of the Kgalagadi's 6 Wilderness Camps and can't recommend them highly enough for the adventurous traveller who wants to enjoy more remote, exclusive, self-drive magic.
The Kgalagadi Transfrontier Park (KTP) is the home of the #Khomani San who recently succeeded in having the area inscribed as a cultural and natural world heritage site. The KTP straddles the South African and Botswanan borders, abuts against the Namibian border and is in the Kalahari Desert, a surprisingly well vegetated desert with magnificent red sand dunes. The 6 wilderness camps are located in the South African part of the KTP which basically sits between two dry river beds – the Auob and Nossob Rivers.
Purposefully designed and built to minimise any environmental impact and to fit seamlessly into their magnificent environments each Wilderness Camp is unique and only contains 4 – 6 individual units (the Kalahari Tented Camp has approximately 10 units). Except for the Kalahari Tented camp, which has a family unit which sleeps 4, all the camps only take children aged 13 years and over and each unit only sleeps 2 people.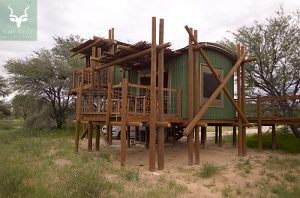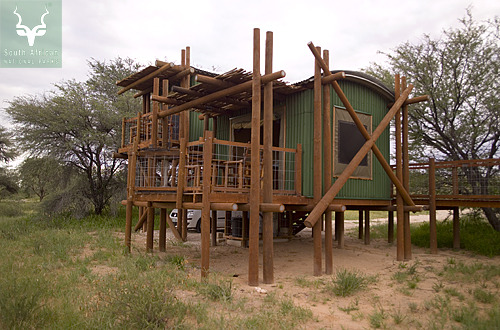 We've previously fallen in love with Urikaarus Wilderness Camp, a metal and wood space-age looking camp located right on the bed of the Auob River and incredibly popular due to its honeymoon chalet and leopard sightings.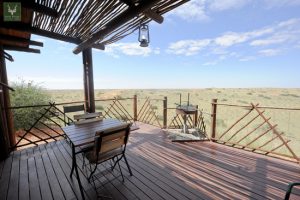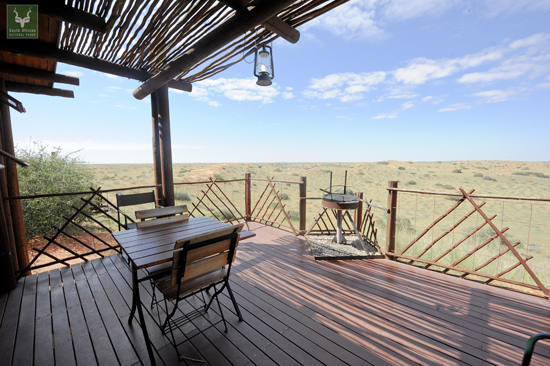 We've been blown away by Kieliekrankie Wilderness Camp, where, perched on the edge of the dunes overlooking a fabulous pan, we were woken up one morning by a big male lion roaring and walking right next to our chalet!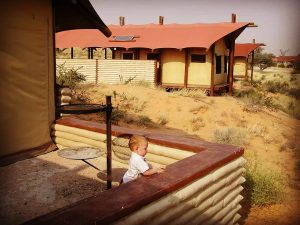 With our children we've had many stunning nights at the Kalahari Tented Camp, high up on a dune with a perfect view over a waterhole in the Aoub River bed. And now we can add two more wilderness camps to our tally. Thanks to our fabulous friends who looked after our 3 kids at Nossob Camp we were able to go away for 2 intense, stunning and romantic nights at Grootkolk and Gharagab Wilderness Camps – realising a dream we've had for so many years to visit these 4WD only camps.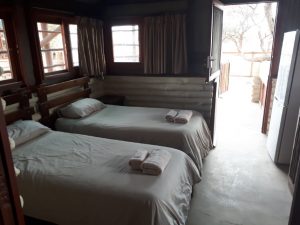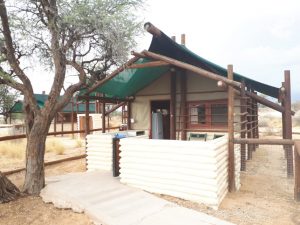 We spent our first night at Grootkolk. 140km north of Nossob it is a long drive to this Wilderness Camp which is only 20kms from Unions End, which marks the Namibian Border. 4 self-contained chalets sit on the edge of an amazing pan, with vegetated sand dunes the backdrop to a floodlit waterhole situated right in front of the chalets. The base of the chalet's are concreted sandbags, which not only give the chalets a great earthy feel but are excellent for temperature control.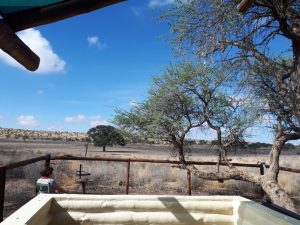 The rest of the chalet's are tent-canvas and they are oh so cosy and comfortable. This is not your extravagant luxury lodge but spotlessly clean, carefully thought-through comfort. An ensuite bathroom and shower, a basic outdoor kitchen with everything you need – including a cheese grater (although not including matches to light your gas stove)! And of course, the ubiquitous braai in an expanded fenced garden (expanded to give guests and chalets slightly more room between them and the frequently passing lions – one of which once jumped into a chalet's porch – keeping the frightened guests trapped inside their rooms for well over an hour – hence the whistle in every room too!).
The area around Grootkolk had had a big summer rain storm the night before we arrived and with some pools of water in the river bed for the animals to drink from we had a quiet night, soaking in the sunset and sliver of a silver moon, the star-filled sky and the snowy white barn owl which constantly swooped over the floodlit water hole, hunting hard and giving us an amazing view of it's angular face and powerful wings. Waking with the dawn we went out for a morning drive at 6am visiting the herds of springbok and wildebeest which were congregating in the rapidly greening river bed. We enjoyed watching 6 spotted hyena get a fright when a male wildebeest walked past their resting spot before returning to camp … for a wonderful surprise – two lions had just finished drinking and we were lucky enough to hop out our car and watch them slowly walk into the dunes from the fence of our chalet's garden!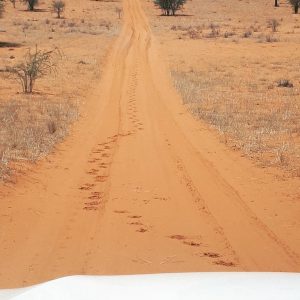 After a morning nap we packed our bags and headed off to Gharagab. Wow, what a breath-taking drive this is – driving north up the Nossob Riverbed before turning north west and into the dunes. Only people staying at Gharagab can take this one-way circuit road so you have this insanely special part of the world to yourself. Here you aren't driving parallel to the dunes but you're driving over them, through stunning grass fields, over red dune tops, through white calcrete pans. The vegetation keeps changing as do the animals and birds you see – more steenbok couples taking cover in the shade of bushes, a family of meerkats peering cautiously at us before darting away tails in the air, and the ever present pale chanting goshawks hunting for small rodents. 12 kms from Gharagab and we spot big lion spoor in the middle of the road. We follow it all the way to the camp, hoping beyond hope the lion has stayed at the waterhole. Alas, he walked past in the morning … here's hoping he comes down to drink during the night …
Gharagab is simply spectacular. 4 tented-canvas chalets covered in wooden poles perch on the edge of the red dunes – catching a breeze and overlooking a depression and waterhole.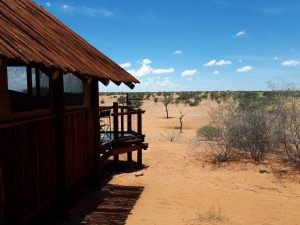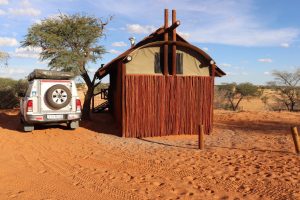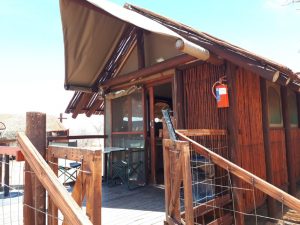 Golden grasses dotted with green acacia trees grace your 180 degree view and if nothing comes to drink you can spend hours and hours watching the sociable weaver birds, swallow-tailed bee eaters, namaqua doves, tree mice and ground rats which flutter and scurry constantly around you.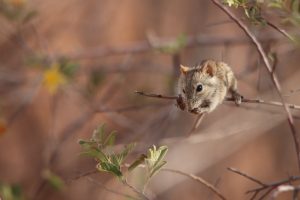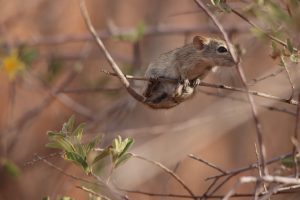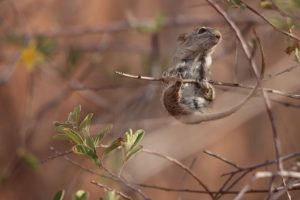 A massive highlight of our visit was a Cape Cobra which had decided to spend the day hunting in a bush right in front of our chalet. The birds first gave it away, the sociable weavers sitting in the branches above the hole it was poking its head out of and chirping madly. At one point the snake came out of its hole and went hunting right under our chalet! After two circuits and no luck it slithered faster than I could imagine back to its hole!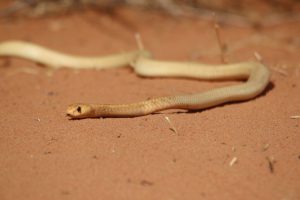 A quiet afternoon as a lone eland and gemsbok made their tentative way to the waterhole to drink. Then another stunning African sunset as the afternoon slipped into evening and star-studded night while we enjoyed our braai on our chalet's little balcony.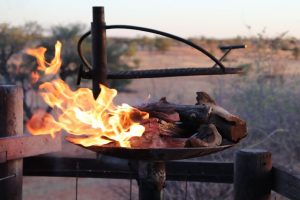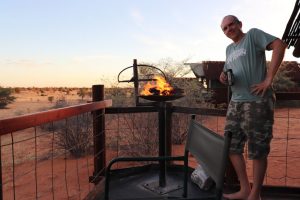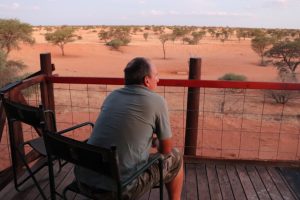 An evening highlight was watching an African wild cat – domestic cat-like except for its distinctive black stripped paws and tough character – come for a long drink, avoiding the ever present jackals and the swooping spotted eagle owl. I absolutely love hearing lions roaring at night but alas none were heard during the night and although I frequently sat up in bed to spy on the floodlit and then moonlit waterhole nothing came to drink. I woke up thinking that we'd have no lion luck at Gharagab when Chris, standing on the balcony in the dawn light said "Lion? Behind the chalet? Quick Sandie!". And yes, Isak, our camp attendant calling out to us from his chalet was right, we could just see 2 lionesses sitting on the dune behind our chalet! With great care we jumped into our Hilux and drove around the hill just as they disappeared over it. And wow what a way to start the day! Four young lionesses, one young male lion and just us in our car – all alone in the dunes. The lions were really curious and came right up to our car, circling the car, peering over the bonnet, eyeing us as we quickly wound up our windows from an eerily close distance. It was pure, pure magic and we couldn't believe how lucky we'd been as they got bored of our company and made their way into the dunes for their day time rest.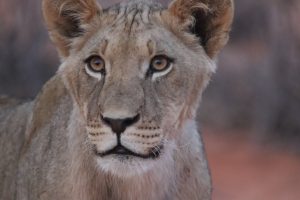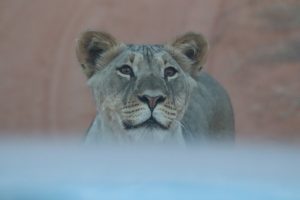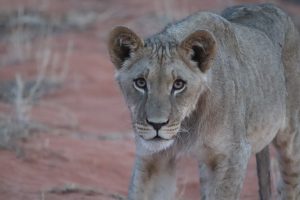 Sadly, it was time for us to pack up and make our slow way out of the dunes, making the most of every rise of the dune and new view as we crested it and descended into a new secluded and unique desert valley. We felt so privileged to have been able to spend time in this special, secluded part of the world and cannot wait to come back and spend longer at all the Wilderness Camps – including visiting Bitterpan Camp for the first time!
Read more about our travels in the Kgalagadi