Namibia & Botswana: Off The Beaten Track - 31 Days
(Guided Group Self-Drive Camping Tour)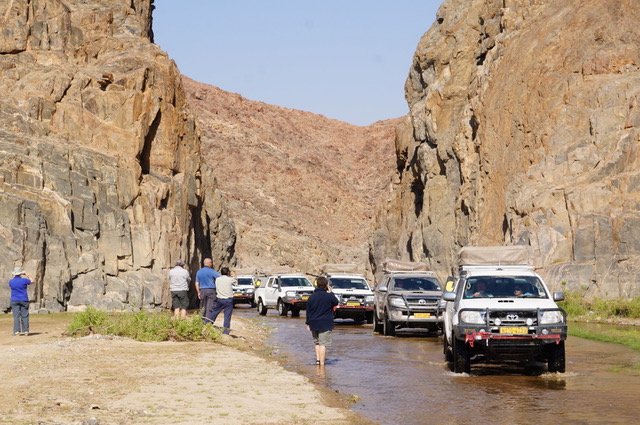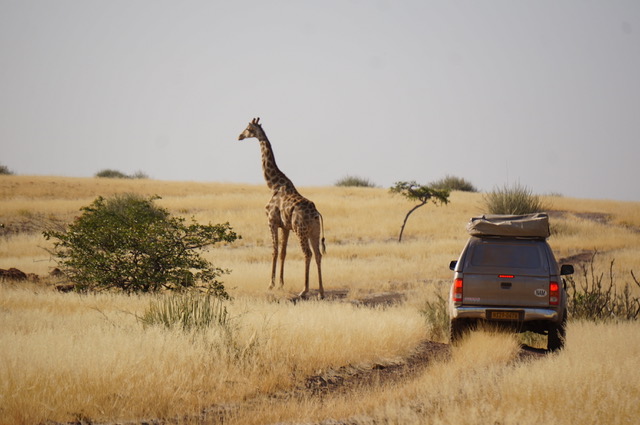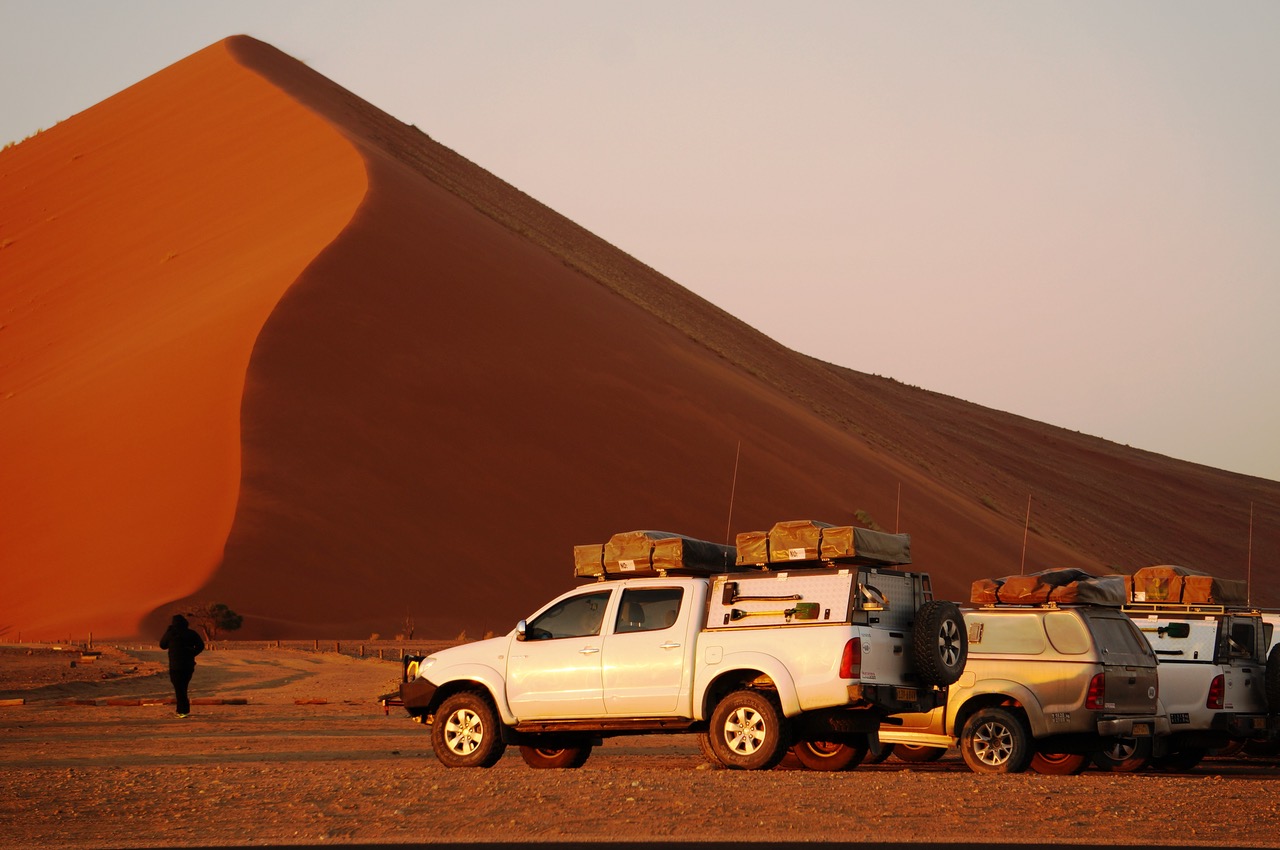 Led by a professional tour guide, this camping tour takes you to places you probably wouldn't go on your own. Enjoy the  adventure of driving your own fully equipped 4x4 vehicle which gives you more independence and your own space, but with the security and camaraderie of travelling with a small group in a convoy. Experience two dramatically different countries:
BOTSWANA: Unforgettable wildlife experiences in Botswana's Moremi Game Reserve and Chobe National Park; sunset game viewing cruise on the Chobe River and an overnight visit to the mighty Victoria Falls (Zimbabwe).
NAMIBIA: San Bushmen of the Kalahari; the wildlife and salt pans of Etosha National Park; off the beaten track 4x4 driving along remote river beds and through canyons in Kaokoland and Damaraland; visit a  small village pre-school; spend time with the Himba people; Namibia's vast open spaces and incredible landscapes and visit Sossusvlei, the highest free standing dunes in the world.
Moremi Game Reserve and Chobe National Park - sunset game viewing cruise on the Chobe River - the  Victoria Falls - San Bushmen of the Kalahari - Etosha National Park - remote river beds and canyons in Kaokoland and Damaraland - spend time with the Himba people - Swakopmund -  Sossusvlei
Windhoek - Maun - Moremi Game Reserve - Savute (Chobe National Park) - Chobe Riverfront - Victoria Falls - Caprivi Strip - Etosha National Park - Puros (Kaokoland) - Palmwag (Damaraland) - Skeleton Coast National Park - Swakopmund - Sossusvlei - Windhoek
Tour Departs 2023: 
April 21 - only 2 vehicles available  
May 25 - only 2 vehicles available

Tour Departs 2024: 
April 25 - departure date to open once the May 30 tour is full  
May 30 - 5 vehicles available
Tour Start: Windhoek
Tour End: Windhoek
2 people per 4x4 vehicle: AUD$11,995 per person
3rd or 4th passenger: AUD$11,175 per person
Single person, travelling with guide: AUD$11,175 per person
Note:
Minimum group size - 5 vehicles; Maximium group size - 7 vehicles.

Accommodation & Campsites: You will mostly be camping on this trip, so some camping experience is required. Campsites will either be organised campsites, with facilities (some of which could be fairly basic ie 'long drop' toilets and showers where the water will need to be heated up on the fire), or on some nights you will bush camp. On nights when you bush camp a couple of toilet tents will be set up, but there will be no shower facilities. In towns and cities accommodation is in guesthouses / lodges. Note that where available upgrades to guesthouse / lodge accommodation could be available at additional cost - dependant on availability.   Vehicle & Driving: A Toyota Hilux (manual) 4x4 vehicle with roof top tent and all camping equipment is included - vehicle upgrades can be arranged at additional cost. 
The skills required are a driver's licence and common sense - some 4x4 experience would be recommended. The route is planned largely to avoid main roads with extensive travel off-road on rarely used tracks, trails and also in river beds.
Toyota Hilux 4x4 vehicle with rooftop tent (or ground tent), bedding, linen, towels, fridge, water tank, cooking and camping equipment, spare tyre, standard vehicle insurance, vehicle cross border fees and two-way radio in vehicle.

6 nights guesthouse/ lodge accommodation. 

24 nights camping fees.

Arrival and departure transfers.

All meals as per the itinerary (Breakfast x 6, Dinner x 3).

Services of a Professional Guide and support vehicle.


Botswanan guide in Botswana national park.

Botswana National Park fees, Palmwag Reserve fees and Namib-Naukluft (Sossusvlei) National Park fees. 

Firewood for the duration of the trip.
Airfares.
All additional meals not included in the itinerary.
Entrance to the Victoria Falls National Park (USD$35 per person) and Etosha National Park fees (approx NAD$400).
Visas fees - a Zimbabwe visa (USD$30 per person) and Botswana tourism levy (USD$30 per person).
Fuel.
All cross border fees / taxes imposed by each individual country (i.e third party insurances, road taxes, carbon taxes etc) - all paid locally (full details to be advised with booking).
Tips.
Curios.
Any accommodation upgrades.
Any vehicle insurance upgrades.
Personal insurance.
All activities unless stated.
With 
Travel Africa
 you are safe in the knowledge that you are working with people who are experts in
self-drive travel
. We have driven the types of vehicles you are looking to hire and driven them in the places, and on the road conditions, that you will experience. We have enjoyed all kinds of self-drive trips in southern Africa for over 25 years – from quick flits along the Garden Route to 8 month adventure trips with fully equipped 4x4s and roof top tents throughout southern Africa.
We give you peace of mind by working closely with you to custom-make and book your itinerary – ensuring you have the most appropriate type of vehicle and accommodation for your trip. We also provide you with detailed trip dossiers, which include routes, directions, tips and hints on driving in southern Africa, ensuring you have all the information you need to enjoy every minute of your trip and feel comfortable and secure with your holiday plan!
Our in-depth knowledge of destinations, conditions, vehicles and equipment, based on extensive personal experience, gives you the peace of mind you need for your self-drive safari.
Day One:
Your adventure begins with a transfer from Windhoek Airport to your guesthouse accommodation in Windhoek, Namibia's capital city. This evening join your fellow adventurers at a welcome dinner.
Day Two:
This morning after breakfast you will pick up your 4x4 vehicle, with a briefing on the ins and outs of it, with the rest of the day will be yours to buy your provisions, pack the vehicle and get used to your home for the next 30 days.
Day Three:
Leave Windhoek behind as you drive east into Botswana to overnight at a campsite in Ghanzi. 
Stay at:
Days 1 & 2: Guesthouse in Windhoek with breakfast and dinner included.
Day 3: Campsite with facilities in Ghanzi (Botswana).
Day Four: Arrive Maun, gateway to the Okavango Delta and Moremi, where an optional (additional costs apply) scenic flight over the Okavango Delta will be offered. There will also be the opportunity to pick up some last minute additional provisions - no shops until you arrive in Kasane.
Days Five & Six: The game viewing starts today as you head into the Moremi Game Reserve for two days in search of the wildlife and birds in one of Botswana's premier game reserves. In the reserve you will have a specialist Botswanan wildlife guide with your group.
Day Seven: Head north from Moremi to the Khwai Conservancy for a night bush camping. Note that this area, which lies between Moremi and Savute, is also a prime wildlife area so there is a great chance you will spot the 'Big Five.'
Day Eight & Nine: Heading further north into Chobe National Park you arrive at Savute, a wildlife paradise that has been made famous in many wildlife documentaries. Savute is prime predator country, also be on the watch out for elephant, as some are known to frequent the campsite itself!
Stay at:
Day 4: Campsite with facilities in Maun.
Days 5 & 6: Campsite with facilities (no fences though) in Western Moremi.
Day 7: Bush campsite in the Khwai Conservancy.
Days 8 & 9: Campsite with facilities in Savute.
Day Ten:
 Drive through Savute and then along the Chobe riverfront to Kasane where you will overnight.
Day Eleven:
 Leave your vehicle in Kasane as you take a trip across the border to Victoria Falls in Zimbabwe. Visit
(national park fees apply - additional cost) 
the incredible natural wonder of the  'Smoke That Thunders,' with the remainder of the day free for you to explore by yourself. Victoria Falls has many adventure activities on offer (including
white water rafting
and
helicopter flights
)  or you could just relax with high tea on the terrace at the famous colonial styled Victoria Falls Hotel. This evening stay at a hotel in Victoria Falls where no meals are included, so a Dinner & Drum Show at The Boma is recommended .
Day Twelve: 
Leave Victoria Falls in the morning to return to Kasane and overnight at a hotel. This afternoon an optional cruise along the Chobe River will be offered 
(additional costs apply).
Stay at:
Day 10: Campsite with facilities in Kasane.
Day 11: Hotel in Victoria Falls - no meals. 
Day 12: Hotel in Kasane with breakfast included. 
Days Thirteen & Fourteen:
 Drive back into Namibia and through the Caprivi Strip, a 'finger' of Namibia that points towards the Zambezi River. Spend the next two nights at a campsite on the banks of the Okavango River. Spend the day relaxing as you re-charge your batteries for the next leg of your journey. 
Days Fifteen & Sixteen: 
 Leave the Caprivi Strip and head south-west towards your campsite near Grootfontein where an afternoon visit to a Bushman village will be arranged. The next morning you will drive to the border of Etosha National Park and overnight just outside the park.
Days Seventeen & Eighteen: 
Two days to explore Etosha in search of its wonderful wildlife. As this is an arid environment lots of animals congregate at waterholes so it can be very productive spending time at these. Alternatively head to the Etosha Lookout for expansive views of the Etosha Pan. You will be camping at Okauakuejo Camp which has a floodlit waterhole which attracts large herds of elephant, black rhino and possibly lion if you strike it lucky! 
Stay at:
Day 13 & 14: Campsite with facilities on the Okavango River.
Day 15: Campsite with facilities near Grootfontein.
Day 16: Campsite with facilities on the border of Etosha National Park.
Day 17 & 18: Okaukuejo Resort Campsite with facilities, Etosha National Park.
Day Nineteen: Drive through to the western side of Etosha to exit the park. It is then time to hit the dirt, rough tracks, soft sand and bulldust on your way to Khowarib.
Day Twenty: This morning visit a local pre-school on your way to Sesfontein. In Sesfontein join the Hoanib River and follow it into Damaraland to your remote bush camp under the stars.
Day Twenty One: Drive through the spectacular Hoarusib River bed - expect many river crossings - to Puros. This afternoon a local guide will take you to visit a remote Himba village.
Day Twenty Two: Spend your day driving remote trails and dry river beds to your bush camp.
Day Twenty Three: Head south to Palmwag and drive through this ruggedly beautiful game reserve.
Stay at:
Day 19: Campsite with facilities in Khowarib.
Day 20: Bush camp in the Hoanib River.
Day 21: Campsite with facilities in Puros.
Day 22: Bush camp between Puros and Palmwag.
Day 23: Campsite with facilities in Palmwag.
Day Twenty Four: A day of  incredible geological and desert scenery as you head west to the Skeleton Coast.
Day Twenty Five: This morning meet the Atlantic Ocean on the Skeleton Coast and then head south along the beach towards Swakopmund. Along the way there is the option (additional costs apply) to visit the Cape Cross Seal Colony. End the day with a spectacular sunset (fingers crossed!!) over the ocean. 
Day Twenty Six & Twenty Seven: Two days at leisure in the German inspired, coastal town of Swakopmund. Relax around the town or enjoy one of the many adventure and sight-seeing activities including quad-biking or sand-boarding or a living desert tour.
Stay at:
Day 24: Bush camp on the Skeleton Coast.
Day 25: Campsite with facilities near Swakopmund.
Day 26 & 27: Guesthouse in Swakopmund with breakfast included.
Day Twenty Eight: Cross the Tropic of Capricorn on your way south to Sossusvlei - home to the world's largest free-standing sand dunes .
Day Twenty Nine: An early rise this morning as you set out before sunrise to explore the dune sea of Sossusvlei and Deadvlei as dawn breaks. On your way back climb Dune 45 for spectacular views before heading back to Windhoek through the scenic mountain passes of the area.
Day Thirty: Travel back to Windhoek to return your vehicle with the remainder of the day free until a farewell dinner with your group.
Day Thirty One: Time to leave Namibia as you are transferred to the airport for your onward flight.
Stay at:
Day 28: Campsite with facilities in Sesriem.
Day 29: Campsite with facilities near Windhoek.
Day 30: Guesthouse in Windhoek with breakfast & dinner included.
Namibia & Botswana: Off The Beaten Track Gallery