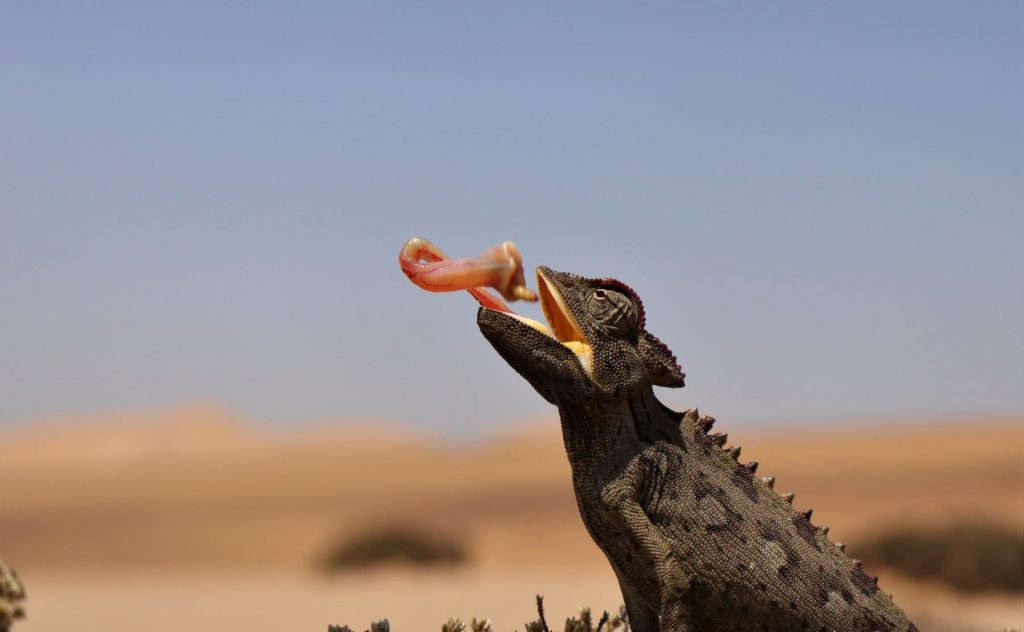 When you are in the desert what animals do you expect to see? Many people totally underestimate all the life that deserts support. In southern Africa, the Namibian deserts are homelands for lots of big and impressive mammals including desert elephants, oryx and giraffe, but people often don't stop to think about the smaller wonders that call the sand home. This Namibia Desert Tour allows you to get up close and personal with unique desert animals.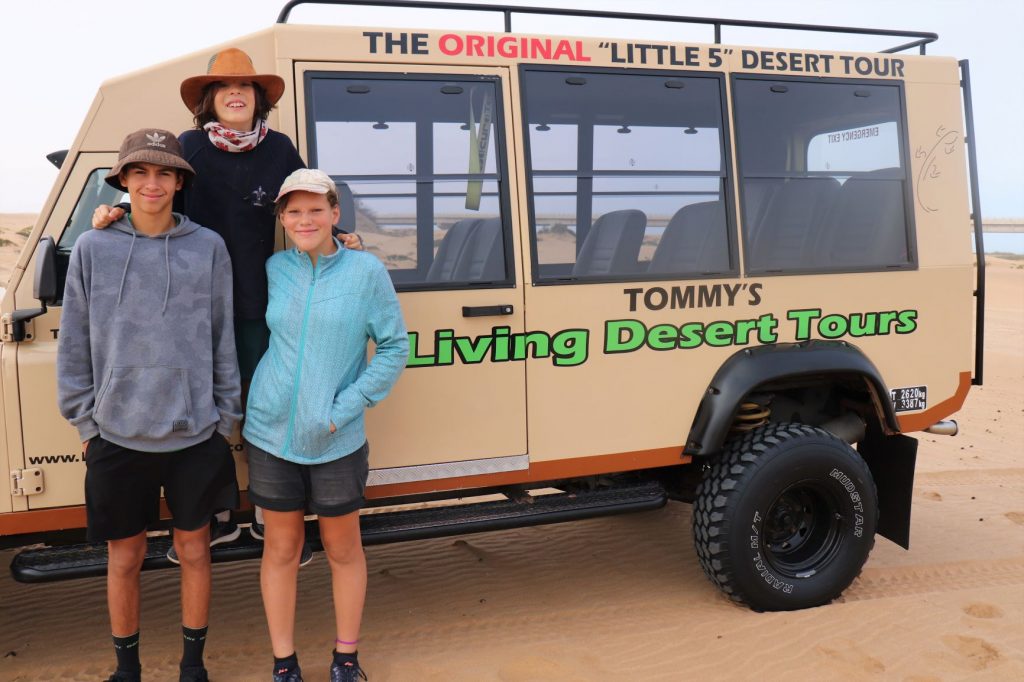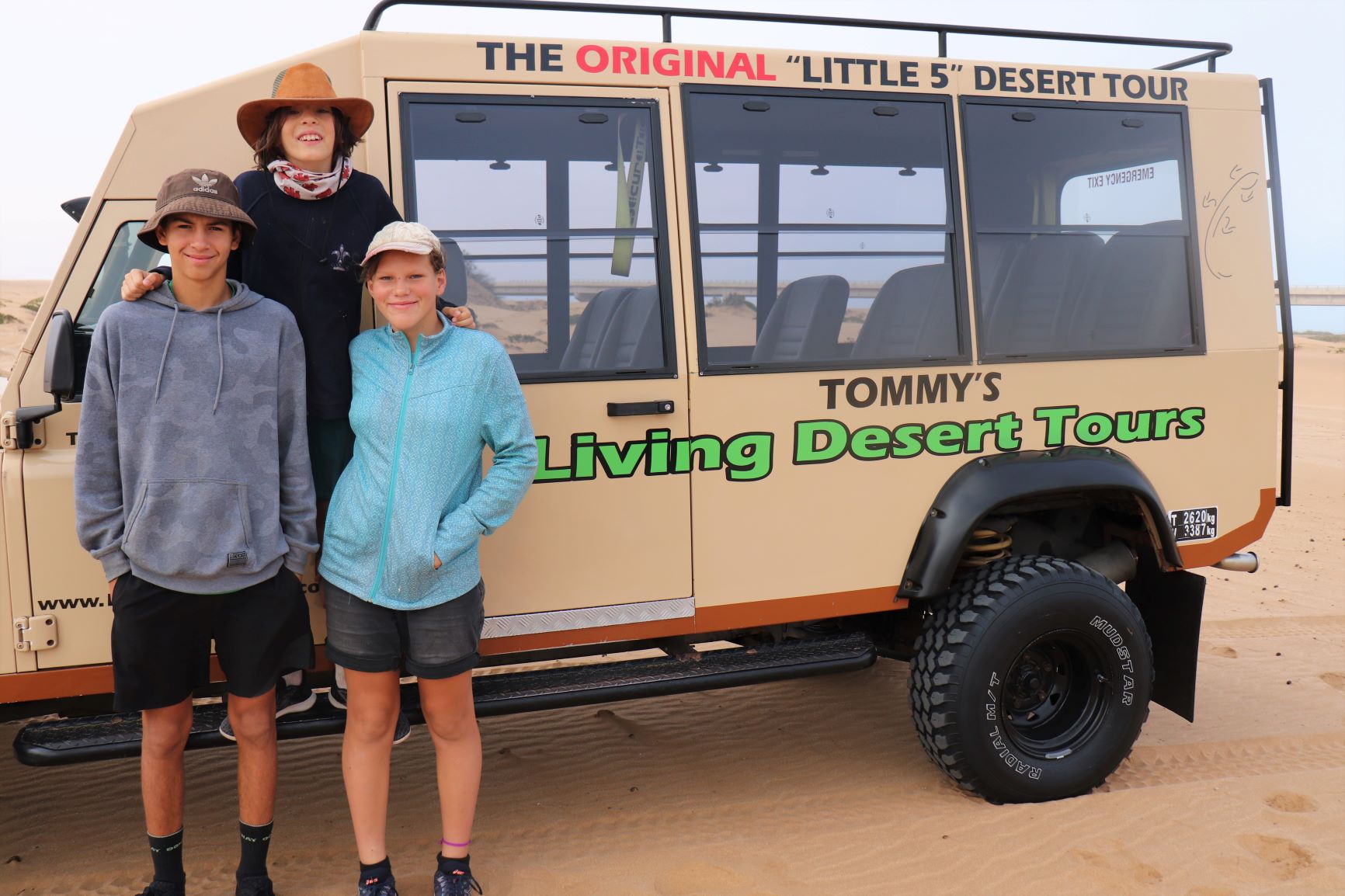 When we were in the village of Swakopmund on the coast of Namibia we were lucky enough to do Tommy's amazing Living Desert Tour with our incredible guide Chantelle. And wow – what a brilliant experience it was!!
We entered the desert right on the edge of Swakopmund – driving into the coastal dunes of the Namib desert and getting our cameras ready to take photo after photo of the incredible dunes and wonderful sand and plant shapes.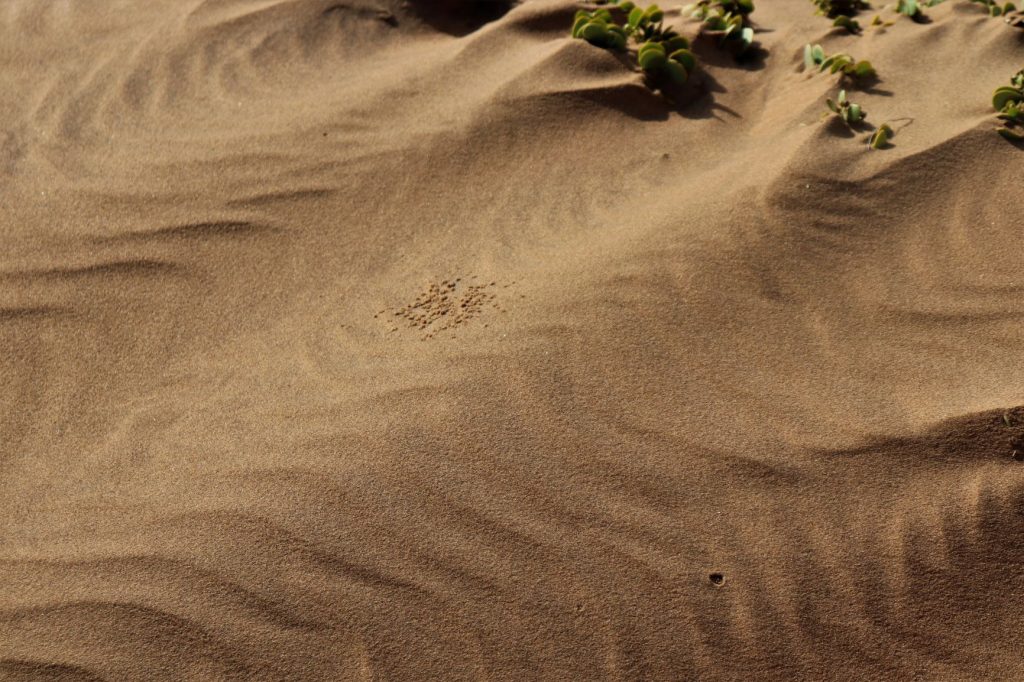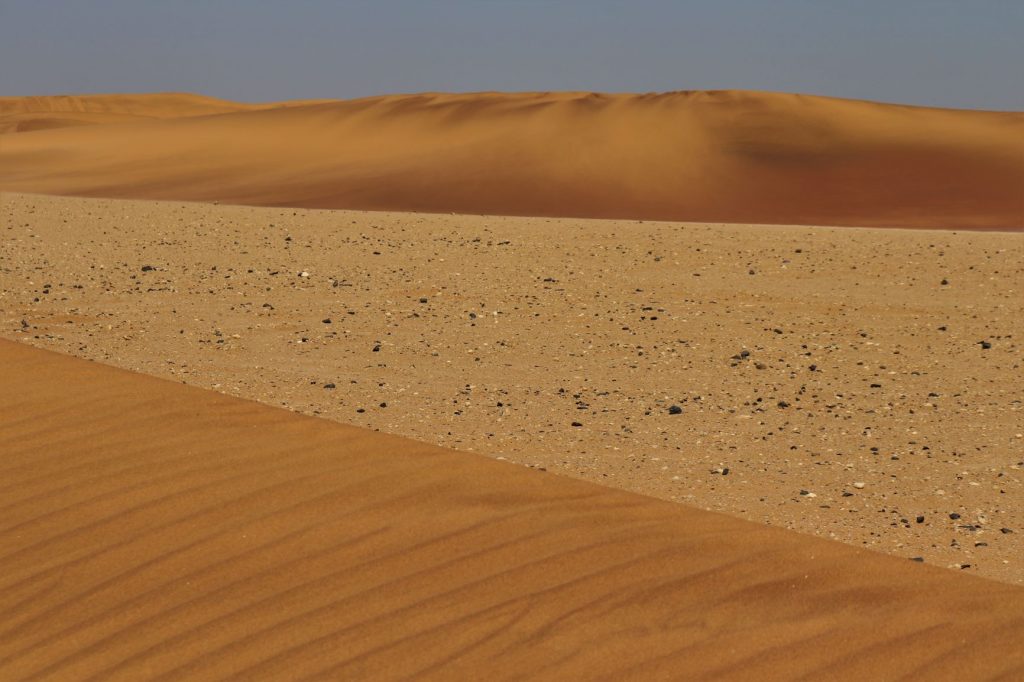 As we were trying to take in this wonderful landscape Chantelle explained to us how incredibly sensitive the desert landscape is and that we have to be extra careful not to do any damage during our time in this precious part of the world. It was really reassuring to learn how responsible the tour company was – how alert they were to where they drove and where they took us, and how seriously they took their role as stewards of the living desert that they were sharing with us.
So as we took note of each step we took ever so carefully through the sand the adventure began as Chantelle's enthusiasm became contagious and we entered this magical living world – meeting creatures we never imagined existed and being blown away by the incredible way they live in, under and through the ever shifting sands.
The Palmato gecko is endemic to Namib Desert and is the most enchanting little gecko with memorising eyes.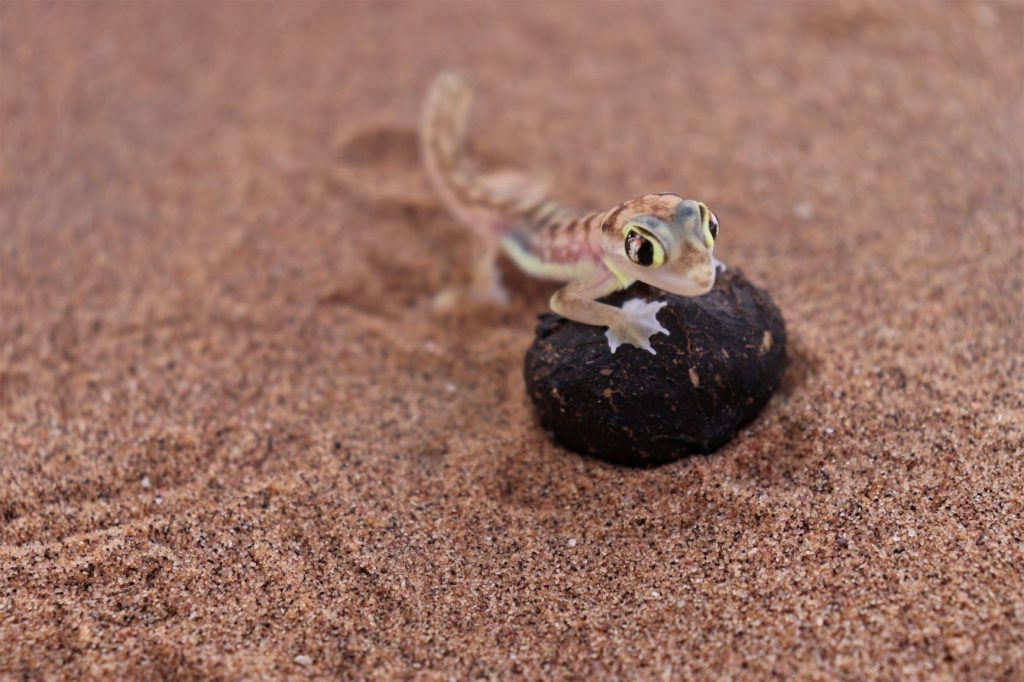 The shovel-snouted lizard is also endemic to the area and we found this fellow, with such a strong jaw, dancing at a great speed to keep its feet cool as it ran along a dune looking for something to eat.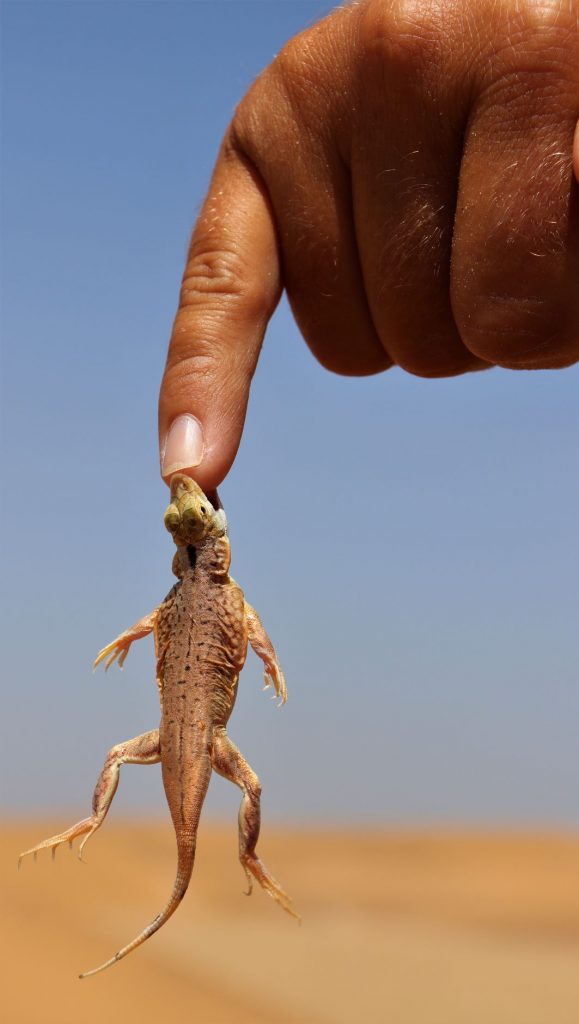 The sidewinder snake is one of the world's smallest adders and moves in a stunning side winding fashion through the steep dune faces of the Namib.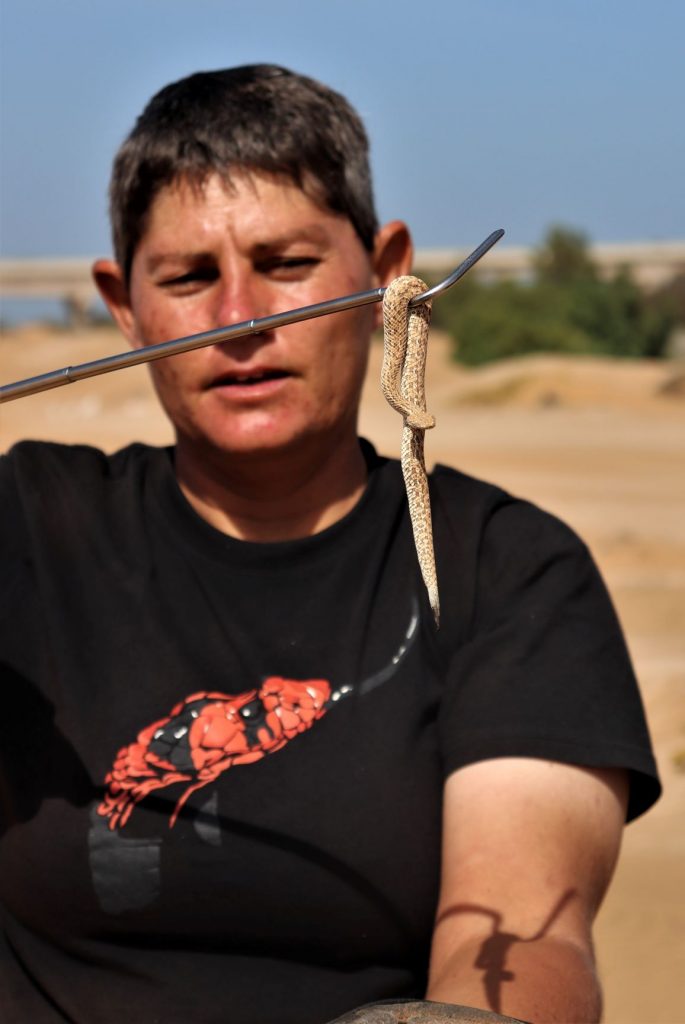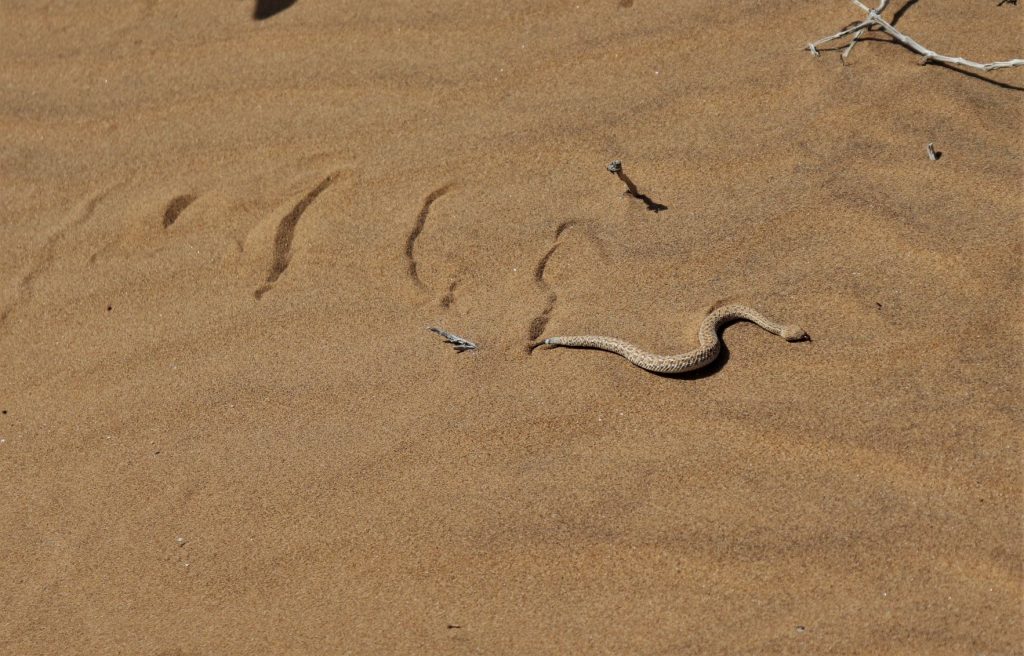 It was such fun to meet and photograph a Fitzsimon's burrowing skink – a legless lizard to well suited to the soft desert sands.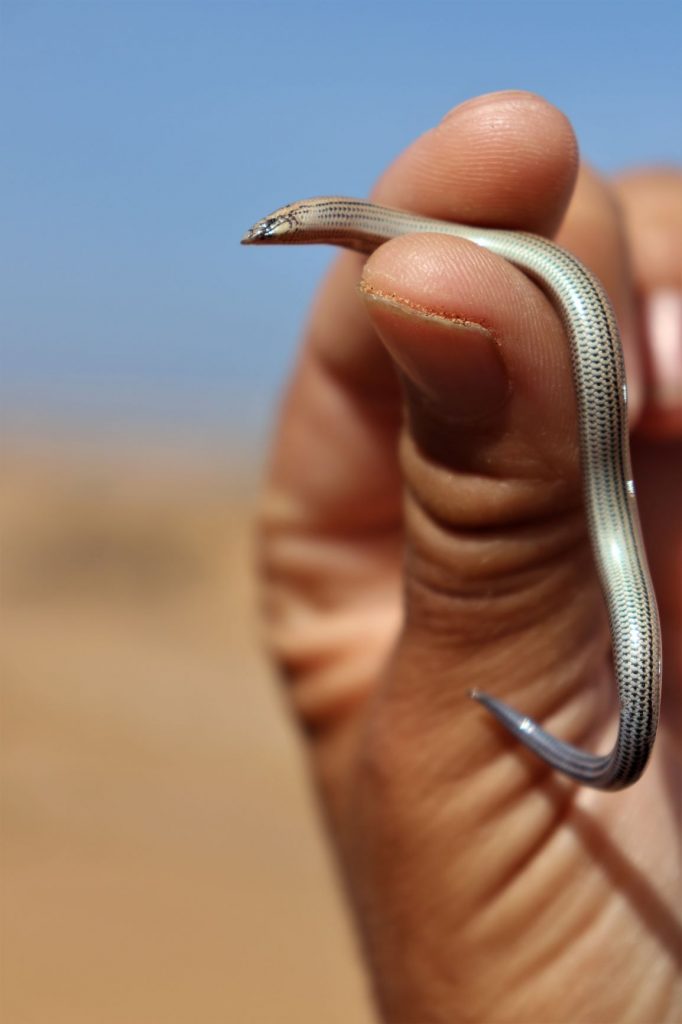 After some searching we were blown away when meeting two different Namaqua chameleons. Watching their colours change as they moved carefully and so slowly through the sparse vegetation meant watching their lightening fast tongue dart out to snatch up some prey was even more startling.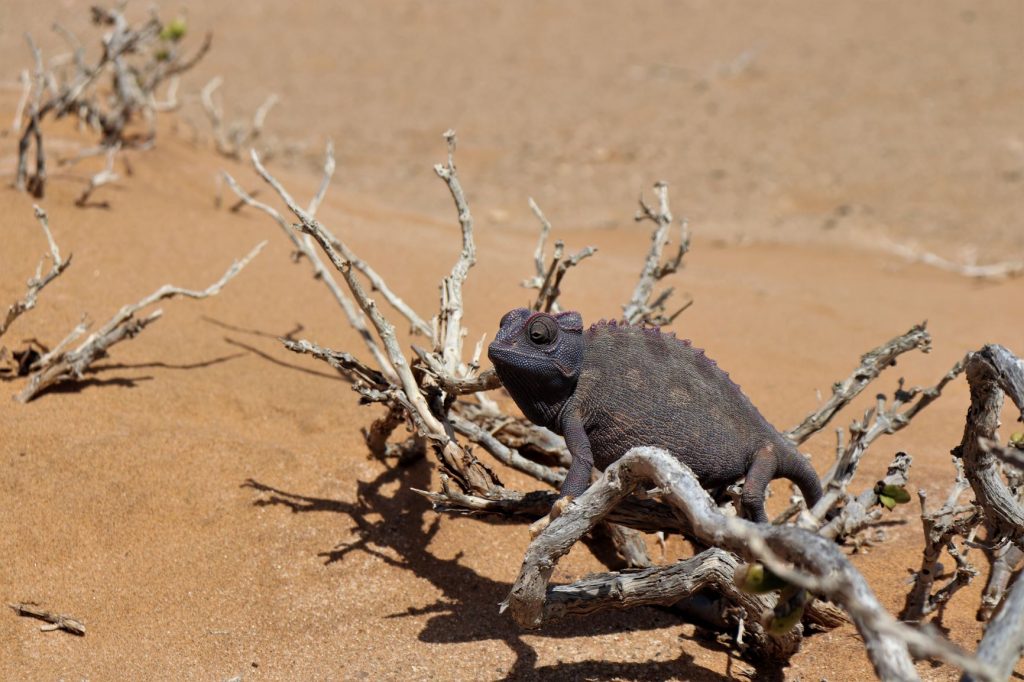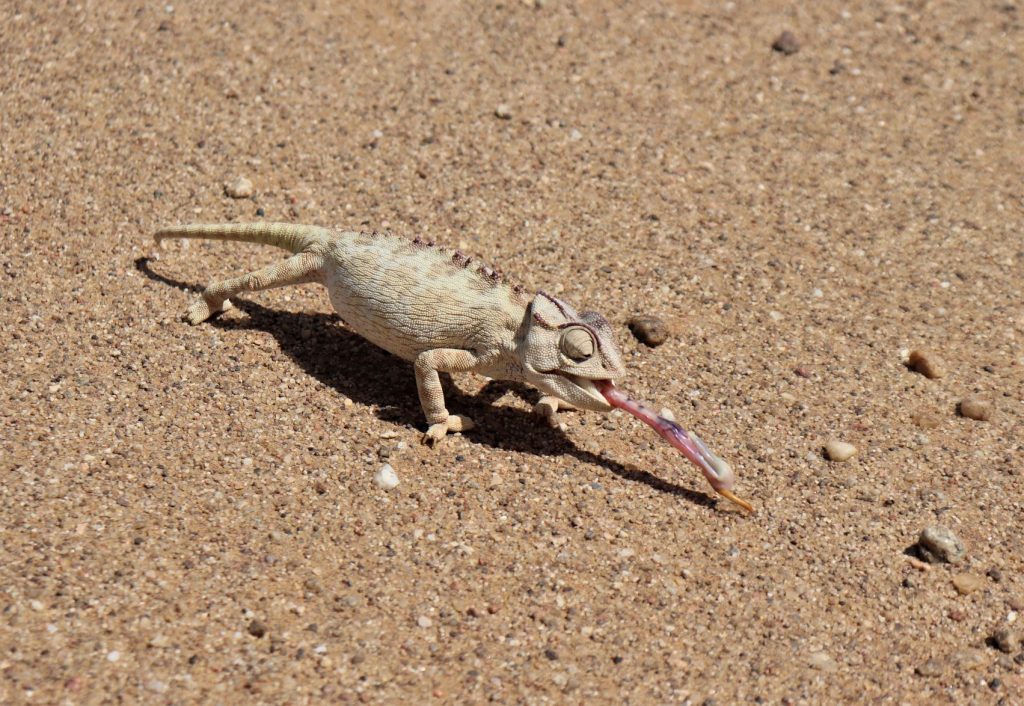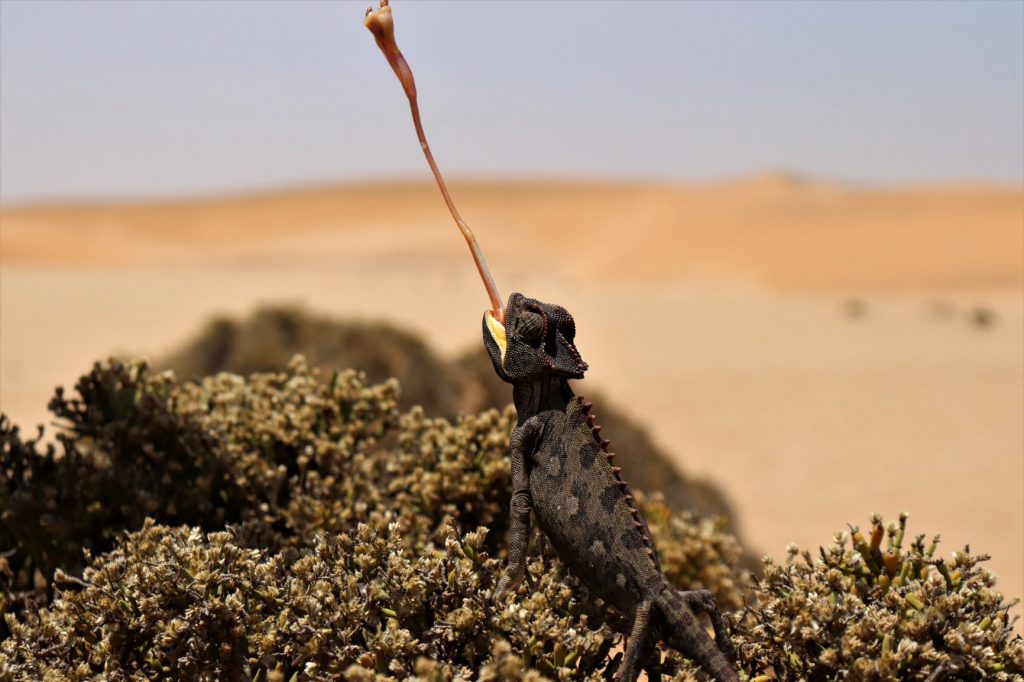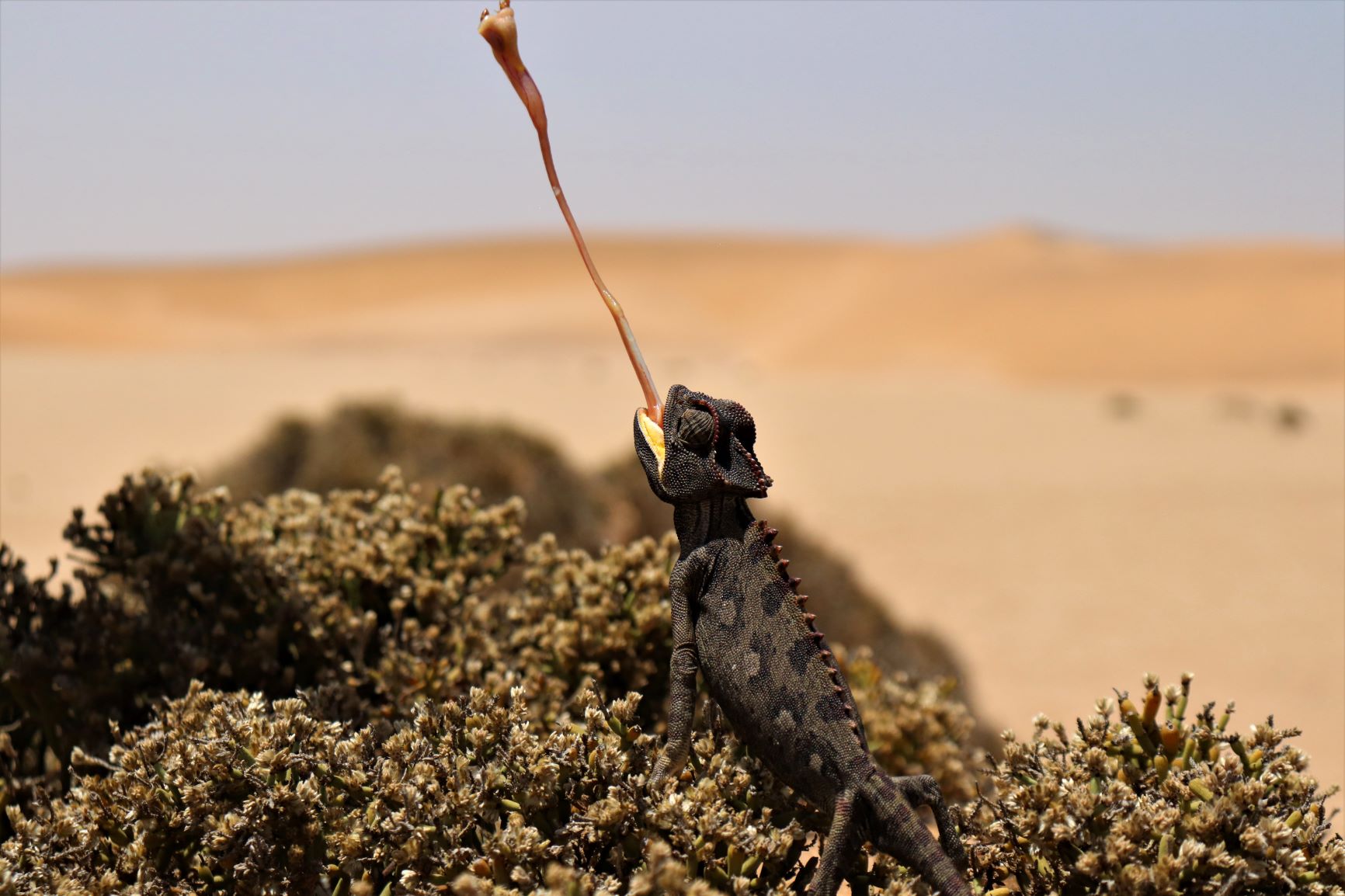 And if these amazing beings weren't enough to amaze, Chantelle's knowledge of the Namib kept us entranced as we stopped for a break and were all completely delighted by a friendly trac trac chat who loves company.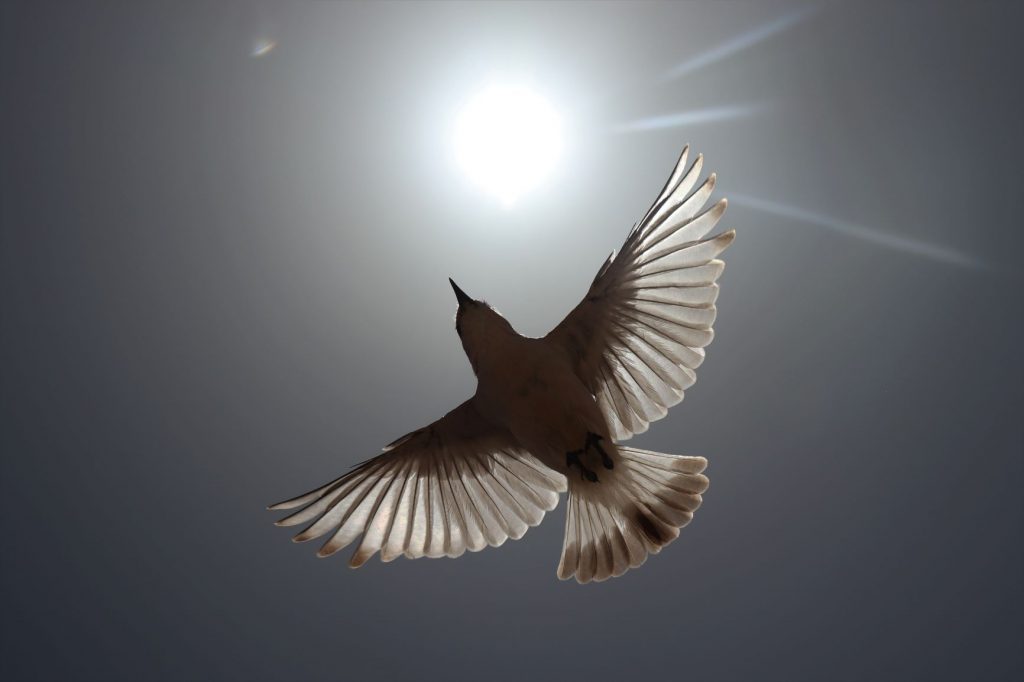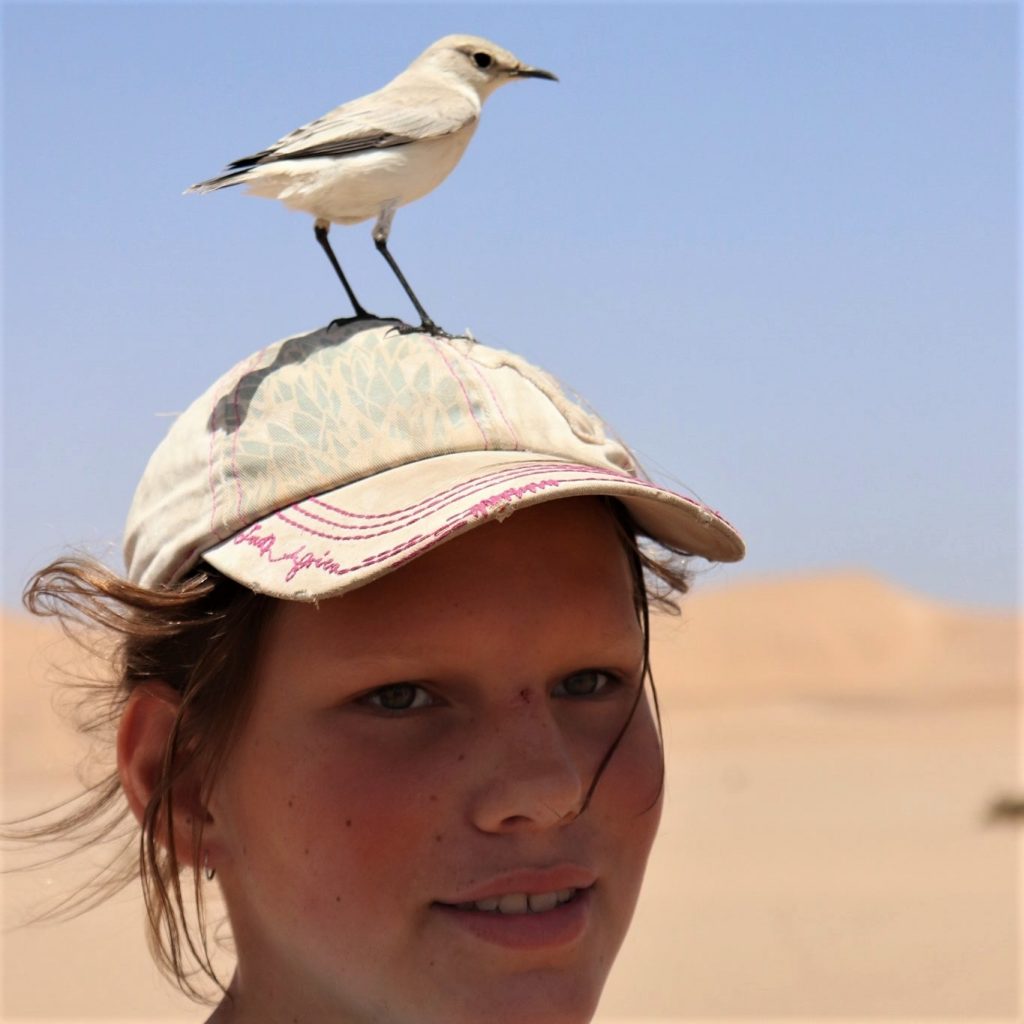 Driving through the steep dunes was exciting in itself as were the breath taking views of the Atlantic Ocean and the opportunity for the kids to fly.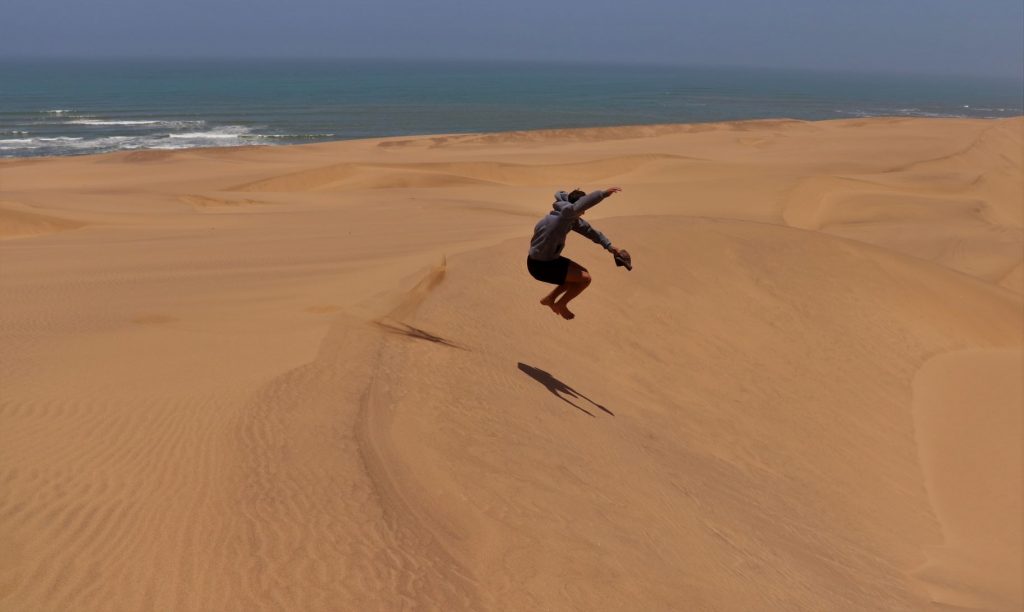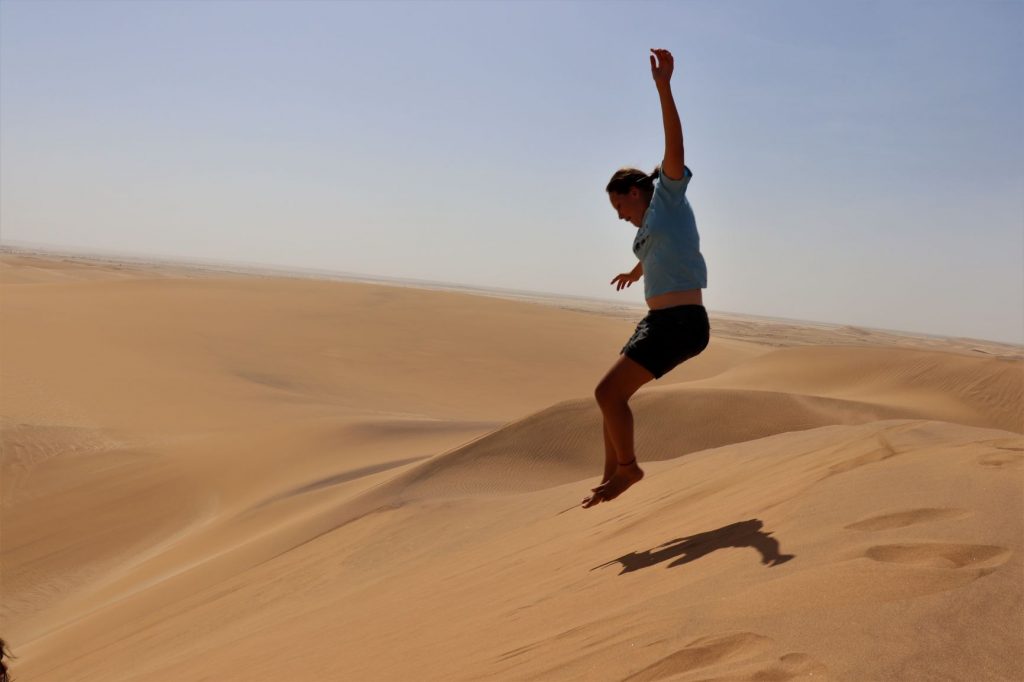 An absolute delight for young and old alike we totally recommend including the Living Desert Tour in your Namibian travels.
We can include the Living Desert tour in the following Travel Africa itineraries:
Self-Drive Classic Namibia – 14 days (Accommodated)
Self-drive Classic Namibia – 14 days (Camping)
Self-Drive Namibia Wonders – 17 days (Accommodated)
Self-drive Complete Namibia – 23 days (Camping)
Self-Drive Namibia, Botswana, Zimbabwe: including the Okavango Delta – 25 days (Camping)
And see this page for other tours and activities on offer in and around Swakopmund.