Updates from Hwange National Park
The next best thing to being there is hearing all about it …. When we were in Zimbabwe we were lucky enough to meet the wonderful Godfrey, camp attendant in Hwange National Park. Thanks to the wonders of modern technology, Godfery generously shares regular updates of activities in and around Hwange with us.
Here's Godfrey's latest update – 18 August 2015
Yesterday there were 2 lions at the Sinamatella camping site at night. They had a fight with hyenas and started roaring and scared the people who were camping, They come to the camp following kudus who are running away from the bush, coming for safety near people. 
Buffaloes are also around, the big herd is always in the Vlei and also having lions behind it every time (the picture below). We hear them roaring every night There is also a Big Elephant Bull which also comes into the camp every night. There is also a Cheetah which is usually seen under the Palm trees in front of the camp. Hyenas and honeybadgers still come to raid the dust bins at night.
Tourists arrivals are getting better as the camp is now usually occupied nearly everyday, sometimes it is even nearly full from the camping ground to all the lodges.
The restaurant is still open and fuel is always available (diesel and petrol).
Regards, Godfrey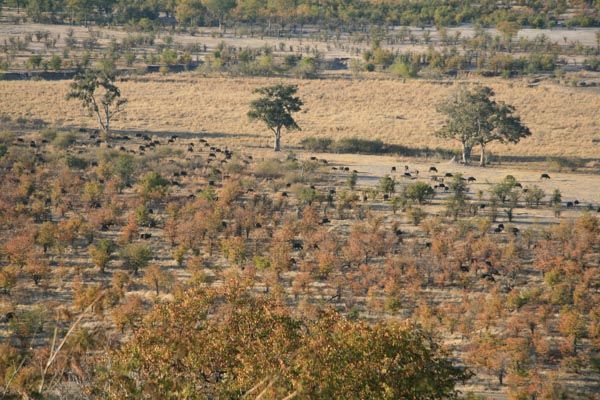 A herd of buffalo on the vlei below Sinamatella Camp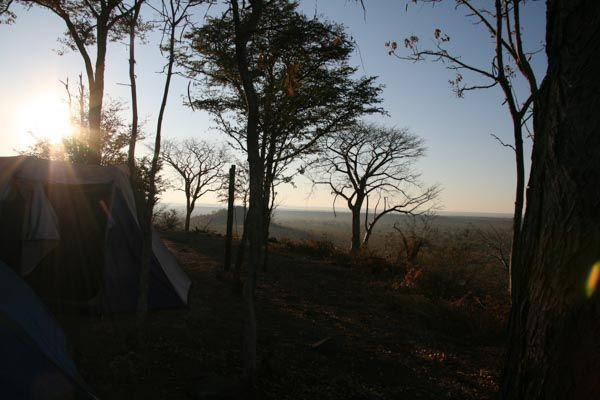 Sunrise over our tent at Sinamatella