Written by our 15 year old son Kai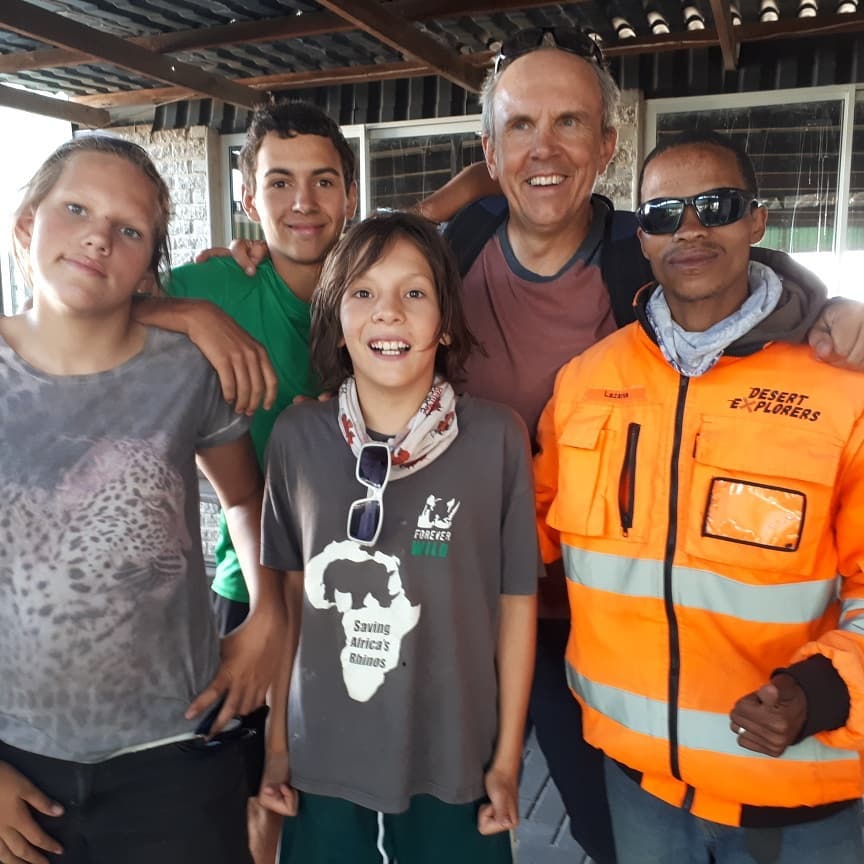 We heard the beep, and we knew it was time. Time for the one thing we had been waiting on for weeks. Quad biking Namibia!! We hadn't stopped talking about it for days. Cadan and I chatting about how fast we wanted to go, while mum and Rhian were nervous as hell about safety, and dad as usual laughed along and said he couldn't wait.
So back to the beep – we left our fine Namib Guest House in Swakopmund to meet our driver who took us in a desert quad biking van down to the depot, where we would be starting our quad biking adventure. Because Swakopmund is quite small we got to the depot in less than 3 minutes. We hopped out and our guide took us to the office where we filled in the paperwork which told us that if we got hurt it was on us. This increased mum worries, but they were very soon diminished.
After the paperwork we met our guide Lazarus who explained to us that we were not only doing 2 hours of quad biking, but we also had 1 hour of sand boarding which I almost completely forgot about. This was really getting us excited and we couldn't wait to get on the quad bikes. After Lazarus took us to put on some stylish hairnets and our fierce looking safety helmets, he took us to our quad bikes we would be using for the tour. They were the coolest things I'd ever seen! They were bright red and looked like they could go really fast. Lazarus assigned us each to our own quad bike and then gave us an explanation about how to use them and safety precautions. Riding the quad was quite simple, it had brakes up by the handlebars like bikes and on the right handle there was a lever a bit like one you would use to change gears on a bike. But this was to accelerate. Steering was done by turning the handlebars left or right and there were also pedals by our feet, one for the gears, but Lazarus put our quads on automatic because it was much easier for us, and the other was an emergency break. After all this we were ready to hit the dunes!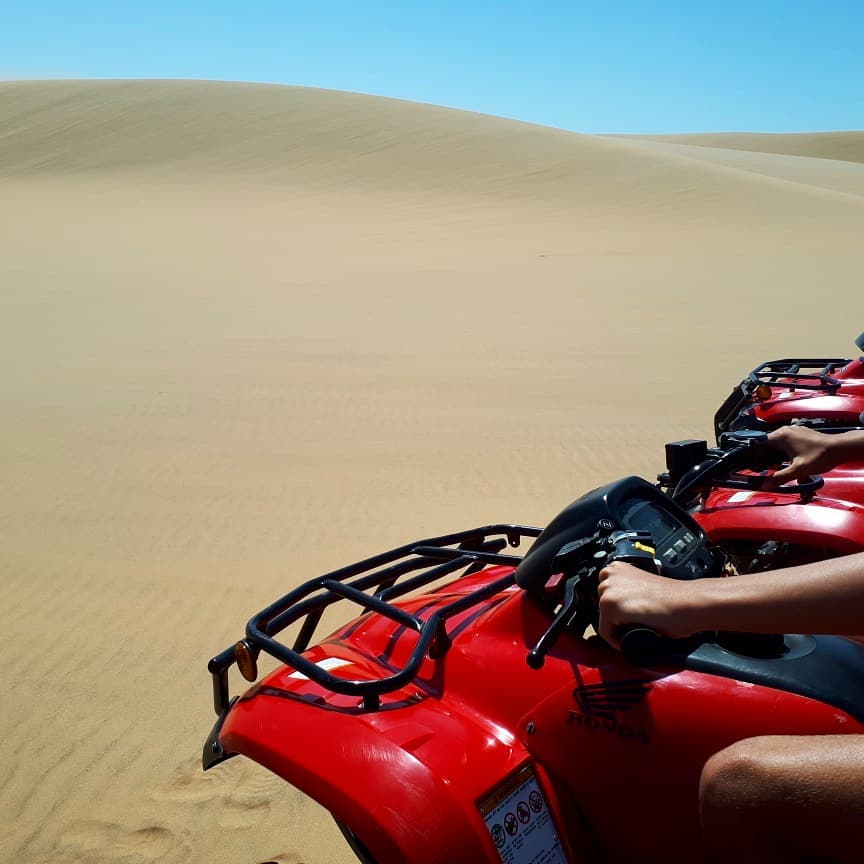 Well … not quite as mum and Rhian's quads kept stalling and continued to stall at random times during the tour, but apart from that we were ready to go! Zoom! Dam it felt so good as you pressed the accelerator and took off at awesome speeds. Everyone was blown away with how awesome it felt, and we shot off in single file behind Lazarus who took up the front. To start we followed a bumpy tar road, Mum behind Lazarus followed by Rhian, Cadan, me, and Dad taking up the rear with the Go Pro attached to his helmet to get some videos for the business. We sat on around 20km which according to mum was way too fast anyway. We went down the tar road for a small stretch and then went into the sandy dunes. This was where the fun began.
Lazarus took us on the most amazing roller coaster ride (on a quad bike) of our lives. Up and down dunes, through sand dunes, over sand dunes and everything else you could do with sand dunes. It was one of the best things I'd ever experienced, and we had only just begun the adventure! After the first half an hour where we were getting used to the amazing scenery and beautiful landscapes where the sand dunes hit the sea, we started facing trickier obstacles. Higher dunes where we had to give it a lot of speed to clear them. Drifting up high banks before racing down the other side. Now all of this might sound extremely scary and dangerous and even I thought this hitting my first drift. But in reality, it is one of the safest things I'd ever done. You can't go wrong with a quad bike they are so tough and could go through anything.
Back to the tour, we were slowly getting faster as we were starting to get used to the quad bikes and a lot more comfortable on them. We continued to swerve around sand dunes and race over some that just looked like the quad bikes were never going to make it over them. But the Quads were tough nothing could stop them …. except for some spectacular driving from mum.
We had just stopped, because Cadan had caught a drifting corner too straight and bogged himself in. Mum and Dad were behind him and both waited while Lazarus came back to assist Cadan. While this happened, I had driven over the dune and over to where Rhian was stopped. But what I didn't know was that I had made some tracks that weren't on the trail. Lazarus had gotten to Mum and Dad and told them to keep going and wait with me and Rhian. Mum went first and as they were driving, she went off the track and followed my tracks not the proper track! My tracks were faint, but she followed them right toward the wrong end of a dune, which is the very steep soft sanded end. Me and Rhian could see mum heading right toward this and we tried waving our arms and yelling for her to stop but it was no use. We watched as she rolled off the edge closely followed by Dad.
We ran over to the wrong end, expecting the worst, to only to see Mum and Dad upright laughing like it was bit of a joke. Crazily the quad bikes had stayed upright and there were no injuries other than a small bump on mum's chin. This goes to show that you really have to know your way around the dunes else you could go seriously wrong.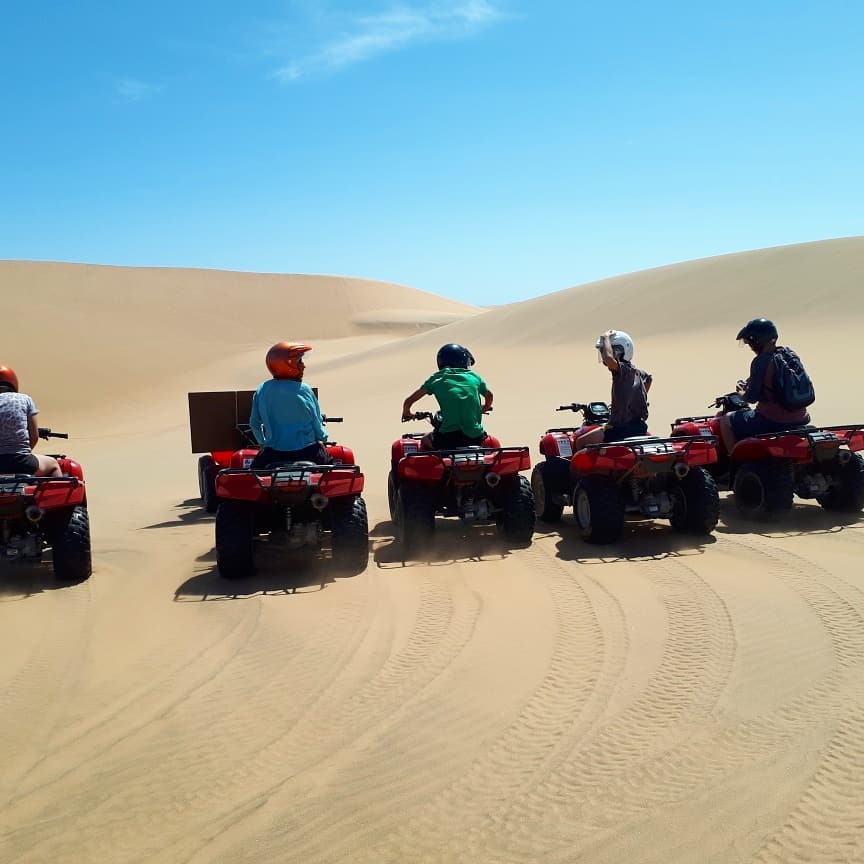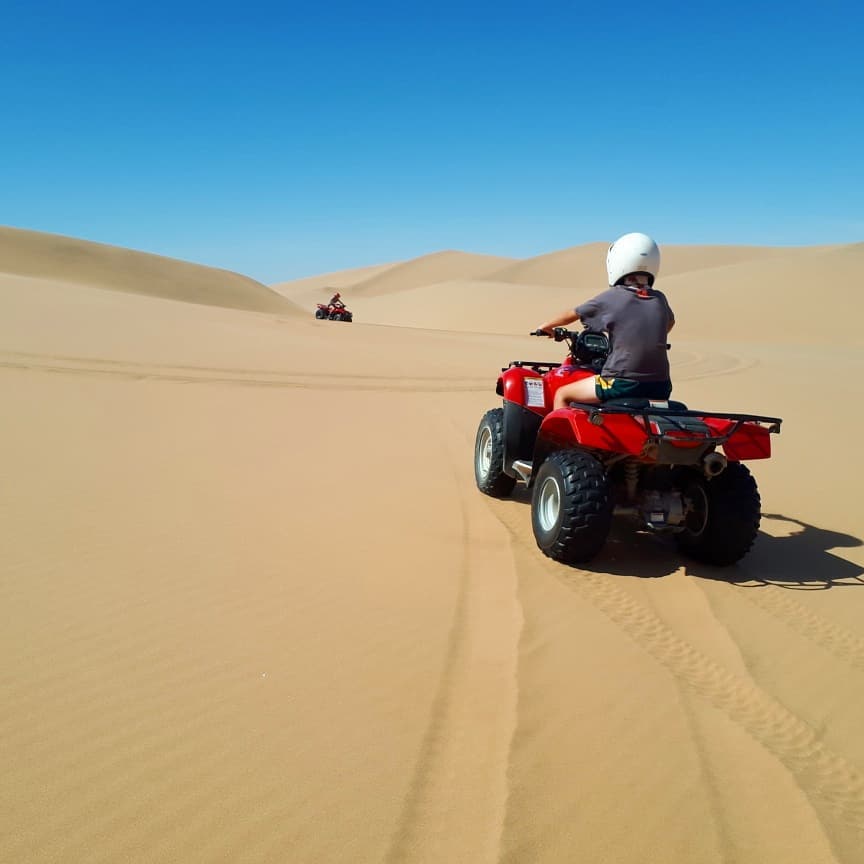 After this little detour we continued racing through the dunes passing some of the most beautiful landscapes in Africa. We finally stopped at the top of a humongous dune where we looked down on what almost looked like a giant crater. We took in the views before Lazarus told us that this was where we were sand boarding! I thought he was kidding! The slope must have been over 100 metres long! While we got out of our shoes to prepare, Lazarus covered one side of our boards (which were basically long pieces of plywood) in shiny shoe polish, before showing us how to slide down the slope. WE HAD TO GO HEADFIRST! At this point, I was really started to rethink my decisions.
Before I knew it, I was lying headfirst on the board looking down the dune. Arms pulling the front of the board up, elbows out, legs straight, and before I could say wait, Lazarus was pushing me from the feet slowly toward the edge. Closer and closer until …. Whoosh! I was racing down the dune at what seemed like a million kilometres an hour straight down the dune. Sand flying so fast that I had to squint and then, wham! I thought I was going to go straight into the sand at the bottom. But no! I raced along the bottom and started going up the dune on the other side, still at full speed! I finally came to a stop about a third up the other dune, out of breath, with the biggest smile on my face. It was so exciting! Almost as good as quad biking! Next came Cadan, then Dad, and finally Rhian. Sadly, we couldn't persuade mum to do it, because that would have been a sight to see.
We all went a few more times but no more as we were getting extremely tired from walking up the dune after we finished. But then one time when Cadan and I were sitting at the bottom puffed out, Lazarus came down and picked us up on his quad bike and took us on an exhilarating drive back up the dune. This got everyone back into doing more sandboarding for the next half hour. We asked Lazarus if we could go down in twos and he said of course if we had the nerve. And as Cadan and me are crazy we said heck yeah! So, with Cadan at the front, and me at the back, holding two water bottles plunged into the ground behind me for steering, we made our way down the dune. This time we went twice as fast and we weren't slowing down at all. Then all of a sudden as we made our way up the other dune, we fell off, clattering to the floor in a pile of arms and legs, the breath knocked out of us. We got up laughing and groaning with our epic fail. Lazarus came to pick us up and said that maybe we should just stick to single sandboarding. We agreed with laughter.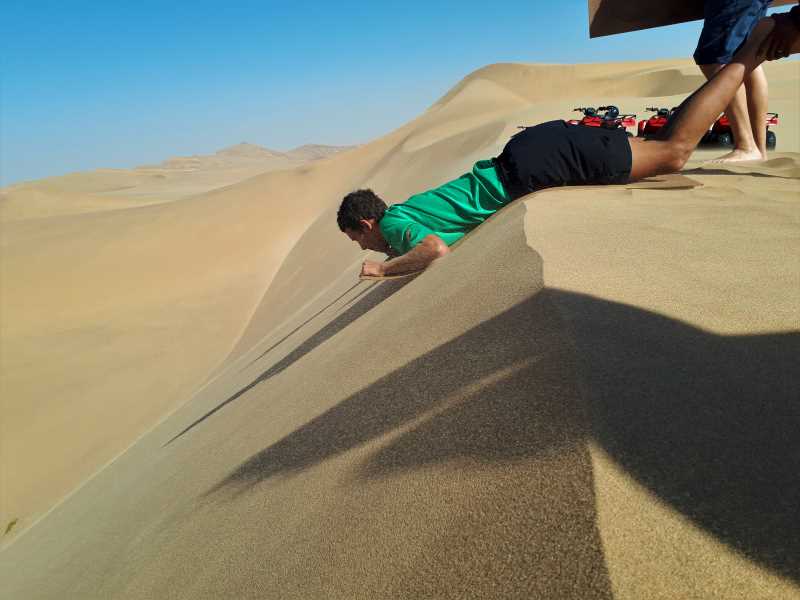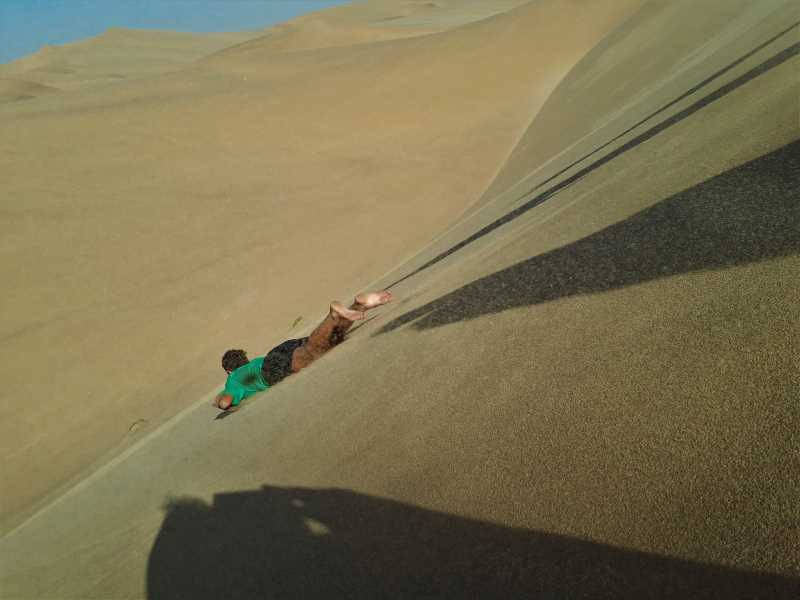 After a few more rounds down the slopes, and an amazing sighting of a sidewinder snake winding up the steep slopes of the dune, we enjoyed more quad biking through the dunes toward the depot. As it was the final trek, we were all trying to go as fast as possible to get as much as we could out of the quad bikes. We took in the last of the scenery before we got back on the familiar bumpy tar road and rocked up at the depot. We massively thanked our amazing guide Lazarus for giving us the experience of a lifetime, before hopping back in the van and heading back to the guest house. On the way back we discussed who got the fastest speed clocked on their quad. Mum was way to good for speed and was not fussed with it at all, and sat with a happy 35km, while Cadan managed to hit 40km. Rhian with 48km matching the same speed as Dad. While I sat way ahead with 63km! I guess it means I'll be the one who has a car accident first! ?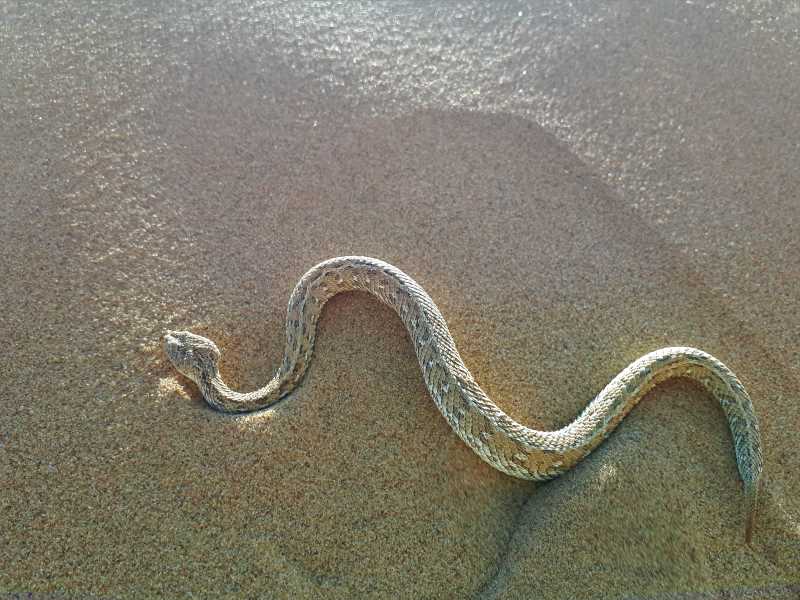 See this page for other tours and activities on offer in and around Swakopmund.
Self-drive itineraries:
Self-Drive Classic Namibia – 14 days (Accommodated)
Self-Drive Classic Namibia – 14 days (Camping)
Family Self-Drive Namibia: Deserts & Wildlife Explorer – 16 days (Accommodated)
Self-Drive Namibia Wonders – 17 days (Accommodated)
Self-drive Complete Namibia – 23 days (Camping)
Self-Drive Namibia, Botswana, Zimbabwe: including the Okavango Delta – 25 days (Camping)
And if you're a bit nervous about self driving by yourself – consider joining one of our guided group self drive safaris:
Namibia & Botswana: Off The Beaten Track – 31 days (Guided Group Self-Drive Camping Tour)