By Kai, Rhian and Cadan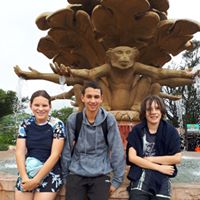 No matter the weather, it's always fun to be in Sun City. Even if the weather is bad there's always so much to do at the Water Park, the Chimp & Zee Rope course, the Maze and Pilanesberg National Park.
In the water park you splash and play,
up and down slides, hip hip hooray.
It takes a while to walk up the stairs but the view up the top is spectacular!
The Chimp & Zee Ropes Course is great for the kids and everyone. It's not the hardest thing in the world, but no matter your age you always find one or two levels quite challenging. Once you have your harness on, get ready for adventure. There are nine zip lines on the whole course, including two amazing ones that go over the Wave Pool. There are multiple rope courses where your balance is key with lots of interesting challenges as you weave back and forth over the Lazy River and other parts of the water park.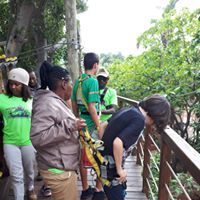 A must do slide if you are with a friend is the Boomerango slide – it's a slide where you go up and down and all around, with squeals of excitement and a scared feeling which makes you regret it, but it's always fun and you always want to do it again. You might be scared the first time, but it's still really fun so you want to do it again and again. If you are scared sit at the back and let your partner go first. If the person tries to make you sit in the front say you have to do the Temple of Courage or the Drop Slide and that will make them rethink their decisions and maybe sit at the front.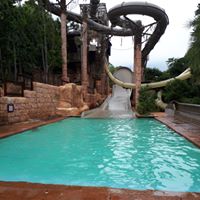 The Temple of Courage is a long, daring slide that goes almost vertically down. After walking up really steep stairs, you are faced with a glorious view of Sun City. And then the daring task of going down the slide. You start by lying down with your hands across your chest, and feet crossed at the ankles. Slowly but surely you push yourself towards the edge, and all of a sudden, whoosh you going flying down, the first second you go into totally panic before you angle and level up and lots of water goes spraying everywhere as you fly through. Note, don't wear tight swimmers as you can get hit by one hell of a wedgy.
The Drop Slide is where you stand in a tube, arms across your chest and legs crossed as well. You stand there anxiously and all of a sudden the count down starts, 3, 2, 1 boom and the ground below you is swept away and you are flying down one of the fastest slides you will ever go on. The whole ride only takes 9 seconds but it is the scariest 9 seconds you will encounter.
The not so scary rides are the Viper and the Mamba, tube slides where you walk up the stairs with your rubber ring and as you get to the top you choose between the Viper or the Mamba. The Mamba is fully dark except for a few patches of light. The Viper is fully light and you can see the beautiful sights as you go down really fast, backwards, forwards, left and right until you get to the bottom and splash into the small pool where you hand over your ring to the next person to take on the crazy rides.
There are also two body slides, the Tarantula and the Scorpion, similar to the tube slides with a dark one and light one, but here you don't sit in a tube, you just slide down. They are good if you want to get lots of slides done as you don't have to wait for a tube each time.
The Lazy River is a good time to relax, get in a double tube, with a friend or by yourself, sitting and chill-laxing, go round and round, going under bridges and through tunnels, getting slowly pushed with the nice slow current. Do it by yourself or have a race with your brother or sister, mother or father, or best friend, pulling or tugging at their tube trying to get in front.
The Wave Pool is a place to relax, although not as relaxing as the Lazy River. Because when you least expect it the lions' heads, one at a time, slowly start passing water out of their mouth, there is a boom and then a massive wave comes powering towards you, slowing as it reaches shores only to be followed by multiple smaller waves. You can also just have a nice swim around and splash with your best mate or splash you siblings!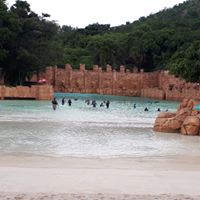 The Maze – Sun City's is the largest maze in the southern hemisphere – you go into a nice entry and then walk over a long suspension bridge with rope all around it, looking down over the road and back towards the water park.  As you enter the maze you either go left or right, then you're lost, having to guess which way to go. It's not the hardest maze in the world but still a lot of fun. When you finally find yourself at the end you feel a sigh of relief not being stuck in there forever. You can even scare your friends and families through the holes in the wall if you split up in teams – it's rather fantastic. At the end you can have a rewarding drink, well deserved after the day you've had.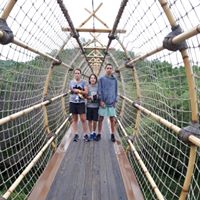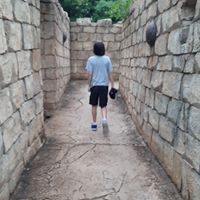 Pilanesberg National Park, adjacent to Sun City, is a great place to spend time with family and friends while looking for animals. Go to the Pilanesberg Centre for lunch – toasted sandwiches, whatever you fancy, delicious milkshakes and even take away if you want to eat while looking for more animals – maybe the cheetah Rain and her cubs which is always a pleasure because you may not be able to see her for long but even a glimpse is a privilege as she is such a great mum. Making jokes in the car, it is heaps of fun for everyone.
It's jolly good fun at Sun City resort spending time with family and friends while enjoying a bit of luxury in South Africa.
We have especially designed this tour, which includes Sun City, with families in mind:
Family Self-Drive South Africa: Sun, Fun & Wildlife – 15 days (Accommodated)