The latest Hwange update from Godfrey – a ranger in the park
Hwange in General
The rainy season seems to be finished and it is starting to get cold at night and in the early mornings, but luckily it warms up during the day!
Shumba Pan
The pan is full and is being pumped by 2 solar pumps during the day. Game activity is starting to improve – elephants bulls are seen during the day as well as a big herd of buffalo. There is also a leopard which usually comes to drink from our leaking tap at night! (the rangers / camp attendants live in a small hut on site). Lions roar every night but are rarely seen whilst other animals such as impala, sable antelope, roan antelope and zebras are also around. Many waterbirds visit the pan.
Shumba's viewing hide has been renovated and extended, however sadly the thatch roof has been taken off and replaced with iron sheets painted green, keeping it cool inside.
Masuma Dam (Travel Africa's favourite spot in Hwange)
The dam is full and is also being pumped during the day from 2 solar pumps. There are about 6 elephant bulls that are always around Masuma and breeding herds come at night to drink. The lion pride, whose territory Masuma is in, are seen nearly everyday and they seem to like the area around the bridge near the  turn off to Kapula Camp on the way to Shumba.
One morning at around 7am 16 wild dog chased an impala into the dam. The resident crocodiles tried to go for it but the hippos were about so they quickly disappeared and the impala was able top swim to the other side! The wild dog abandoned the chase, as it is thought they had eaten early that night, and after drinking at the dam they spent the whole day sleeping in the shade near the road by the Kapula Camp turn off. They moved with the shade and ended up in the middle of the road and cars had to drive around them!
Plains game such as zebra, impala, kudu and waterbuck are always around and there is a large herd of giraffe (about 17 to 20 strong) which also hangs around the dam.
The resident leopard is still around and it still comes near the caterpillar (there is an old bulldozer at the back of the picnic site near the rangers/attendants quarters) at night.
Mandavu Dam
The dam is very full and animals are starting to come in large numbers. Both lion and wild dog are seen frequently.
Godfrey
---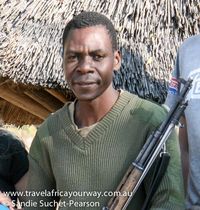 Godfrey – Hwange Camp Attendant