Creating a travel journal has become one of the most crucial ingredients in our family holidays. We buy each child a good quality, plain page notebook (with a strong cover so it can last the test of time) and some nice textas, pencils, pens, crayons, gel pens, stickers, glue, scissors etc depending on their age. Depending on the length of the trip and our daily routines we set aside quiet time when appropriate to sit with the children and focus on their journals. Journal entries can focus on drawing and descriptions of what was done as well as interesting angles on their trip such as maps, graphs (how many impala, elephants, lion etc were seen today), creative writing (stories), funny moments etc.
The journals are great for when the kids return home – sharing with family and friends, with school and childcare teachers and school friends. The journals are great to look back over again and again and again and again – our daughter Rhian will spend hours pouring over her journals as she relives each moment and transforms the pictures and words into the most precious of memories.
Don't forget you can also scan the pages from your journals and include the images in your digitally produced photo albums. And do find a good place in your luggage to keep everything together and avoid damaging the journal/s.
See our kids' page for lots of wonderful examples of pages from our children's various journals.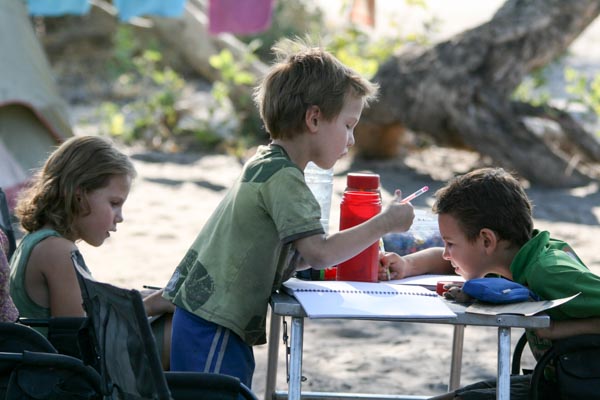 The kids hard at work on their journals at Savuti, in Botswana